Sports
Jason Pierre-Paul talks about fireworks injury
Tue., April 12, 2016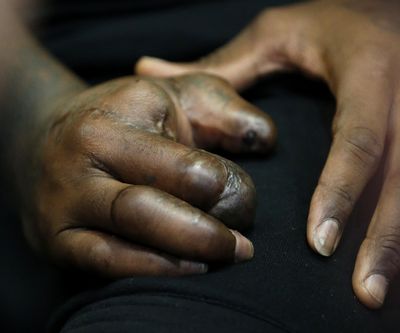 NEW YORK – Jason Pierre-Paul says seeing his right hand without skin after a fireworks accident last July 4 was like watching a movie.
In an interview with Sports Illustrated , the New York Giants defensive end said he could see every ligament in his hand after the explosion that cost him one finger and sidelined him for half of the 2015 season.
"You only see this stuff in the movies," Pierre-Paul told the magazine. "You see all your ligaments, your tendons, everything. I saw how the hand really is without skin on it."
Pierre-Paul added he recalled telling doctors, "Whatever y'all do, do not cut my hand off."
He said he couldn't recall much of what happened while hospitalized, adding he needed to reconstruct that time through conversations with family, friends and advisers.
The 27-year-old player said he now has a new approach to life.
"I look at things differently," he said. "I try not to put myself in horrible situations anymore. I have a lot of people depending on me – even people I didn't know depended on me.
"I could dwell on it, like … I wish I had that finger, but when I look in the mirror, I'm happy. Thank the Lord – it could have been worse."
The Giants gave Pierre-Paul the franchise tag in March, then re-signed him for one year.
Local journalism is essential.
Give directly to The Spokesman-Review's Northwest Passages community forums series -- which helps to offset the costs of several reporter and editor positions at the newspaper -- by using the easy options below. Gifts processed in this system are not tax deductible, but are predominately used to help meet the local financial requirements needed to receive national matching-grant funds.
Subscribe to the sports newsletter
Get the day's top sports headlines and breaking news delivered to your inbox by subscribing here.
---