Sports
Jaya Allen poised to lead Highlanders deep into postseason
Wed., April 13, 2016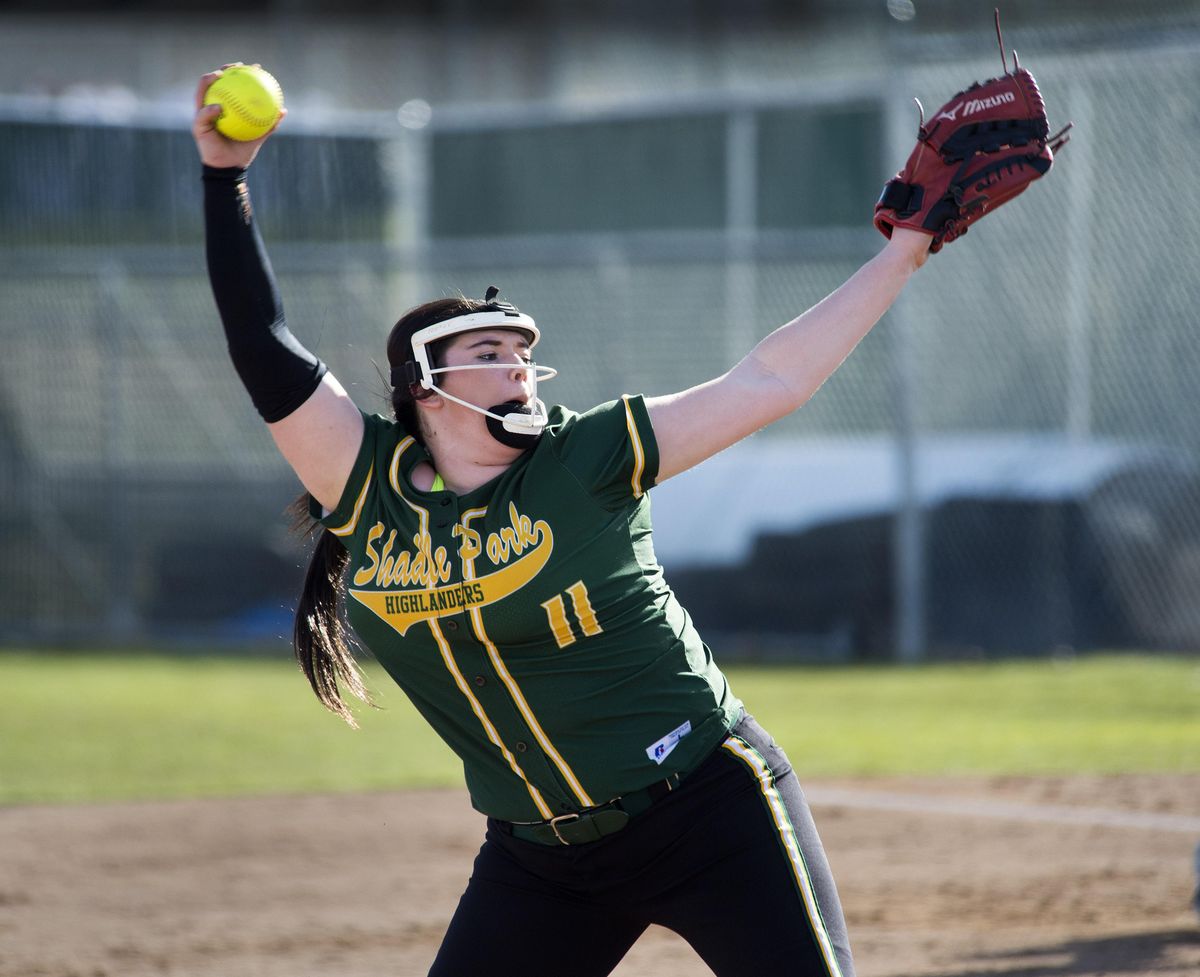 Shadle Park's Jaya Allen, winding up for a delivery against University on March 31, leads the GSL in every pitching category. (Dan Pelle / The Spokesman-Review)
Something is gnawing at Jaya Allen.
Her Shadle Park softball team captured the Greater Spokane League championship last spring but fell short of expectations when it failed to advance to the State 3A tournament.
Shadle had swept North Central in league and once at district but the Indians topped the Highlanders 7-3 in the winner-to-state, loser-out regional game.
"We thought it would be an easy game to get to state," Allen said. "We were not as prepared as we should have been."
Shadle expects to challenge for a state championship this season.
"That's the goal of a lot of teams every year but it seems realistic for us," Allen said.
The Highlanders brought back a solid nucleus including their leader, Allen, who was the league's most valuable player last spring as a sophomore.
Allen and the Highlanders are off to a fast start. Picked to defend its title, Shadle is the lone undefeated team at 7-0.
She missed Shadle's first game back from spring break Tuesday with the flu. Backup pitcher Maddie Goode stepped up in the Highlanders' 4-3 win over NC.
Allen led the GSL in batting average (.596), victories (14), strikeouts (146) and ERA (1.37) last year. A three-year starter, Allen is 38-8 overall.
Allen is likely to meet or exceed those numbers this season.
Her inspiration all comes from within.
"She's one of the most motivated kids for her age I've met," Shadle coach Guy Perham said. "She isn't resting on what she was last year. She wants to be even better this year. She wants to be the best softball player ever to play."
Allen is batting a team-leading .478. In the circle she has a league-leading 0.74 ERA and 61 strikeouts. The closest other ERA is more than double hers.
Perham said Allen could be as effective at the plate as she was last year but it might not show up in her batting average.
"People are going to pitch around her a bit," he said. "She leads our team in walks."
That's an indication that Allen is being patient. Few mistake pitches are getting past her.
"I'm definitely a better hitter," she said. "I've already got three homers and we're not even halfway through (league). Hopefully I can keep it going."
Allen got her start playing baseball for five years, beginning at age five.
"It was really fun," she said. "I was the only girl on the team for those years."
She was a pitcher, playing Pony and then Little League before transitioning to fastpitch.
"I was a pretty good overhand pitcher and one of the strongest hitters, too," Allen said.
When she started playing fastpitch, she needed help with her throwing mechanics and some bad habits. So she sought out area pitching guru Steve Fountain, who figures he's coached more than 600 since the late 1980s.
"He completely started me from scratch," Allen said.
Fountain, who has coached most of the standout pitchers in the area who have gone on to college, refuses to rank his top players.
"I will say she's one of the best I've had," Fountain said. "Her work ethic is incredible. She always wants to get better. She's one of the hardest-throwing pitchers I've had. She pays attention to detail and never is satisfied with the status quo."
Fountain said there's no doubt that Allen can be an NCAA Division I pitcher.
Allen might not get to Division I right away. She's considering going the junior college route so she can play right away and develop her game more.
"Some of my friends have gone to Division I straight out of high school and it's too big of a leap in skill set and all of it in general," Allen said. "It might be best for me to get my two-year classes out of the way and then go to a four-year school."
This summer is critical to deciding her college destination. She will play in several exposure tournaments.
She helped lead the Spokane Scream to the 16 B national championship last summer when the tournament was held in Spokane.
Summer can wait, though.
"We're better than last year," Allen said of the Highlanders. "We're playing as a team and communicating a ton better. We're more mature."
Local journalism is essential.
Give directly to The Spokesman-Review's Northwest Passages community forums series -- which helps to offset the costs of several reporter and editor positions at the newspaper -- by using the easy options below. Gifts processed in this system are not tax deductible, but are predominately used to help meet the local financial requirements needed to receive national matching-grant funds.
Subscribe to the sports newsletter
Get the day's top sports headlines and breaking news delivered to your inbox by subscribing here.
---