Sports
Kent effusive about newest recruit Malachi Flynn
Wed., April 13, 2016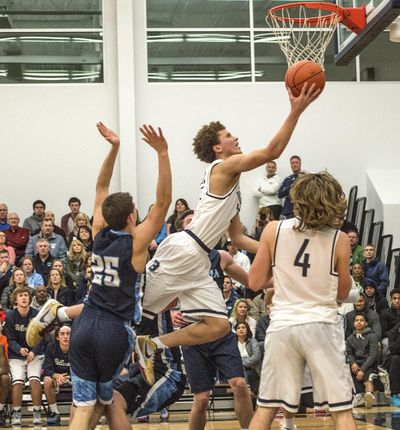 PULLMAN – Ernie Kent says that he will not put undue pressure on Malachi Flynn, who signed a letter of intent with Washington State on Wednesday, the first day of the NCAA's spring signing period. But Kent also made it clear he has high expectations for the prolific scorer.
"I equate him to (Luke) Ridnour, (Aaron) Brooks and Tajuan Porter," Kent said during a signing day press conference. "All of them, when they came in the door had their moments as freshmen."
Flynn averaged 29.7 points per game as a senior at Tacoma's Bellarmine Prep, shooting 48 percent from the field and 88 percent from the free throw line. He also collected six rebounds and dished out four assists per game.
As a senior, Flynn was named the Associated Press state player of the year for all classifications after leading his team to a 20-6 record, and scoring 743 points to break the single-season school record previously held by Avery Bradley, a former first-round NBA draft pick and current starter for the Boston Celtics.
"Malachi really reminds me of the guard play that I had when we built those really good teams at Oregon," Kent said. "The skillset, the feel for the game, his ability to score, his motor, and, more importantly, his drive to be successful. I just thought he was an incredible get for us."
Flynn joins guard Milan Acquaah and forward Jeff Pollard in WSU's 2016 recruiting class, which will enroll this summer in time to join the Cougars for their August trip to Europe, which will give the team a chance at some early games prior to the start of the school year. Acquaah and Pollard signed during the early signing period in November.
Pollard originally signed with the Cougars as a member of the class of 2015, but delayed his enrollment to spend a season at the Impact Academy in Las Vegas.
"This year for him has been outstanding, because it's given him a year away from home," Kent said. "He's already faced some adversity of being around a new team, new players, new culture, all that. We see somebody who has changed immensely in terms of his confidence."
The Cougars still have three scholarships available. The scholarship given to Flynn became available when guards Ny Redding and Renard Suggs left the program following the season, and starters Que Johnson and Valentine Izundu have since decided to transfer.
Johnson, was WSU's third-leading scorer and led the team in scoring in four of its last eight games. His departure makes it all the more likely that Flynn will be counted on as a freshman to provide the Cougars with a scoring punch, given his offensive versatility.
Kent said that he does intend to use those scholarships and that he is actively recruiting high school recruits, junior college players, transfers, as well as overseas prospects to fill out WSU's roster before next season.
Local journalism is essential.
Give directly to The Spokesman-Review's Northwest Passages community forums series -- which helps to offset the costs of several reporter and editor positions at the newspaper -- by using the easy options below. Gifts processed in this system are not tax deductible, but are predominately used to help meet the local financial requirements needed to receive national matching-grant funds.
Subscribe to the sports newsletter
Get the day's top sports headlines and breaking news delivered to your inbox by subscribing here.
---