Sports
WSU basketball players exhibit reasons rules for transferring are murky
Tue., April 19, 2016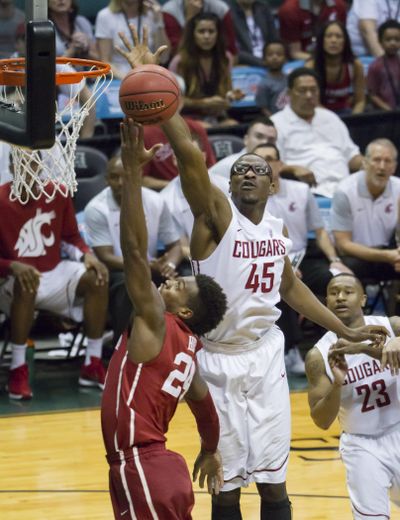 PULLMAN – At 2 p.m. on Wednesday, Washington State men's basketball coach Ernie Kent and former WSU player Valentine Izundu will separately appear before a committee of three faculty members to make opposing cases regarding why Izundu should be allowed to contact San Diego State University or why he should not.
The transfer appeal hearing is just one aspect of the strikingly complex process by which student athletes change schools, a procedure that is anything but straightforward and is becoming an increasingly important feature on college athletics.
At first glance, the trade-off is simple. A player may move from one NCAA Division I school to another, provided they sit out a year with no competition, ostensibly to give the athlete time to adjust to new surroundings and academic coursework, but more so as a deterrent.
But the NCAA bylaw concerning transfers, 14.5, has more than 75 exceptions and clarifications, and the bylaw concerning transfers who have graduated is similarly daunting. That is why it seems like every player who transfers is bound by rules unique to his or her situation, and recent rule changes have only made things more confusing.
For example, Kent has restricted Izundu from transferring to SDSU, because he believes that the Aztecs tampered in the transfer process by contacting the player before the season was over.
The controversy centers around a spring break trip to San Diego taken by Izundu, and teammate Que Johnson, who has also announced his decision to transfer. While there, the teammates attended the Aztecs' NIT game against IPFW, with tickets Izundu says were provided by a friend.
"I didn't talk to any coaches or anything, I just went to the beach there and had a good time," Izundu said in a text message to The Spokesman-Review. Izundu believes that text message records, bank statements and travel records will show that he had no contact with the SDSU coaching staff.
When contacted for this story, Kent said via email "We are going through transfer proceedings as mandated by the NCAA, as requested by the student-athlete."
Johnson was not blocked from contacting the SDSU coaches, but Kent initially restricted the guard from transferring to any school on WSU's schedule next season. Those restrictions have since been lifted.
Johnson says he left the Cougars before his senior season because he "wanted a fresh start in a new environment."
Izundu said, "I just wasn't happy here and I have a chance to play and explore my options with other schools for my best interest and grad school, too."
Both Izundu and Johnson were starters for WSU this past season. Role players Ny Redding and Renard Suggs also left the program.
Apart from being the WSU head coach, Kent holds a leadership role in the college basketball world. He is the associate executive director of the National Association of Basketball Coaches and has spent the last couple years brainstorming with coaches how to stem the rapid rise of player transfers.
The problem of roster flight is far from unique to WSU. Pac-12 rival USC has lost three players this offseason, and Washington had four players transfer during or after the 2014-15 season. The Loyola University women's team has had 10 of 12 returning players signal their intent to transfer since the end of the 2014-15 season.
In men's college basketball alone, more than 700 Division I players changed schools last season and this year there could be more than 800. The floodgates opened after a 2006 rule change allowing players who graduated to transfer without penalty.
More players who have redshirted or graduated quickly are opting to spend their senior seasons playing for a team where they will be a focal point, or for an established team looking for a missing piece for its championship run.
Both Izundu and Johnson will graduate before transferring.
Much of the confusion regarding transferring stems from the conferences placing additional restrictions on top of the NCAA's bylaws, and the discretion given to coaches to exercise certain rights, many of which are not athlete-friendly.
A coach invites bad publicity when he prevents a player who wishes to transfer from playing for an upcoming opponent. But is it the coach's responsibility to think about the departing players' best interests or those of the school?
WSU football coach Mike Leach has prevented players from transferring to upcoming opponents in the past, citing the considerable resources invested in recruiting and developing said players, and not wanting those expenditures to be used against them. There is also the concern that a transferring player's knowledge of strategy and personnel could be used against his or her former program.
Local journalism is essential.
Give directly to The Spokesman-Review's Northwest Passages community forums series -- which helps to offset the costs of several reporter and editor positions at the newspaper -- by using the easy options below. Gifts processed in this system are not tax deductible, but are predominately used to help meet the local financial requirements needed to receive national matching-grant funds.
Subscribe to the sports newsletter
Get the day's top sports headlines and breaking news delivered to your inbox by subscribing here.
---