News > Voices
Gardening: Choose blooms that attract bees
Wed., April 20, 2016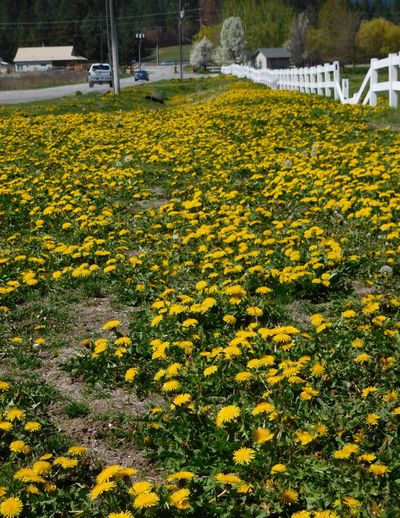 I took a break from planting some of my cool-season vegetables last weekend to watch my mason bees filling their nesting tubes. I have a collection of old powdered drink containers I have filled with straws in a small shelter on the fence. The iridescent green and black mason bees broke through the mud caps on the straws early in April and are now very busy pollinating fruit trees and early blooming plants. They load up on pollen and return to clean tubes to lay their larvae on a bed of pollen for next year. All of their work for this year will be done by mid-June.
In February, I wrote about native plants you can include in your garden to attract pollinating insects. Now that spring has come and the nurseries are full of plants, it's time to talk about common garden plants you can add to your garden. You should choose flowers that bloom progressively through the season to provide a steady source of nectar and pollen.
For spring-blooming plants consider planting lupines, rock cress, Oregon grape, red-flowering currant, muscari or grape hyacinth, penstemon, beards tongue, phlox, baptisia, anemone, spiderwort, chives, ornamental alliums and hardy geraniums. Many of these are in full bloom now and will continue to bloom into mid-May. The muscari and ornamental alliums will be available in the fall as bulbs.
Don't be too quick to go after those dandelions in your lawn. They are an excellent source of early season pollen for honeybees as they build up their worker bee populations. The pollen provides the developing bee larvae with much needed protein.
Summer is the height of the flower season, so the choices are myriad here. Most bees need to collect as much pollen and nectar in June and July as is possible. Honey bees in particular need to collect the bulk of their nectar to make into honey by early August or the hive may not make through the upcoming winter. Keep your summer garden well-watered and deadhead spent blooms to keep the flowers blooming as long as possible.
Consider planting perennials like blanketflower, liatris, coneflower, evening primrose, hyssop, lobelia, monarda, campanula, Joe Pye weed, milkweed, sedum, coreopsis, salvia, verbena, catmint, lavender, sunflower, snapdragon, cosmos and hosta. Select plants that have simple flowers instead of the fancy double blooms; insects can't get into the heart of the flower through all the extra petals.
The summer bloomers will often keep going into September here, but insects will need to collect pollen and nectar into the end of September in preparation for winter hibernation. Most insects will keep working until the temperatures drop into the 50s consistently.
Fall flowers are a mix of perennials and shrubs. Consider planting shrubs like caryopteris, annuals like zinnia and more sunflowers that will bloom until frost, and perennials like sedum, asters and goldenrod. Honeybees flock to asters on a warm fall afternoon, and you can easily watch them work.
Pat Munts is the co-author, with Susan Mulvihill, of "Northwest Gardener's Handbook." Munts can be reached at pat@inland nwgardening.com.
Local journalism is essential.
Give directly to The Spokesman-Review's Northwest Passages community forums series -- which helps to offset the costs of several reporter and editor positions at the newspaper -- by using the easy options below. Gifts processed in this system are not tax deductible, but are predominately used to help meet the local financial requirements needed to receive national matching-grant funds.
Subscribe now to get breaking news alerts in your email inbox
Get breaking news delivered to your inbox as it happens.
---