Sports > Gonzaga athletics
Meehan: Idaho's Sophie Hausmann, Gonzaga's Ciera Min make first victories special
Fri., April 22, 2016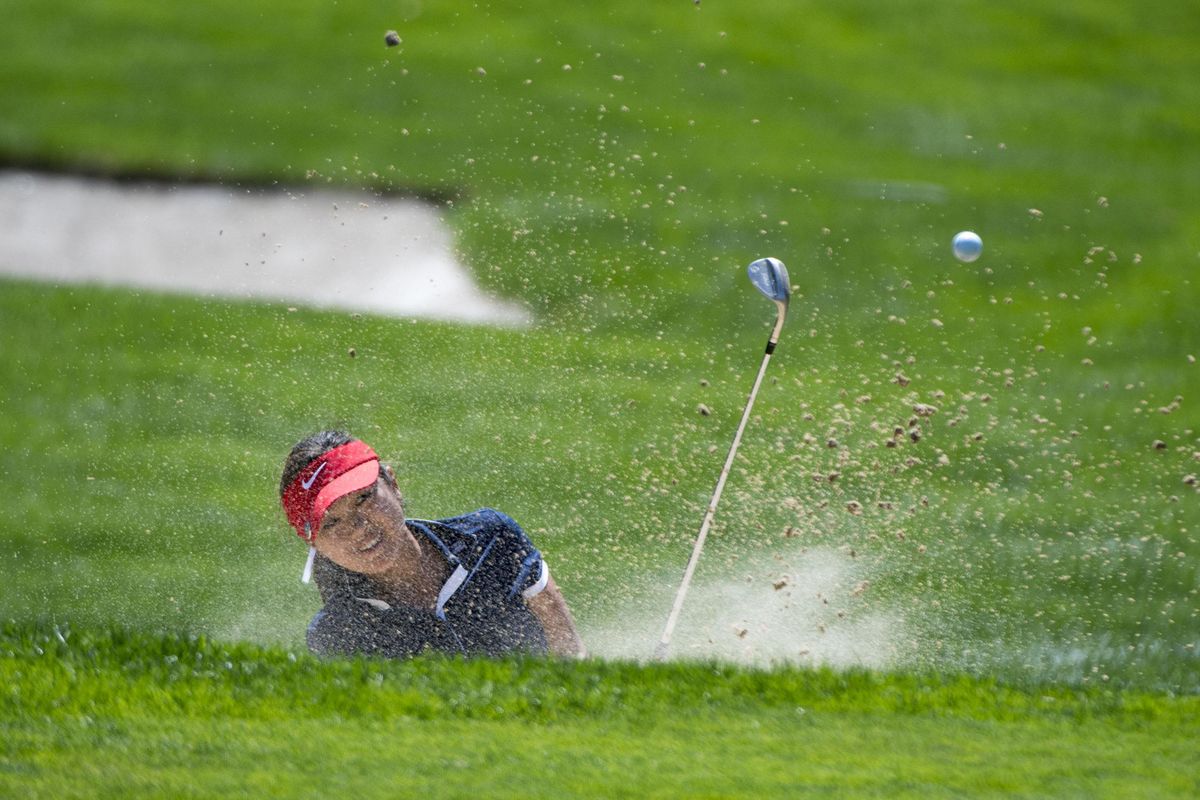 Gonzaga's Ciera Min during the WCC Golf Championships at Blackhawk Country Club. (Kyle Terada / Kyle Terada/WCC)
Idaho's Sophie Hausmann and Gonzaga's Ciera Min picked the ideal time to win their first collegiate golf tournaments.
They did it in similar fashion, firing record scores, withstanding final-round pressure and worrying about team finishes more than their own results.
Hausmann tapped in for par on the 18th hole to give the Vandals a one-shot victory over Sacramento State earlier this week at the Big Sky championships. Her rounds of 77-65-70 at Boulder Creek Golf Club in Boulder City, Nevada, matched Eastern Washington's Marissa Borja's 212 total (4 under par). Hausmann made another par on No. 18 to win the playoff.
"Honestly, I cared a little bit more about the team," Hausmann said. "Lisa (Johnson, UI coach) told me after the round she had no idea where I was individually."
Idaho led by four entering the final round but found itself trailing by five or six shots late as Sacramento State put together a Big Sky tournament-record round of 283. However, the Hornets struggled over the last few holes while the Vandals remained steady.
"Neither surprised me," Johnson said of Hausmann's individual and UI's team title. "However, it was a little shocking how we came from behind. I'm not surprised Sophie won, because I know she has that game in her. I didn't even look at the player leaderboard. I was totally focused on the team leaderboard."
At the WCC championships in Danville, California, Min closed with a 6-under 66 at Blackhawk Country Club to finish three shots clear of four players, including freshman teammate Bianca Pagdanganan. Gonzaga used to a final-round 290 to overtake Pepperdine for second and make up 11 shots on BYU, but the Cougars held on for a three-stroke victory.
"That was my first concern," Min said. "When I was watching everyone coming in, I knew it was a really close team race. You could tell by all the coaches watching."
Min, who was tied for ninth after 36 holes, put on quite a show. The junior from Hawaii was 1 over through five holes before making a birdie, draining a long putt to save par and holing out from 84 yards for eagle on a par 4. She opened the back nine with a bogey but responded with five birdies.
A day after missing 13 of 14 fairways, Min found the short grass throughout her 66, the lowest round in relation to par in program history.
"I worked on it right after the second round. It's really important to feel confident over the drive, because it starts the hole," Min said. "I made a few putts I needed to make and that was really nice."
Min adjusted her mind set after a finishing tied for 24th last month at a tournament in Hawaii.
"That was really disappointing, because that's home for me," she said. "From that tourney on I put a lot focus into the emotional aspect, trying to stay patient, hole by hole, really focusing on not getting too upset with myself. That was a big turning point."
Hausmann can relate. Her resolve was tested after an opening-round 77, the highest score by a Vandal in the three-day event. The freshman from Germany then shot a 7-under 65, equaling the lowest score in UI history and setting the Big Sky championship record. She closed with a 70.
"I've learned so much mentally," Hausmann said. "It's easy to say, 'Stay in the present and be positive,' but doing it took some time. This was the first tournament through the entire 54 holes I stayed positive and committed to each shot."
Hausmann had shot a 65 before in Germany, but this was her first bogey-free round. Another first: She'd never been in a playoff before.
"I played well in Germany and Europe, but winning a tournament was difficult for me," said Hausmann, who overcame back issues that sidelined her earlier this season. "Mentally, it's nice to see that I can win."
The Vandals qualified for the NCAA regionals. They'll find out where they're headed Monday. Gonzaga is probably out of the mix for an at-large berth, according to coach Brad Rickel, but Pagdanganan is a strong candidate for an individual berth and Min is on the bubble.
Local journalism is essential.
Give directly to The Spokesman-Review's Northwest Passages community forums series -- which helps to offset the costs of several reporter and editor positions at the newspaper -- by using the easy options below. Gifts processed in this system are not tax deductible, but are predominately used to help meet the local financial requirements needed to receive national matching-grant funds.
Subscribe to the sports newsletter
Get the day's top sports headlines and breaking news delivered to your inbox by subscribing here.
---