Sports
Team Asia edges Team North America during first night of Team Challenge Cup
Fri., April 22, 2016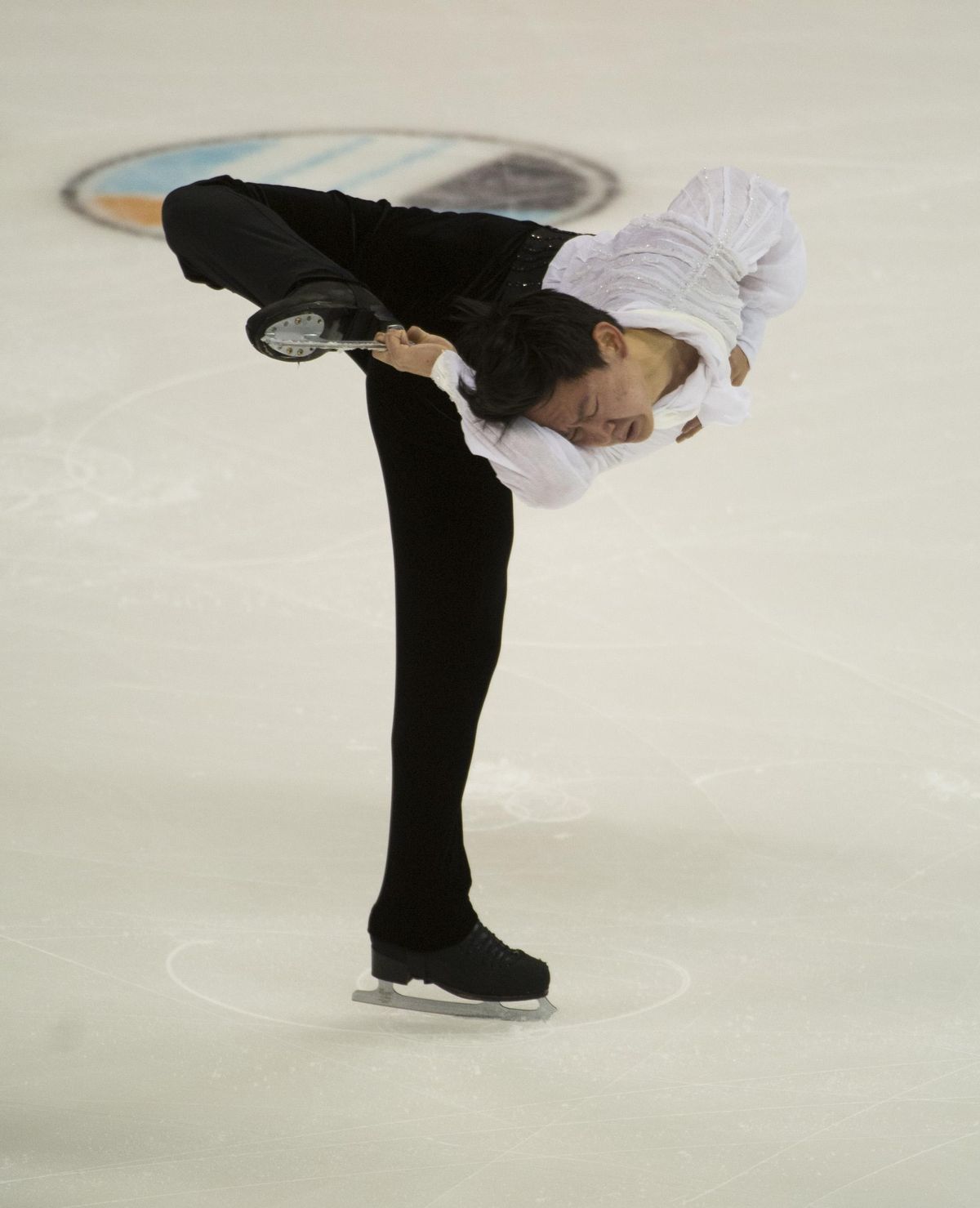 Team Asia Denis Ten from Kazakhstan performs a spin during the 2016 Team Challenge Cup's men's singles short program, Friday, April 22, 2016, in the Spokane Arena. (Colin Mulvany / The Spokesman-Review)
One skater performed on a broken skate and another landed the first quad flip in international competition to lead Team Asia past Team North America Friday night in the team-singles event as part of the Team Challenge Cup.
Shoma Uno of Japan started his routine by nailing a quad flip. That maneuver had been attempted but never landed in competition, according to skating officials. Uno scored 105.74, which also earned him an extra $5,000 for the highest men's score.
"I feel like it was 50-50, so I'm really surprised," Uno said. "I'm really lucky tonight that I made it."
Team North America finished two points behind Asia for second and Team Europe finished third despite the high ladies score of 77.56 by Evgenia Medvedeva from Russia to earn her a $5,000 bonus while skating in front of 4,151 at the Arena.
The scores from the men's and ladies short programs will not carry over to Saturday, when the pairs, ice dance pairs and men's and ladies square off for the continental team competition as part of the inaugural Team Challenge Cup.
Uno followed a gutsy performance from Denis Ten of Kazakhstan, who did not come out to practice before his routine because he was too busy using clear-plastic tape to fix a broken skate.
"It was quite an interesting experience," Ten said through an interpreter. "But, this is something I will tell my grandchild."
Following Ten, Adam Rippon, the reigning U.S. national champion, fell on his triple Axel jump.
"I knew (Ten) had a 91 or 92 so I knew I needed to be perfect," Rippon said. "I was trying a new entrance on the triple Axel that I hadn't tried before. I was taking a little bit of a risk. But it's a team event so I was ready to go for it."
Gracie Gold, 20, immediately followed Rippon and got into a little trouble right off the start. She downgraded a triple Lutz to a double in her opening combination, resulting in a point deduction.
"I actually did have a trip going around the corner" heading into the move, she said. "That was just me getting a little bit ahead of myself. I'm still really happy with the way I skated."
In the next grouping of ladies skaters, Gabriella Daleman of Canada won the group by edging Rika Hongo of Japan and Roberta Rodeghiero of Italy.
But Daleman, too, had to skate through miffed landing on her triple Lutz.
"This morning my hip was starting to bug me. As soon I landed my Lutz, I was like, 'OK. Get back up. Just do what you are doing.' "
Daleman said she loved the way she had the support of her North American teammates.
"It's so nice," she said. "Just having them in my corner was so unbelievable to know. That was so amazing."
While he finished second in his grouping, Jason Brown electrified the Spokane crowd with his first short program since returning from an injured back. He scored a personal-best 87.72, but it wasn't enough to overtake the 93.18 from China's Boyang Jin.
"To be healthy and to be a part of this event is a victory in itself," Brown said. "I felt the energy and I wanted to bring it. I'm really thrilled."
He was followed by Ashley Wagner, who implored the crowd to clap and join her routine. She skated fun and free and hit all of her jumps. She had the second-best ladies score of the night with 74.54, her personal best.
"I am way out of shape and I'll be the first person to tell everybody that," Wagner said, "so I have no idea what to expect for tomorrow. But for tonight, I'm really happy with what I did."
Local journalism is essential.
Give directly to The Spokesman-Review's Northwest Passages community forums series -- which helps to offset the costs of several reporter and editor positions at the newspaper -- by using the easy options below. Gifts processed in this system are not tax deductible, but are predominately used to help meet the local financial requirements needed to receive national matching-grant funds.
Subscribe to the sports newsletter
Get the day's top sports headlines and breaking news delivered to your inbox by subscribing here.
---