Sports
Central Valley's Hull twins invited to try out for U-17 national basketball team
Tue., April 26, 2016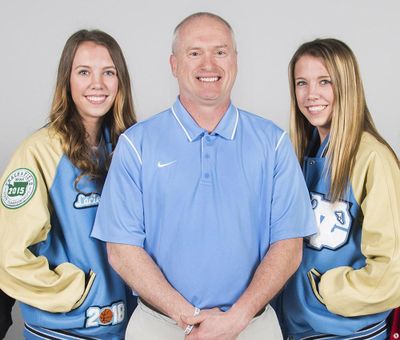 The Hull twins have been invited to try out for the USA women's basketball U17 national team.
Lexie and Lacie Hull, who led the Central Valley girls basketball to a 28-0 State 4A championship season last winter, are among 150 who will arrive in Colorado Springs, Colorado at the Olympic Training Center on May 26 for tryouts.
The Hulls' mom, Jamie, said 35 players got individual invites. Another 115, including her daughters, went through an application process and were granted invitations, They were notified last week.
"So there are 35 girls who probably have a leg up on everybody," Jamie said. "In all reality, there are probably just a couple spots available."
After the tryouts, officials will cut to 15-18. Those players will remain for another week when the final cuts to 12 are made, Hull said.
"The girls probably aren't going to make the team but it's quite an honor," Jamie said. "They don't want a lot of publicity about this."
To know the odds are against them will only make the Hulls try that much more, Jamie said.
The fact the Hulls are 6-foot-1 and are versatile players increase their odds, though, their mother said.
The tryouts are the same weekend as state track. Lexie has quit the track team to focus on training for the tryout while Lacie will stay with the track team through the district meet.
CV girls track coach Geoff Arte is very supportive of the Hulls.
"This is a great opportunity," Arte said. "They talked to me before the season about the possibility. It's Team USA and not like it is some club tournament. So I told them I understand the draw and think it would be a privilege to have the chance to make a team like that."
If the Hulls make the team, they would continue to train until leaving for 2016 FIBA World Championships, which are June 22-July 2 in Spain. That would mean they would miss playing for their high school summer team in June but would rejoin their club team in July.
Administrative change
Less than a year in his role as Coeur d'Alene High athletic director, Bryan Duncan has requested to go back to the classroom.
Duncan said he needs to spend more time with his wife, whose health, he said, is deteriorating. He also said he wants to spend more time developing a summertime business.
Mike Lindquist, principal the last three years at Venture, an alternative high school in the CdA School District, will replace Duncan.
Lindquist, 41, is a Post Falls graduate. He coached and taught several years at Post Falls before pursuing his administrative credential.
He said when he heard Duncan wanted to go back to the classroom, he spoke with CdA principal Warren Olson.
"Being an athletic director is my dream job," Lindquist said. "When the job opened up I had to go after it."
Duncan was reassigned from a vice principal of discipline last spring to AD and then AD Todd Gilkey was moved to Duncan's job. But Gilkey resigned in June to take the AD job at St. Maries, where he started his administrative career.
Local journalism is essential.
Give directly to The Spokesman-Review's Northwest Passages community forums series -- which helps to offset the costs of several reporter and editor positions at the newspaper -- by using the easy options below. Gifts processed in this system are not tax deductible, but are predominately used to help meet the local financial requirements needed to receive national matching-grant funds.
Subscribe to the sports newsletter
Get the day's top sports headlines and breaking news delivered to your inbox by subscribing here.
---
Subscribe and log in to the Spokesman-Review to read and comment on this story