A&E > Entertainment
A 'Newsies' homecoming for Morgan Keene
Thu., April 28, 2016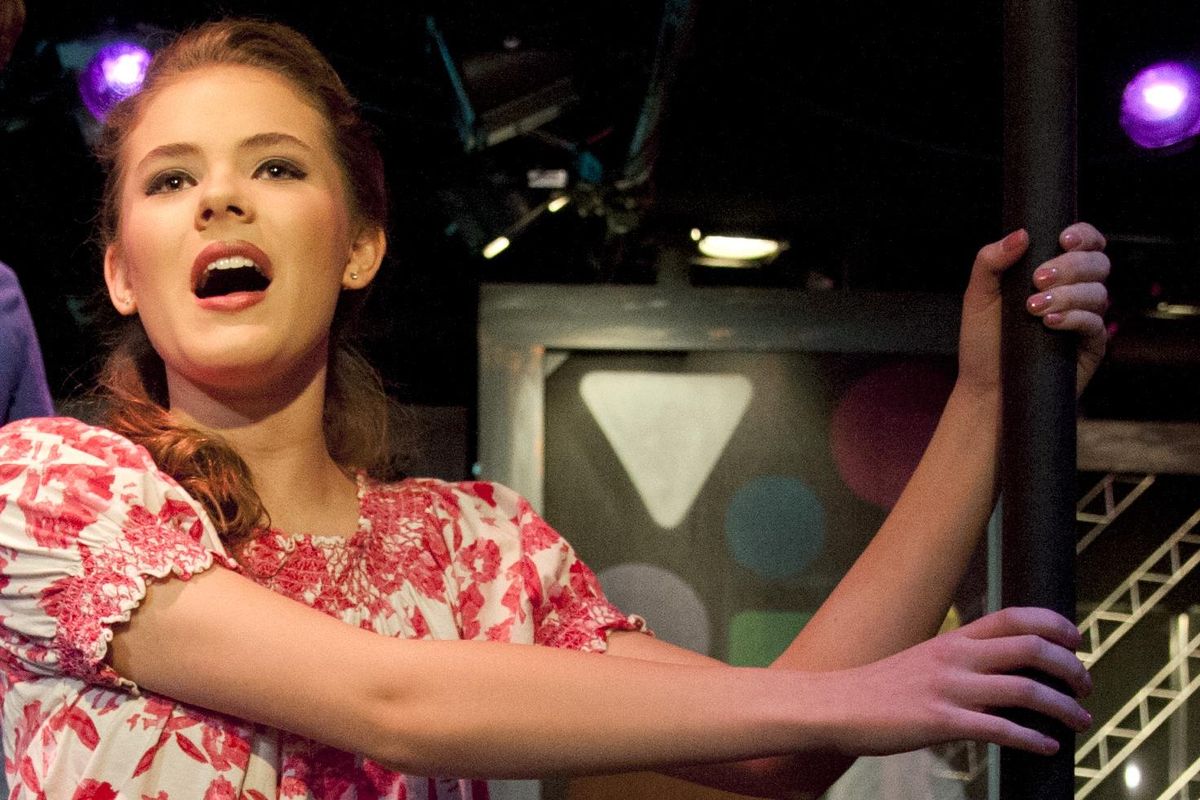 Robby French as Gabe, Morgan Keene as Natalie and Mitch Heid as Henry in the "Superboy and the Invisible Girl" scene from Spokane Civic Theater's "Next to Normal." (Dan Pelle / The Spokesman-Review)
"Newsies" began life as a big-budget movie musical starring Bill Pullman, Robert Duvall, Ann-Margaret and a teenage, pre-"Dark Knight" Christian Bale. Based on the 1899 newsboy strike against newspaper publisher Joseph Pulitzer, the film opened in 1992 to middling reviews and generally lousy box office. Still, it found a devoted cult following on home video.
Fast forward to 2012, and "Newsies" is back, this time on Broadway, where it would play for more than two years, snatching Tony Awards for best choreography and best original score. Now it's on the road and coming to Spokane, with a familiar face in the leading female role.
Morgan Keene, who attended Mead High School until midway through her sophomore year, stars as Katherine Plumber, a newspaper reporter who covers the newsboy strike that's at the heart of the story. The newsies – mostly orphaned and homeless boys – have gone on strike against Pulitzer's New York World, after the publisher announced he was raising the rates he'll charge the kids hawking his paper on street corners. Plumber, writing for the competing New York Sun, gets the story of the newsboys' plight out to the city at large and forms a deep attachment to the newsies' leader, Jack Kelly.
Keene's first role was as a ballroom dancer in a production of "Cinderella" for Christian Youth Theater Spokane. She was featured in several shows at Spokane Civic Theatre, including memorable turns in "Next to Normal" and "Annie," and as Sandy in Civic's sold-out production of "Grease." The 19-year old actress left Spokane two years ago to pursue an acting career. She settled with her parents in New Jersey, near the acclaimed Paper Mill Playhouse in Millburn, and traveled into New York City for auditions and training. She was homeschooled, graduating a semester early, and has continued working with her mentor, former Civic executive artistic director Yvonne A.K. Johnson.
Shortly after arriving in New Jersey, the then-16-year-old went to an audition for "Newsies" on Broadway. "I went in just to go in," Keene said in a recent telephone interview. "Because I thought it would be fun and would be good experience to audition for a Broadway show."
The Disney show, featuring music by Alan Menken and Jack Feldman and a book by Harvey Fierstein, ended up closing on Broadway and going out on tour. Keene shrugged it off and went on to other auditions and continuing her studies.
Two years later, the producers called Keene's agent. They'd remembered her audition and kept her details on file, she said. When she turned 18 they invited her to join the cast of the touring show.
She started out in the ensemble, understudying Katherine. She inherited the role last falla, she said, and has been thrilled every day since. She's a huge fan of "Newsies" and saw the show on Broadway four times, she said. Katherine is a dream role.
"She such a strong, independent, spunky woman," she said. "And that's kind of what I consider myself. I'm very loud and I have big opinions, and I speak my mind, and I work hard to get what I want. And she's the exact same way."
The tour was most recently in Portland and Seattle, and Keene said she can't wait to bring it to her old hometown.
"I'm really excited. I cannot wait. I have so many friends and family who are going to be there to see me," she said.
She's looking forward to taking photos at the Big Red Wagon in Riverfront Park, and visiting with her former voice teacher, Patty Mortier. And if she can find the time, she'd love to squeeze in a trip to Silverwood. "I love Silverwood," Keene said.
And coming to the INB Performing Arts Center holds even more importance in her mind. It's where she saw a professional show for the first time: "Cats."
"It's not my favorite show," she was quick to add. "But I did fall in love with the professionalism that they showed and how hard I could tell they worked to put on that production. It was different than anything I'd ever seen."
She's always enjoyed acting, even if she didn't always know it was something one could do and make a living, she said.
"I just thought it was something that was fun and that I'd have the opportunity to sing, which is something I'd wanted to do since I popped out of my mother," she said. "I've always wanted to sing."
Local journalism is essential.
Give directly to The Spokesman-Review's Northwest Passages community forums series -- which helps to offset the costs of several reporter and editor positions at the newspaper -- by using the easy options below. Gifts processed in this system are not tax deductible, but are predominately used to help meet the local financial requirements needed to receive national matching-grant funds.
Subscribe to the Spokane7 email newsletter
Get the day's top entertainment headlines delivered to your inbox every morning.
---