A&E > Entertainment
Grill, gastropub open to public at Kalispel Golf and Country Club
Thu., April 28, 2016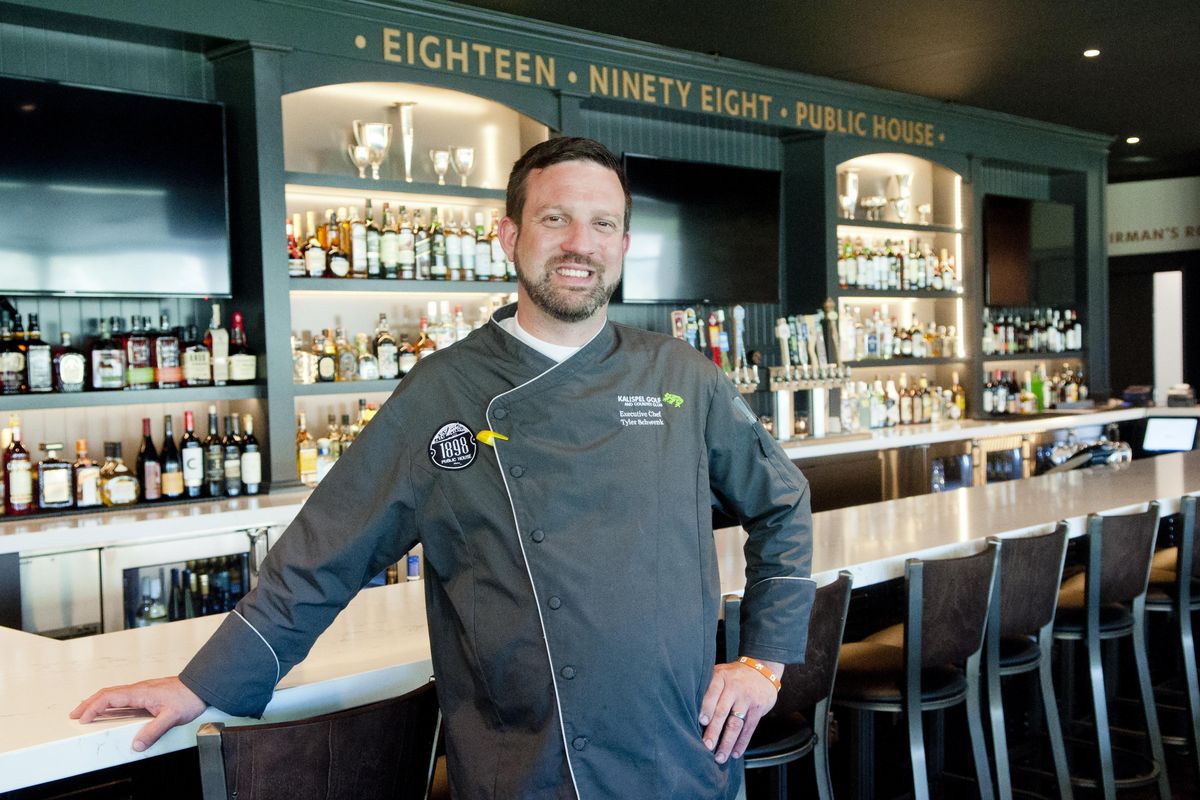 Tyler Schwenk is the new executive chef at the 1898 Public House. (Adriana Janovich / The Spokesman-Review)
No need to tee off or make a reservation. You don't even have to be a member.
Since the Kalispel Tribe bought the former and historically private Spokane Country Club, a few daily tee times have been made available to anyone who wants to play. And both restaurants – a casual grill downstairs and an upscale gastropub upstairs – are open to the public whenever their doors are open.
Opening the eateries to nonmembers marks a significant first in the exclusive club's 117-year history.
"Part of the Kalispel Tribe's reason for purchasing this historic course was to help preserve a community treasure," Kalispel Tribal Economic Authority Chief Operating Officer Phil Haugen said in a news release about the gastropub's grand opening. "Now we have the opportunity to share that beauty with the public, including golfers – and those who may not want to hit the links but would still love to enjoy an amazing dining experience with the added bonus of an incredible view."
The tribe took ownership in December following the club's bankruptcy after losing a gender discrimination lawsuit. Four women exposed a club culture of unequal access and benefits afforded to – as well as boorish behavior by – male golfers.
For the past five months, the tribe has been working to give the property a fresh start – and new flavors. Renovations have been ongoing, including the addition of the 1898 Public House, which opened Friday. The Kalispel Grill has been open for about a month.
Both eateries overlook the golf course at what's now known as the Kalispel Golf and Country Club, tucked along the Little Spokane River under a canopy of towering pines. Diners can enjoy the sweeping vistas from behind the window-lined walls of both dining areas. Or, they can sit outside on the grill's patio or gastropub's deck and watch golfers hit balls on the driving range and chipping and putting greens.
"The public's never been able to enjoy this view," said publicist Dana Haynes. "This was a view you only got to see if you were a member or here for a special event."
The 1898 Public House, named for the year the club was founded, only takes reservations for parties of eight or more. By Monday of the week it opened, the restaurant already had reservations for groups of 18, 10 and eight. For smaller parties, it's first come, first served. And executive chef Tyler Schwenk expects it to be busy.
He designed the menus for both of the club's eateries. The Kalispel Grill focuses on soups, salads and sandwiches. The 1898 Public House specializes in dinner and brunch.
"I love it," Schwenk said of the decor, which features a color palette of gray, green and brown with rock and wood accents. "It's trendy. It's cool. It's got a buzz. You walk right in and see how impressive it is, then you look at this (view) and you're like, wow."
The new restaurant, located in a former banquet area, has the capacity for 274 people. A wall was torn down to open up the space, last remodeled in the late 1980s or early 1990s. A wood-block wall greets guests in the entryway. Decorative dark locker doors line the bottom of the bar, which seats about two dozen people and features 16 rotating taps.
The emphasis is on regional craft beer. Most pints are $7. Initial offerings include Top Cutter IPA from Bale Breaker Brewing Co. in Yakima, Goatmeal Stout from Iron Goat Brewing Co. in Spokane and 1910 Black Lager from Wallace Brewing Co. in Wallace.
Specialty cocktails – including a Blood Orange Rosemary Fizz and 1898 Whiskey Smash with three kinds of berries – are $7 to $8. Wine by the glass is $6 to $12.50.
The menu focuses on dishes that "remind you of your childhood," said Schwenk, who aimed to give classic kids' dishes an upscale, modern, adult treatment – and keep items under $30.
"It's for any occasion," he said. "It's for any day of the week. It's not fine dining. But it's quality ingredients. If you want to come in and have a corn dog and a beer and watch the game, that's great."
He's particularly proud of the $22 lobster macaroni and cheese, adorned with a lobster claw, and $15 Indian taco, served with fry bread, bison chili and lime crème fraiche. Look, also, for bangers and mash with a stout demi-glace and seasonal mashed potatoes for $22 and beer-battered fish-and-chips for $15 for two pieces or $18 for four pieces.
Shareables – for $1.50 to $22 – include deviled eggs, house-roasted cashews with browned butter and smoked sea salt, pork belly sliders, Southern-style frog legs with chipotle remoulade and cornmeal-and-cracker-crumb coating, and a charcuterie plate with elk jerky and venison pepperoni. A lobster "corn dog" features battered-and-fried lobster mousse, and the French toast comes with pan-seared foie gras and cinnamon swirl bread from nearby Petit Chat Village Bakery.
Brunch offerings include eight different egg dishes – from a $10 "Hole in One" with house bread, an egg and roasted fingerling potatoes, to a $15 smoked brisket omelet – as well as a selection of six sandwiches and burgers from $12 to $18.
For dessert, there are four offerings: beignets, chocolate molten cake, classic crème brulee, and root beer floats for kids (no booze) and adults (with alcoholic root beer).
While there aren't any crayons or butcher-paper-covered tables, the restaurant is family friendly. Schwenk, 36 and a father, ordered 18 mini Etch A Sketch toys to help occupy tiny diners. He officially took the helm Jan. 25 and now heads a culinary team of about 15 cooks.
Until he began working for the tribe, Schwenk spent his culinary career at the Hagadone Corporation, where he got his start in the hospitality business.
At 14, during the summer between eighth grade and freshman year, he was stocking, mopping and rotating produce at Beverly's at the Coeur d'Alene Resort. By 16, he had moved up to banquet prep and golf-course catering. At 18, he was a kitchen supervisor, in charge of 45 employees. Eventually, he became chef de cuisine at Beverly's.
A former president of the American Culinary Federation's Chefs de Cuisine of the Inland Northwest, Schwenk grew up in Coeur d'Alene, graduating from Lake City High School in 1998. He didn't attend culinary school but received his kitchen education on the job, citing – in particular – the 10 months he spent working as a sous chef aboard the award-winning and then newly built Lady Lola, Duane Hagadone's 205-foot luxury yacht.
"That was like culinary school," said Schwenk, who was 22 when he set sail from the Netherlands in April 2002. He worked under a chef who had gone to culinary school in France and emphasized buying local ingredients.
"We made everything from scratch," said Schwenk, who returned to the Inland Northwest that December after cruising the Spanish and French rivieras and Greek isles, crossing the Atlantic, and sailing through the Caribbean and Panama Canal to Mexico, where he finally disembarked.
Research and development for the 1898 Public House only took him as far away as Seattle, where he sampled 17 gastropubs in a day and a half "to get inspiration and ideas."
There's some crossover on the menu at the Kalispel Grill, including most of the shareables, the Indian taco, $10 wedge salad, $18 crab melt, $14 Reuben, and fish and chips, which are $16 at the grill. Menu items run from $1.50 for a deviled egg to $18 for the Crab Louie, crab melt or a dozen chicken wings.
There are another 16 taps at the grill, which carries some of the same regional craft beers as well as domestics such as Coors Light.
"Rainier was the first keg that blew," Schwenk said.
But, don't expect to enjoy a cold one or foodstuffs by the pool this summer if you're not a club member. Some amenities remain off limits to the public.
The pool is for members only.
Local journalism is essential.
Give directly to The Spokesman-Review's Northwest Passages community forums series -- which helps to offset the costs of several reporter and editor positions at the newspaper -- by using the easy options below. Gifts processed in this system are not tax deductible, but are predominately used to help meet the local financial requirements needed to receive national matching-grant funds.
Subscribe to the Spokane7 email newsletter
Get the day's top entertainment headlines delivered to your inbox every morning.
---