Sports
Big names sent packing before MLB trade deadline
Mon., Aug. 1, 2016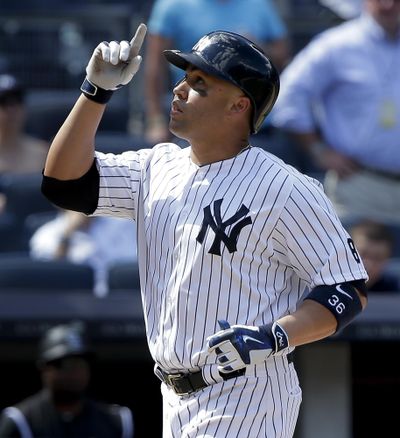 Jonathan Lucroy got a deal he liked, Carlos Beltran joined him in Texas and Jay Bruce and Rich Hill also moved Monday during an 18-swap frenzy at the trade deadline.
Matt Moore, Francisco Liriano and Joe Smith found new homes, too, as playoff contenders stocked up for the stretch.
"That's what we play for. Those are the moments we want to be in," Moore said after N.L. West-leading San Francisco got the lefty from last-place Tampa Bay. "For someone to reach out and come get me, it's a really good feeling."
Teams had until 1 p.m. PDT to make trades without waivers. From now, no player can be dealt unless he goes unclaimed by everyone else.
The A.L. West-leading Rangers made two major moves.
After Lucroy used his limited no-trade clause to block a deal to Cleveland, the All-Star catcher was sent to Texas.
The 30-year-old Lucroy is batting .299 with 13 homers and 50 RBIs this season.
Texas also got Beltran, a proven postseason star, from the New York Yankees for righty Dillon Tate, the fourth overall pick in the 2015 amateur draft, and two other pitching prospects – current Spokane Indian Nick Green and Erik Swanson. Tate and Swanson were also Spokane Indians.
"I think as a player, you know that this moment could happen. But when it happens, it hits you," Beltran said.
Twice before in his career, Beltran was traded in midseason to a team with playoff hopes. Like the Rangers, Beltran has been to the World Series but never won the crown.
The Yankees kept reworking their roster, trying to turn the best parts of a .500 team into a bright future. They had already traded relief aces Aroldis Chapman and Andrew Miller leading up to the deadline.
"We're kind of in unfamiliar territory with the Yankees," first baseman Mark Teixeira said.
"That's life. I mean, we've had a nice run the last eight years," he said.
As always, relievers were in demand.
The Giants aimed to bolster a shaky bullpen by getting Will Smith from Milwaukee, Boston got Fernando Abad from Minnesota and the N.L. Central-leading Cubs obtained sidearming righty Joe Smith from the Angels.
The Cubs previously got lefties Chapman and Mike Montgomery for their bullpen.
"That was an area we thought we could make some changes," general manager Jed Hoyer said. "Adding a closer, a left-hander and then adding a guy like Smith who can be a right-handed specialist, we felt like those were areas that would improve our team and improve the mix of our bullpen."
The banged-up Mets acquired Bruce, the All-Star outfielder who leads the N.L. with 80 RBIs, from Cincinnati for infielder Dilson Herrera and minor league lefty Max Wotell.
The Mets also got pitcher Jon Niese, who spent his first eight years in New York, from Pittsburgh for reliever Antonio Bastardo.
The contending Los Angeles Dodgers fortified their rotation by getting Rich Hill along with outfielder Josh Reddick from Oakland for three pitching prospects.
Dodgers ace Clayton Kershaw is on the disabled list with back trouble, and they don't know when he'll be back. The 36-year-old Hill is 9-3 with a 2.25 ERA in 14 starts and on the DL because of a blister on the middle finger of his throwing hand that hasn't healed.
Toronto was busy, making three deals. A day after falling out of the A.L. East lead, they got Liriano from Pittsburgh.
"Where he's been and what he's accomplished his entire career, we feel like gives us a chance to have someone who could be pitching in Game 2, 3 or 4 of a World Series run," Blue Jays general manager Ross Atkins said.
Local journalism is essential.
Give directly to The Spokesman-Review's Northwest Passages community forums series -- which helps to offset the costs of several reporter and editor positions at the newspaper -- by using the easy options below. Gifts processed in this system are not tax deductible, but are predominately used to help meet the local financial requirements needed to receive national matching-grant funds.
Subscribe to the sports newsletter
Get the day's top sports headlines and breaking news delivered to your inbox by subscribing here.
---