News > Spokane
Cathy McMorris Rodgers, Joe Pakootas advance in race for Congress
Tue., Aug. 2, 2016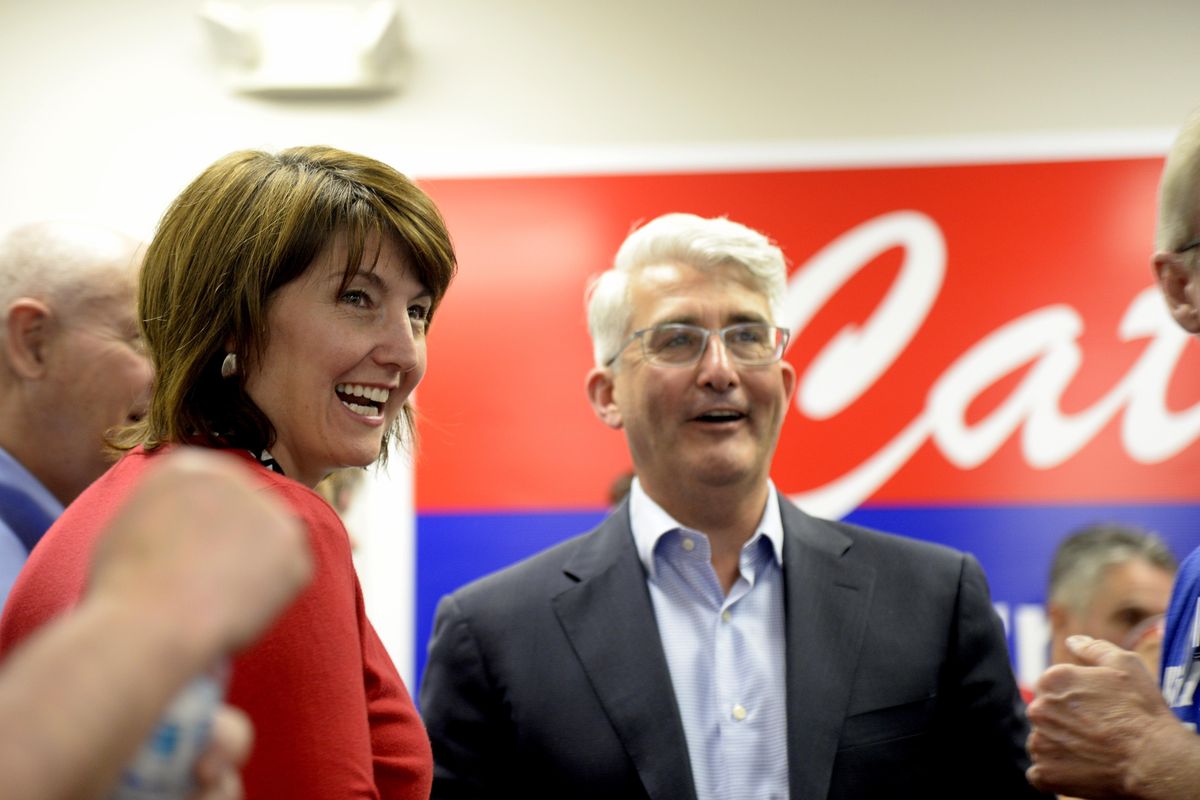 Cathy McMorris Rodgers and Bill Bryant watch the returns in the primary election at McMorris Rodgers' headquarters in Spokane on Tuesday, Aug. 2, 2016. McMorris Rodgers easily made it into the general election, as did Bryant, where he'll face incumbent Jay Inslee. (Jesse Tinsley / The Spokesman-Review)Buy a print of this photo
The race for Congress in November will be a rematch.
Incumbent Rep. Cathy McMorris Rodgers easily topped five challengers in Tuesday's primary, but failed to earn a majority of the primary vote for the first time since she won the 5th District seat in 2004. She will face Democrat Joe Pakootas.
In a speech to supporters at her campaign headquarters in Spokane on Tuesday night, McMorris Rodgers called for unity in the Republican Party to defeat a "motivated" Democratic Party.
"It's all on the line," McMorris Rodgers said. "It's the presidency. It's the U.S. Senate. It's the Supreme Court. It's the United States House of Representatives."
November will mark McMorris Rodgers' sixth time vying for Spokane's seat in Congress. She has never earned less than 56 percent of the vote in the general election, with Peter Goldmark mounting the most successful November challenge for her seat in 2006.
Pakootas will try to improve upon his showing in the 2014 general election, when he fell to McMorris Rodgers with 39.3 percent of the vote.
Based on early returns, Pakootas earned a slightly greater share of ballots cast this year compared to the 2014 primary. McMorris Rodgers' share of the primary dropped about 10 percentage points from 2014, when she was challenged by Pakootas, Dave Wilson and Tom Horne. This year saw newcomer Krystol McGee, a Libertarian, also on the ballot, which otherwise remained unchanged.
Wilson earned 13 percent of the vote, based on Tuesday's totals. Horne placed fourth again with 10 percent. McGee, a latecomer to the race, earned about 2 percent.
Pakootas said Tuesday he was "feeling great" and performed better than expected.
"Our ground game is going to be a lot stronger this year," he said.
Dave Wilson sought to become the first independent to be elected to the U.S. House of Representatives since Bernie Sanders.
"We knew running as an independent was the tough way to go," Wilson said. "We think we could have made it into the top two if I ran as a Democrat or a Republican."
A Democrat has not held the congressional seat since Tom Foley, then-speaker of the House, was defeated by George Nethercutt in 1994 as part of a Republican surge at the polls.
McMorris Rodgers once again will take a commanding fundraising lead into the general election. She has more than $640,000 on hand heading toward November, according to her campaign's most recent filing with the Federal Election Commission. Pakootas reported just more than $30,000. Wilson reported nearly $8,000.
Four-term incumbent Democratic Sen. Patty Murray, is seeking re-election in a year when Congress is held in low esteem, but she topped a 17-candidate field with 53 percent of the vote and will face Chris Vance, a former state legislator, King County councilman and state Republican chairman. Vance was a distant second with 28 percent of the vote but said he accomplished his goal to finish in the top two and move on to the general election with a message of "positive change."
Reporter Jim Camden contributed to this report.
Local journalism is essential.
Give directly to The Spokesman-Review's Northwest Passages community forums series -- which helps to offset the costs of several reporter and editor positions at the newspaper -- by using the easy options below. Gifts processed in this system are not tax deductible, but are predominately used to help meet the local financial requirements needed to receive national matching-grant funds.
Subscribe now to get breaking news alerts in your email inbox
Get breaking news delivered to your inbox as it happens.
---