Sports
MLB Notes: Indians put All-Star Danny Salazar on DL
Tue., Aug. 2, 2016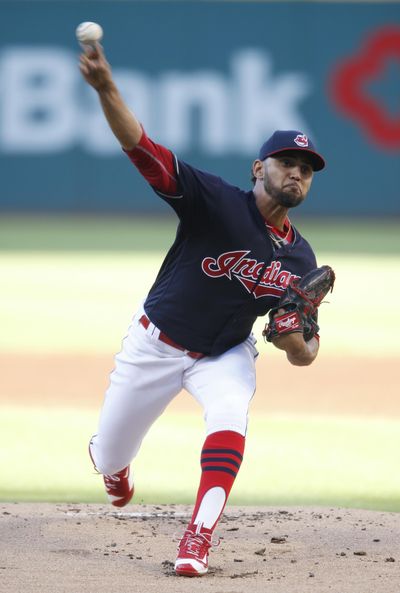 The Cleveland Indians will be without All-Star pitcher Danny Salazar for two to three weeks, a blow to the momentum of the A.L. Central leaders.
Salazar (11-4) was placed on the 15-day disabled list with right elbow inflammation Tuesday, a day after the shortest outing of his career. An MRI showed no structural damage and Salazar won't throw for five to seven days.
"We're pretty confident that just about when his DL time is up, he'll be ready to resume starting again," Indians manager Terry Francona said.
Salazar lasted two innings and allowed six runs, including three homers, against Minnesota in a 12-5 defeat Monday.
The loss was his first since May 22. He told reporters his elbow had bothered him for several weeks. The right-hander has an 8.84 ERA over his past four starts, totaling only 18 1/3 innings.
Salazar underwent Tommy John surgery in 2010 and Francona said the MRI was done in part to help the pitcher's peace of mind.
"We all know that Danny is learning that you maybe not always are 100 percent, and trying to find a way to get through that during a game," Francona said. "But we also need to be cognizant that, 'OK, if this is what can help Danny be really good, we need to help him.'"
Mike Clevinger will be recalled from Triple-A Columbus to start Thursday against the Twins.
Outfielder Brandon Guyer, acquired from Tampa Bay on Monday, was added to the 25-man roster.
Dodgers option Puig to minors
The Los Angeles Dodgers have optioned Yasiel Puig and Ross Stripling to the minors to make room for their new additions, outfielder Josh Reddick and reliever Jesse Chavez.
Los Angeles told Puig not to come to Dodger Stadium on Monday ahead of the team's departure to Colorado for a series against the Rockies. The Dodgers were trying to trade Puig before the non-waiver trading deadline Monday but couldn't find a deal.
They were able to acquire Reddick and left-hander Rich Hill from Oakland, as well as Chavez from Toronto. Hill is on the 15-day DL with a blister on his pitching hand.
Puig was an All-Star in 2014 after a meteoric rise with the Dodgers, who signed the prospect to a seven-year, $42 million deal in June 2012. He hit 35 homers and drove in 111 runs while batting .305 in 2013 and 2014, but slipped to .255 last season while playing in just 79 games due to hamstring troubles.
Yankees to decide on A-Rod's fate
His time with the New York Yankees drawing near an end following more than a decade of controversy, Alex Rodriguez proclaimed: "No matter what happens, I'm at peace with myself."
After trading four veterans and turning their attention toward rebuilding, the Yankees appear to have little or no use for a 41-year-old DH with a .205 batting average, one whose playing time has all but disappeared in the past month.
"I think I can contribute. I think I can help out in the clubhouse," Rodriguez said, "but if not, I have two beautiful daughters waiting for me in Miami."
Clearing the bases
The Brewers called up top prospect SS Orlando Arcia from Triple-A Colorado Springs. He made his major league debut against the Padres on Tuesday night. Arcia will start at short, pushing major league stolen base leader Jonathan Villar to third. … The Braves placed ace Julio Teheran on the 15-day DL with a strained right lat muscle. … The Cincinnati Reds called up OF Scott Schebler from Triple-A Louisville to fill the roster spot opened when RF Jay Bruce was traded to the Mets a day earlier. The Reds also called up IF Tony Renda and optioned IF Jose Peraza to Louisville. … The Royals say reliever Luke Hochevar had surgery in St. Louis to relieve thoracic outlet syndrome. The procedure included a scalenectomy, which repairs a muscle in the front of the neck. Hochevar is expected to need six months to recover. … Rockies rookie SS Trevor Story could miss the rest of the season with a torn ligament in his left thumb,. An MRI on Monday revealed that Story suffered a torn ulnar collateral ligament an injury sustained while sliding into second base during Saturday's win over the Mets. … Newly acquired lefty Matt Moore made his first start with the Giants against the Phillies, bumping veteran right-hander Jake Peavy from the rotation to the bullpen. … The Padres designated newly acquired OF Hector Olivera for assignment after he came off the restricted list following an 82-game domestic violence suspension. … The Cardinals activated infielders Jhonny Peralta (left thumb) and Brandon Moss (left ankle) from the DL, but indefinitely sidelined SS Aledmys Diaz (right thumb).
Local journalism is essential.
Give directly to The Spokesman-Review's Northwest Passages community forums series -- which helps to offset the costs of several reporter and editor positions at the newspaper -- by using the easy options below. Gifts processed in this system are not tax deductible, but are predominately used to help meet the local financial requirements needed to receive national matching-grant funds.
Subscribe to the sports newsletter
Get the day's top sports headlines and breaking news delivered to your inbox by subscribing here.
---