Sports
Rockies shortstop Trevor Story out with torn ligament in thumb
Tue., Aug. 2, 2016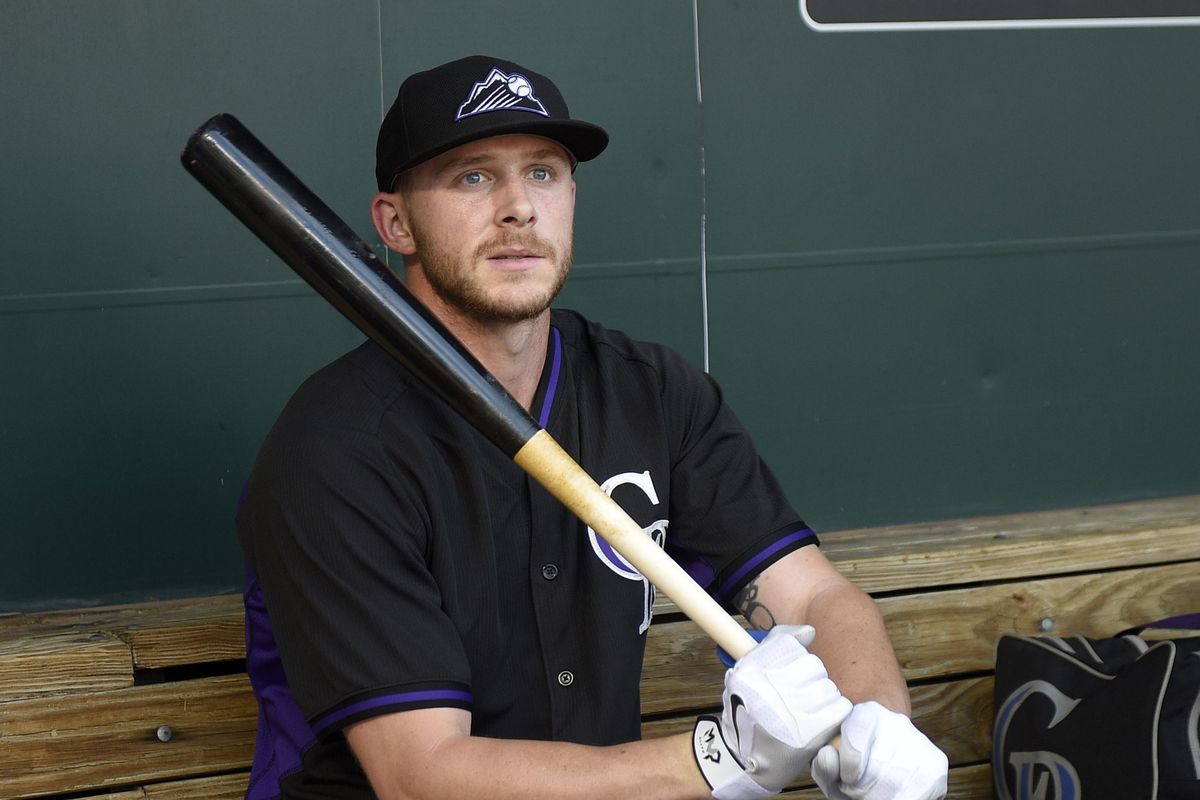 FILE - In this July 26, 2016, file photo, Colorado Rockies shortstop Trevor Story sits in the dugout during batting practice before the team's baseball game against the Baltimore Orioles in Baltimore. Story could miss the rest of the season with a torn ligament in his left thumb. An MRI on Monday, Aug. 1, 2016, revealed that Story suffered a torn ulnar collateral ligament while sliding into second base during Saturday's win over the Mets. He said Tuesday he hopes to have surgery "in the next few days" and that the typical rehab time is eight weeks. (Nick Wass / Associated Press)
DENVER – Trevor Story may not be able to help the Colorado Rockies make a push for the playoffs in the last two months of the 2016 season.
Story could miss the rest of the season with a torn ligament in his left thumb, putting the brakes on his record-setting rookie season and a damper on Colorado's recent surge in the standings.
"It's very disappointing, very frustrating," Story said after the team placed him on the 15-day disabled list Tuesday. "The timing of it all is the worst."
An MRI on Monday revealed Story suffered a torn ulnar collateral ligament during Saturday's win over the Mets. He said he hopes to have surgery "in the next few days" and that the typical rehab time is eight weeks.
The Rockies recalled infielder Rafael Ynoa from Triple-A Albuquerque. Manager Walt Weiss said he plans to "mix and match" Ynoa, rookie Cristhian Adames and veteran Daniel Descalso at short.
Colorado entered Tuesday within 4 1/2 games of the second wild card, with three teams between it and Miami.
"I feel bad for Trevor. He was doing some special things, some historical things," Weiss said. "We'll be OK as a club. We're playing well, we need to continue to do that, and I think we will."
Story was having a record year. He set an NL record for homers by a rookie shortstop with a league-leading 27, breaking the record held by Troy Tulowitzki, who hit 24 in 2007 and helped the Rockies reach their only World Series.
Story is batting .272 with 72 RBIs and was on pace to surpass the major league record for homers by a rookie shortstop. Nomar Garciaparra set the mark with 30 for Boston in 1997.
He hit two home runs in his major league debut on opening day, the first NL player to accomplish the feat, and was named the NL Rookie of the Month for April after connecting 10 times.
Story's ascension made last year's trade of Tulowitzki, his mentor, easier to absorb. Colorado's 12-5 burst out of the All-Star break has helped, too.
"I feel terrible that I won't be able to play every day," he said. "I mean a lot to the team and to not be out there is difficult."
General manager Jeff Bridich said the focus is on getting Colorado's 23-year-old shortstop healthy.
"For Trevor, it's making sure it's a successful surgery and taking it day by day with the rehab," he said. "It's a tough blow for the kid and I feel terrible for him. He was having a great year."
Local journalism is essential.
Give directly to The Spokesman-Review's Northwest Passages community forums series -- which helps to offset the costs of several reporter and editor positions at the newspaper -- by using the easy options below. Gifts processed in this system are not tax deductible, but are predominately used to help meet the local financial requirements needed to receive national matching-grant funds.
Subscribe to the sports newsletter
Get the day's top sports headlines and breaking news delivered to your inbox by subscribing here.
---