A&E > Seven
Art on the Green fills North Idaho College campus this weekend
Wed., Aug. 3, 2016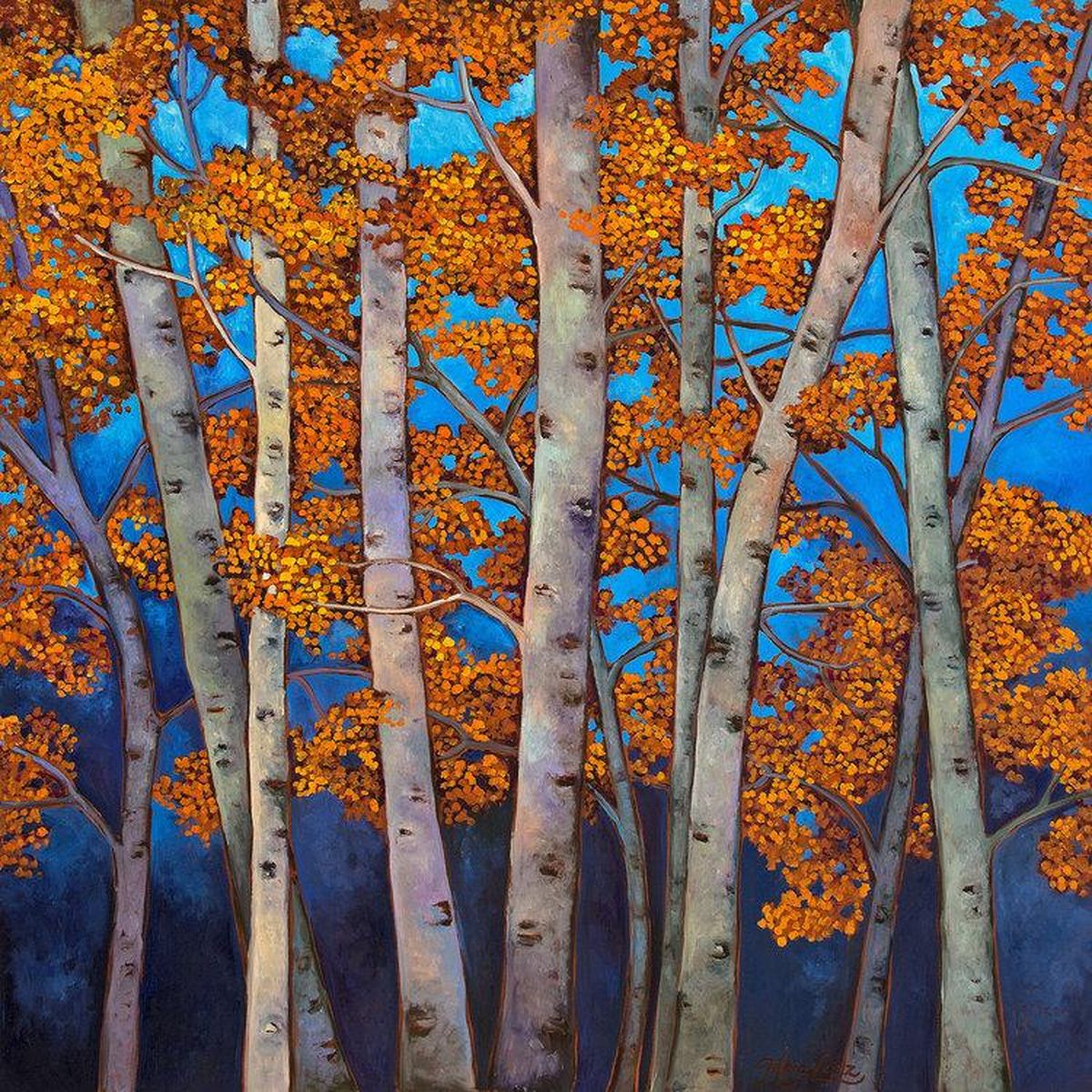 "Azure Aspen" by Maia Leisz from Sagle, Idaho. (Art on the Green)
For an estimated 50,000 people, summer isn't complete without a trip to Coeur d'Alene for Art on the Green.
The festival, now in its 48th year, transforms the North Idaho College campus into an outdoor art gallery with more than 160 booths displaying works of art in a variety of mediums, including cloth and fiber, glass, jewelry, wood, painting, metal sculpture, photography, pottery and leather.
Though the festival is only three days long, planning the event is a nearly year-round process for a small army of volunteers.
"As soon as September starts, we're at work on the next festival," volunteer coordinator Jolie Bazler said.
Various committees handle every aspect of the festival, from artists and on-stage entertainment to food booths.
Applications for artists open in December, and music applications open in January.
Though the art booth selection committee and the entertainment committee have final say, patrons have a lot of influence over which artists are invited to the festival.
"Another factor that is included (in artist selection) are favorites," Bazler said. "Some are patron favorites and if they're not there, the patrons are, like, 'Where is this artist? I count on this booth every year.' "
This year, artists include Monroe, Washington's Kyoko Niikuni and Pullman-based Hitomi Johnson, both of whom work with Japanese paper called washi, and Oak Park, California-based Rodi Ludlum, who creates what she calls "fabric pottery," bowls and vases, all washable and usable, made of fabric.
Many artists call the Northwest home, though others are traveling to Coeur d'Alene from as far away as Kansas, Illinois and Florida.
"A lot of these working artists go from festival to festival," Bazler said. "It's like a band that tours."
As for the music at Art on the Green, the entertainment committee made an extra effort to give emerging artists a chance in the spotlight. This year, more than two dozen musicians will represent everything from pop/rock and jazz to ragtime/Americana and Celtic folk on the festival's two stages.
Festival-goers were also the driving force behind the beer and wine garden, which is new to this year's Art on the Green.
Event boosters organized a similar feature at a festival a few years ago, but with its run-of-the-mill offerings, Bazler said, it was better suited for a sporting event.
"This year, we're coming at it from a more art perspective," she said. "We're doing only locally crafted beer and ciders and regional wine, supporting those artists as well."
The beer and wine garden will be located near the North Stage.
And though it's not a new feature to Art on the Green, Bazler can't recommend the spacious children's arts and crafts area enough, noting its prime location near the South Stage, which will allow parents to enjoy the music while keeping an eye on their kids.
For more food, drinks and art, hop on the free shuttle bus that runs between Art on the Green, Taste of Coeur d'Alene and the city's Street Fair, all of which begin Friday.
All of the funds raised at this year's Art on the Green will go toward next year's event, making the festival a true labor of love for the more than 500 volunteers who put the event together each year.
"We really do see it as a gift to the community because we know what richness it brings to the community," Bazler said. "We really care about supporting art."
Local journalism is essential.
Give directly to The Spokesman-Review's Northwest Passages community forums series -- which helps to offset the costs of several reporter and editor positions at the newspaper -- by using the easy options below. Gifts processed in this system are not tax deductible, but are predominately used to help meet the local financial requirements needed to receive national matching-grant funds.
Subscribe to the Spokane7 email newsletter
Get the day's top entertainment headlines delivered to your inbox every morning.
---