News > Spokane
Honor Point military museum finally makes its debut
Wed., Aug. 3, 2016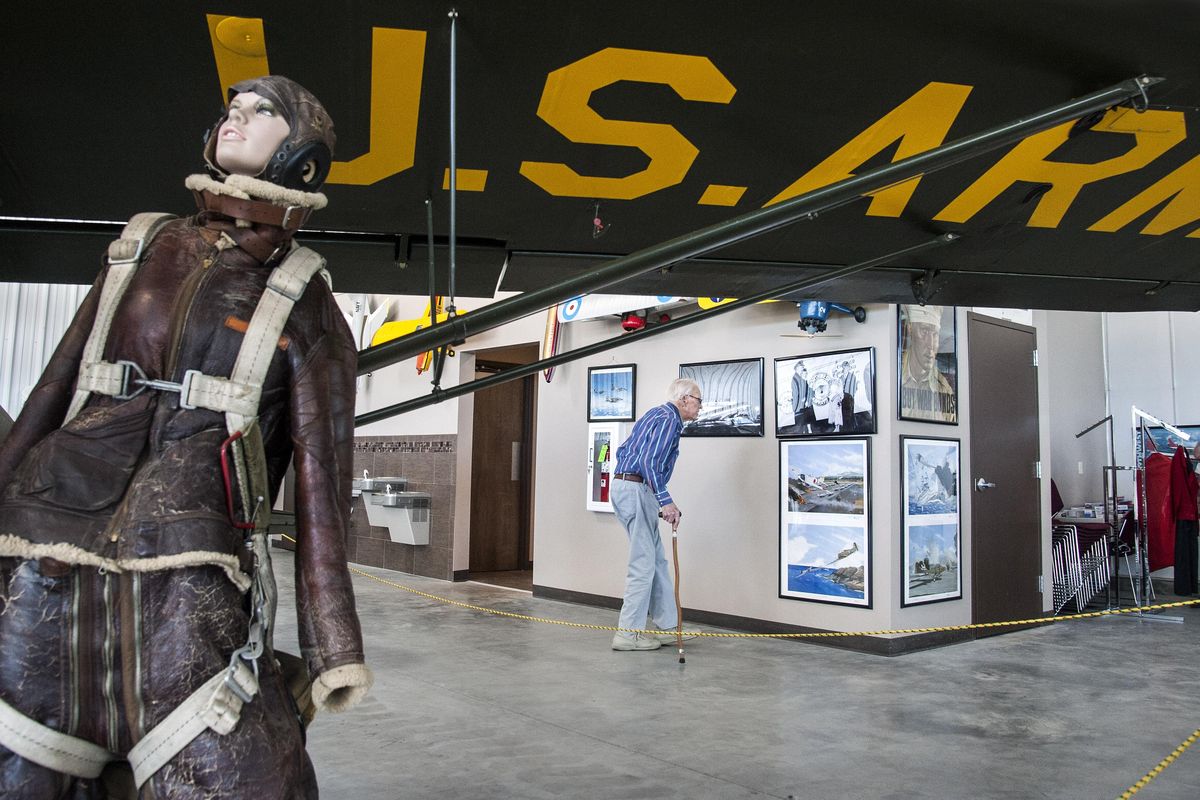 George White, 97, pays a visit to the new Honor Point Military & Aerospace Museum, July 15, 2016. White was an employee for Northwest Airlines for 23 years. A Women Airforce Service Pilots (WASP) display is at left. (Dan Pelle / The Spokesman-Review)Buy a print of this photo
In a dimly lit basement room at the Northwest Museum of Arts and Culture there's a treasure trove of historic military items – World War I trench art, a priest's travel kit from World War II, gas masks used in the Gulf War, and prisoner of war jumpsuits worn in Vietnam.
Now those artifacts are one step closer to a permanent home.
After about 15 years of fits and starts, a couple of name changes and dashed hopes for ownership of a high-visibility site on the West Plains, the Honor Point Military and Aerospace Museum opened in June at Spokane's historic Felts Field.
The long-awaited aerospace museum is renting a 10,000-square-foot hangar, part of a larger 40,000-square-foot general aviation flight center developed by Spokane investor group EFT LLC. Ultimately the museum will showcase a wide collection of military artifacts, as well as a rotating exhibit of vintage aircraft.
About 10,000 or so visitors to the museum on June 4, the 6th annual Felts Field Neighbor Day, got close-up views of five vintage aircraft parked in the hangar, a military jeep, historic photos, military uniforms and other memorabilia – many items with direct links to Spokane and Eastern Washington, according to Tobby Hatley, project manager and past president of the Honor Point museum.
Among the collection now at Felts Field are some of the most interesting artifacts from the Fairchild Heritage Museum at Fairchild Air Force Base, which closed in 2002, he added.
Hatley said it's a beginning for the museum. "This is the first time we've ever had a home and the first time some of this stuff has ever been on display, so we will continue to work with it and it will evolve, and become better and better as time goes on," he said.
Over the next few weeks Spokane-based DeVries Moving Packing Storage vans will transfer 7,000 artifacts from the MAC, stored there since the Fairchild Heritage Museum closed. Other items from the collection have been stored in two other locations near Spokane International Airport. Some of the items were too large to store at the MAC such as an AJAX anti-aircraft missile and other large military hardware.
Now board members, volunteers and potentially a curator, will scrutinize thousands of the items to identify what else to exhibit in the museum, Hatley said, adding that it's possible the public could also look at vetted items.
"That's just one idea," he said. " It will be a collaborative effort with the people who understand the collection, along with the public. Because most of it has been donated by members of the public."
Larry Tobin, a former commercial pilot for TWA and a board member of the museum, owns two of the vintage planes currently on display, a vintage Stearman and a Piper Cub.
Tobin said although the Museum is just getting started, people are appreciative when they see what's there.
The soft opening also featured a Boeing 40 aircraft, the first Boeing airliner to carry passengers and airmail, and the only one still flying, Tobin said.
Addison Pemberton of Pemberton & Sons Aviation restored the Boeing 40 aircraft at Felts Field for about seven years.
Stan Roth, one of the gatekeepers of the collection, is one of only a handful of experts who know what the entire collection holds since he served as a longtime volunteer at the Fairchild Museum before it closed.
"For the first few years I volunteered, I spent a lot of time wandering around the museum learning the history and looking at the exhibits. I'm not an expert on any of that stuff," Roth said. "But you don't have to be an expert to care about it."
After the terrorist attacks on Sept. 11, 2001, when security at Fairchild didn't allow for civilian visitors, traffic at the museum came to a standstill.
"Over the winter before it closed, I would go whole shifts at a time with nobody coming through. So I had lots of time to roam around and study the objects and learn more about them," he said. The artifacts also contain scores of military uniforms and mannequins – many of which came from the old Crescent department store – that were used at Fairchild to display them, Roth added.
Roth said the new museum will be a combined collection to tell stories of all branches of the military. "Because if we stayed strictly an Air Force museum we would not have the appeal that we would have otherwise," he added.
Over the past 14 years Roth has continued to accept public donations including an array of military weapons, which are some of Roth's favorite items. He added that number of donations from artifact donors include newspaper clippings that go with the artifacts, "which are excellent documentation."
Roth said a periodicals collection of probably 50,000 pieces is also among the artifacts.
The overall collection dates back as far as historical items from Fort George Wright and the Civil War. "There are WWI blacksmith tools and equipment and groups of soldiers standing in front of their building, and the old coal fire forge to heat horseshoes to make them fit the horses," he added.
Hatley, the museum project manager, said one of the board's biggest challenges at the moment is "coming up with the money to pay the rent, and to stay open." The museum is selling memberships and taking donations from visitors. There's no set fee to enter.
The Avista Foundation, Washington Trust Bank and the Cowles Co. (which publishes The Spokesman-Review) have all supported the effort, he said.
Larry Krauter, CEO for Spokane International Airport and Felts Field, has helped the struggling museum since he arrived in Spokane in 2011.
"When I arrived I felt the recipe for success of the museum was Felts Field … I've always said that Felts Field's economic future is its history," Krauter said.
Eventually the museum will house military and aerospace artifacts as well as a rotating exhibit of vintage aircraft and other military hardware.
"It's interesting that this stuff hasn't seen the light of day, particularly the airplanes, in an awful long time," Hatley said. "What's really neat is that they're all connected to Spokane or Eastern Washington in one way or another."
Local journalism is essential.
Give directly to The Spokesman-Review's Northwest Passages community forums series -- which helps to offset the costs of several reporter and editor positions at the newspaper -- by using the easy options below. Gifts processed in this system are not tax deductible, but are predominately used to help meet the local financial requirements needed to receive national matching-grant funds.
Subscribe now to get breaking news alerts in your email inbox
Get breaking news delivered to your inbox as it happens.
---