Sports
MLB Notes: Hurdle holding McCutchen out of lineup 3 straight games
Wed., Aug. 3, 2016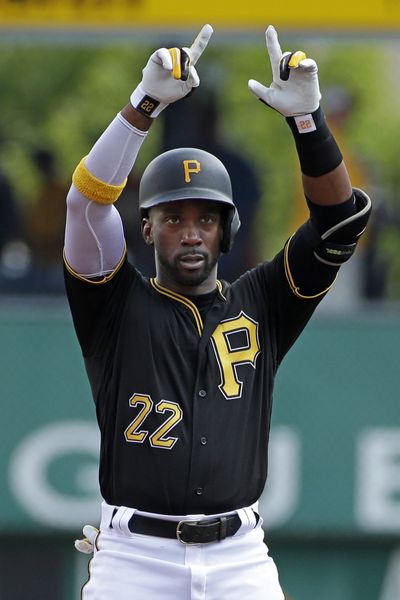 Pirates manager Clint Hurdle is sitting Andrew McCutchen for three straight days.
McCutchen, the 2013 N.L. MVP, says he's OK with the decision even if he doesn't agree with it. The outfielder sat out Pittsburgh's victory Tuesday night over Atlanta and will not be in the lineup the next two nights because of a season-long slump.
"I have to first address myself before I can think about addressing anything else," McCutchen told The Associated Press. "I know if I was going out and playing the best ball that I know I can play that I wouldn't be in this position.
"They wouldn't be in the position of having to make those decisions, either."
McCutchen, a five-time All-Star and four-time Silver Slugger, hit .298 in his first seven seasons with Pittsburgh. In 97 games this year, he has a .241 average and is on pace for a career high in strikeouts.
After watching McCutchen go 1 for 12 in a three-game series last weekend at Milwaukee, Hurdle called McCutchen into his office Sunday to tell him that he would not be in the lineup for a three-game series against the Braves.
"He's tried a lot of things," Hurdle said in his pre-game talk with reporters. "This man's fought, shown up, done early work, late work, side work, video work. In situations like this where I've seen it happen with good players, you just unplug 'em. The manager's got to do it. I'm just asking him to sign off on it.
"He obviously has a lot of fight in him and wants to continue. But it's like hitting refresh button."
Unless a game against the Braves goes extra innings, Hurdle wants to give McCutchen four straight days of rest. The Pirates were off on Monday.
"That's the tough pill to swallow for me personally," McCutchen told The AP. "Wanting to be in the lineup and them feeling that this would be a good time for me to unwind, to chill, to get my head right – the competitive side of me is like, `No, I'm good. I'm fine. I'm going to perform and do my job.'
"They're like, 'For your own sake, this is what we feel.'"
Matt Joyce was in left field for the second straight night. Starling Marte was in center field, Gregory Polanco in right.
McCutchen says it was tough accepting the trades that shipped out Francisco Liriano, Pittsburgh's opening day starter, to Toronto for Drew Hutchison and closer Mark Melancon to Washington for Felipe Rivero and a prospect.
The Pirates began Wednesday three games out in the NL wild-card standings. They've been to the playoffs the last three years, so McCutchen didn't necessarily want to make big roster changes at the trade deadline.
"You're going to feel one way about certain things because you have teammates, you have friends and you hate to lose anybody," he said. "Hate to see anybody go. Those are your brothers."
McCutchen insisted that he trusts the Pirates' front office to keep the club competitive.
"Understanding the business, understanding that we do have – performing – and they have a job as well," he said. "That's the main thing, to give us the team to produce. Just as it's hard for us to understand what they do, I'm sure it's vice versa with them."
Hurdle hopes McCutchen will benefit from the time off. He plans to put him back in the lineup Friday at home against Cincinnati.
"I don't know what it feels like to have the resume he has and go through the challenges he's had this year," Hurdle said. "What I shared with him is, 'I want to look you in the eyes and do what I can do just to help you out. Not to make it easier, not to make it softer. I can't do that. But let's this because we have tried just about everything else.'"
Dodger's Kershaw on 60-day DL
Dodgers ace Clayton Kershaw, sidelined since late June with a herniated disk in his back, was moved to the 60-day disabled list on Wednesday.
The 28-year-old won't be able to return until Aug. 27, at the earliest. Los Angeles manager Dave Roberts said the three-time Cy Young winner hasn't participated in any baseball activity since he suffered a setback in a simulated game July 16.
Boy with hand transplant pitches
A boy who underwent a double-hand transplant last summer has shown off his progress by throwing out the ceremonial first pitch at Camden Yards.
Nine-year-old Zion Harvey tossed the baseball to Orioles centerfielder Adam Jones before Baltimore hosted the Texas Rangers on Tuesday night.
Zion, who is from suburban Owings Mills, lost his hands and feet to an infection. He became the youngest patient to receive a double-hand transplant when he had the procedure done at the Children's Hospital of Philadelphia in July 2015.
Since then, Zion worked to regain hand function, including the ability to throw a baseball, through rigorous therapy sessions.
After the operation, Zion set goals of throwing a football and playing on the monkey bars. Leg prosthetics have enabled him to walk, run and jump.
Clearing the bases
Boston's Hanley Ramirez avoided a significant injury and suffered only a sprained left wrist after slipping and falling on his way into the Red Sox clubhouse after Tuesday night's loss to the Mariners. Ramirez is likely to only miss a few days. … Jeremy Jeffress joined the Rangers on Wednesday after he and Jonathan Lucroy were traded to Texas from Milwaukee on Monday. … The Cubs placed righty Jason Hammel on the bereavement list and recalled right-hander Justin Grimm from Triple-A Iowa. Because of a family matter, Hammel won't accompany the team to Oakland for a three-game series against the Athletics this weekend. … Catcher Gary Sanchez was recalled by the Yankees from Triple-A Scranton/Wilkes-Barre and could see time at DH as part of the team's youth movement. … The Cardinals put left-handed reliever Tyler Lyons on the 15-day DL (right knee). … Yankees lefty Jacob Lindgren will have Tommy John surgery Friday, an injury that likely will sideline him until the 2018 season. … Mets 1B Lucas Duda likely will not play again this season because of a recurrence of back pain. Duda has been sidelined since May 20 because of a stress fracture in his lower back. … The Astros placed Lance McCullers on the 15-day DL because of a mild sprain in his right elbow. … The Phillies scratched right-hander Aaron Nola from his scheduled start Wednesday night and placed him on the 15-day DL with a strained elbow.
Local journalism is essential.
Give directly to The Spokesman-Review's Northwest Passages community forums series -- which helps to offset the costs of several reporter and editor positions at the newspaper -- by using the easy options below. Gifts processed in this system are not tax deductible, but are predominately used to help meet the local financial requirements needed to receive national matching-grant funds.
Subscribe to the sports newsletter
Get the day's top sports headlines and breaking news delivered to your inbox by subscribing here.
---