Sports > Outdoors
Outpeople: Ladies hook fish of 10,000 casts
Wed., Aug. 3, 2016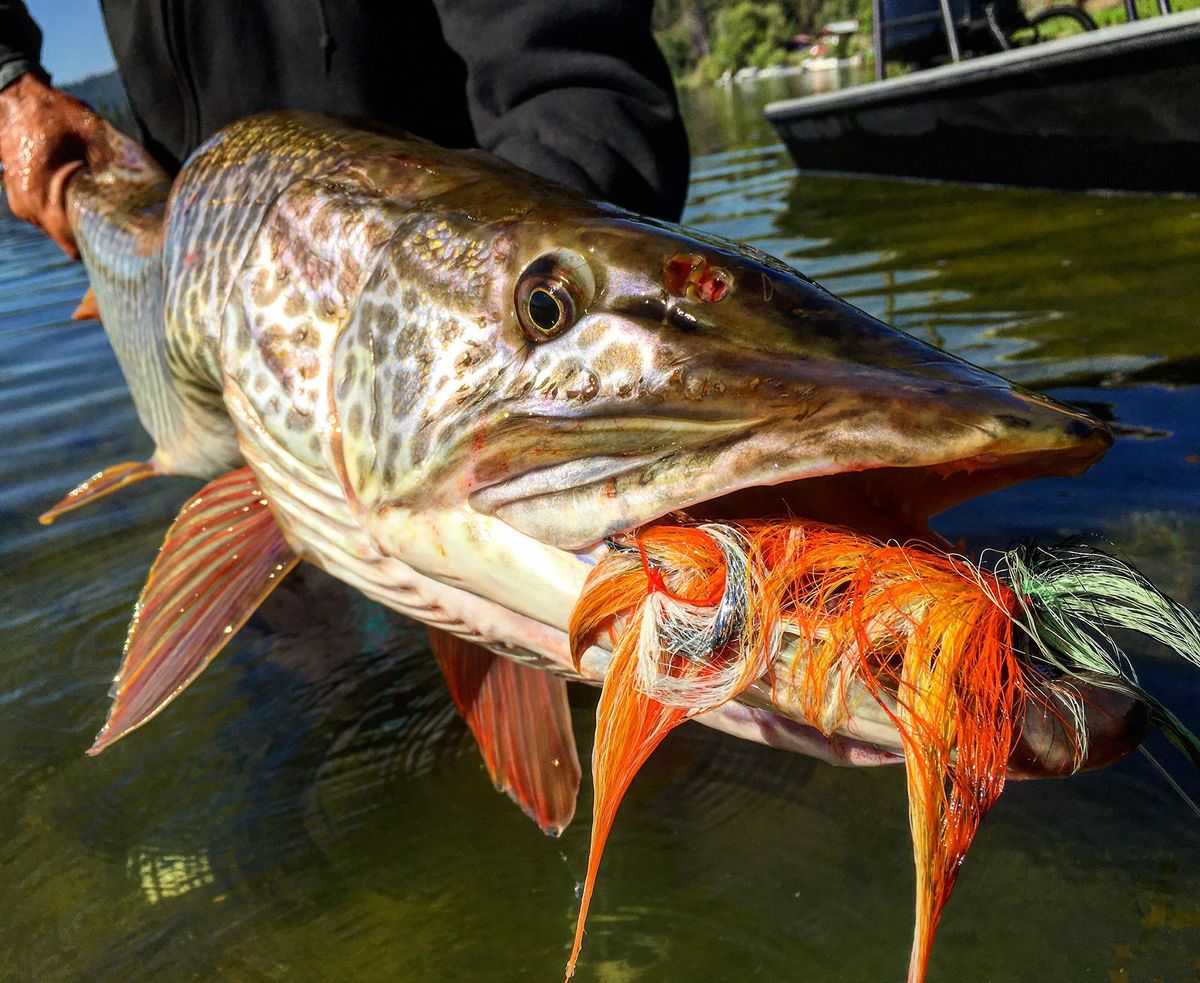 A closeup of the 40-inch tiger musky Jen Barcklay caught while fly fishing with guide Dave Dana on Curlew Lake. (Photo by Heather Hodson)
The Spokane Women On the Fly didn't give a second thought to the tiger musky guide in the boat yelling, "Strip! Strip!"
"He was coaching me on – when to leave it run and how to keep tension on," recalled Jen Barcklay, who lives north of Spokane. "That fish ran toward shore, and then under the boat. My fishing partner had to duck as we did a couple of laps around the seats."
Barcklay, a former military helicopter mechanic, started fishing as a kid growing up with her family in northeastern Washington and has caught her share of fish.
She caught her first steelhead with a fly rod during a SWOF outing on the Olympic Peninsula in February.
"But a tiger musky is a big deal," she said. "I mean it was big – 40 inches long. It kind of reminded me of catching salmon in Alaska, only different."
Barcklay was one of nine women of various experience levels on a recent overnight camping and fly fishing outing to target tiger muskies at Curlew Lake, led by SWOF founder Heather Hodson. They teamed with fishing guide Dave Dana.
While they caught bass and other fish, the group hooked only one tiger musky in 19 combined hours of casting and stripping in humongous streamers.
"They were double-articulated bunches of fur and feathers," Barcklay said. "It was like casting a little bird."
"Going into the trip, all the women knew that tiger Muskies are a fish of 10,000 casts," Hodson said. "We were all very prepared to not catch or even see a fish. However, the thought of catching a 'lake monster' kept all of us going.
"Two-hour cycles is probably best because your arm starts to get tired after awhile. I personally had three follows but the fish were non-committal. It's so much fun just to see the fish and get your heart racing thinking of catching a fish that is almost the size of myself!"
Barcklay didn't have to think about it.
"I was in the first boat out Sunday morning with Dave and another woman," she said. "Nobody had hooked a tiger on Saturday and we were about three casts away from the end of our turn on Sunday."
As she retrieved her fly near the boat, she used a technique Dana had taught them. "With a few feet of line and leader out, I put the rod tip in the water and was making big figure 8s and circles.
"That's when the tiger musky shot out from under the boat, breached the water with its big nose and teeth showing and chomped the fly. Musky Dave yelled, 'Strip! Strip! You've got a good one!' "
She said the fish snapped his head back and almost bit the guide a couple of times, but they got a short way to shore to make a few photos.
"He educated us about tiger muskies and then we let it go," Barcklay said.
"I was done for day. I was too excited to go out again."
Local journalism is essential.
Give directly to The Spokesman-Review's Northwest Passages community forums series -- which helps to offset the costs of several reporter and editor positions at the newspaper -- by using the easy options below. Gifts processed in this system are not tax deductible, but are predominately used to help meet the local financial requirements needed to receive national matching-grant funds.
Subscribe to the sports newsletter
Get the day's top sports headlines and breaking news delivered to your inbox by subscribing here.
---