Sports > Outdoors
Rich Landers: Puppy training challenges hunter in pursuit of perfect bird dog
Wed., Aug. 3, 2016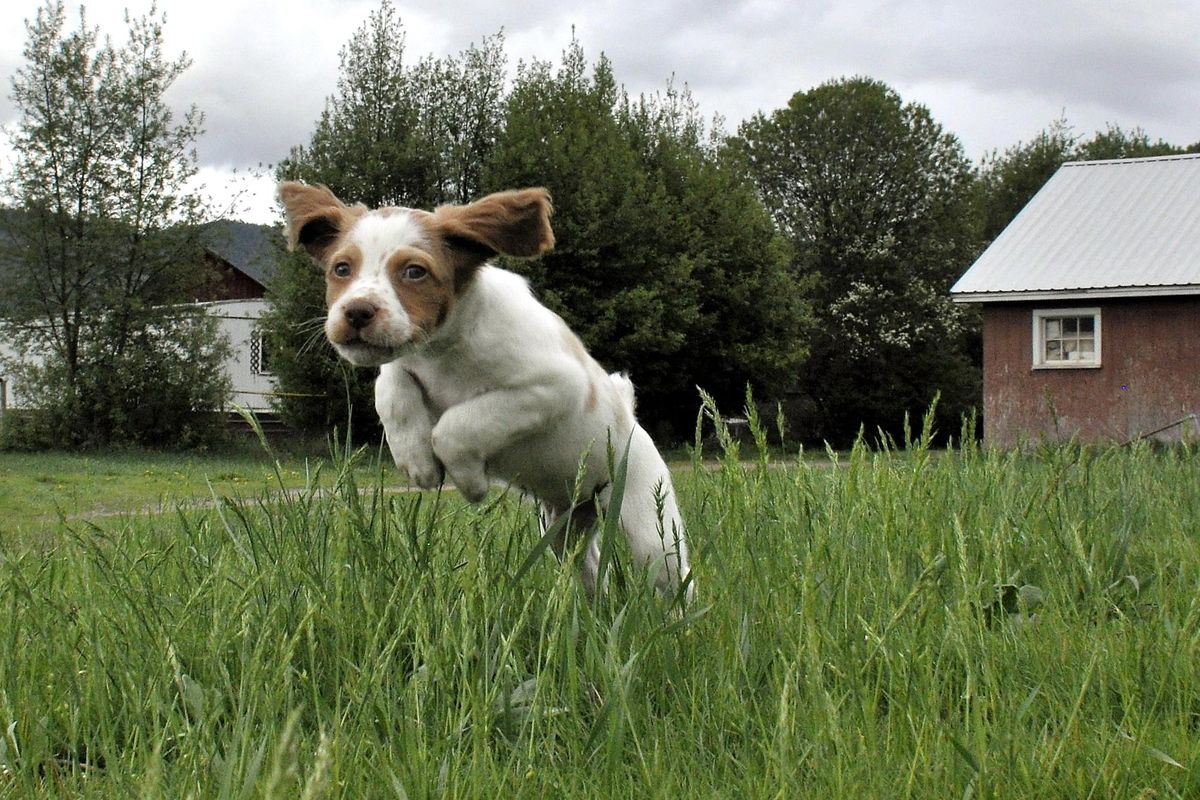 Ranger, a 7-week-old Brittany pup, shows his zip during the road-trip break en route to his new home with the Landers family in Spokane. (RICH LANDERS richl@spokesman.com)
Our biological clocks spare most 60-something couples from the life-changing accident of producing another offspring.
This is nature's way of protecting mature adults from sleepless nights, potty training and other responsibilities best adapted to energy-rich couples in their 20s or 30s.
But nature has no protection for people who think they need a puppy. You're on your own.
The ups and downs of bringing on a puppy are as steep as being a Seahawks fan.
With two aging English setters in the house, I put my name in last winter for a pup. The alternative was facing the despair of not having a dependable upland bird hunting partner when the 2016 seasons open.
I'd sooner have my eyes pecked out by partridges than head into fall without a dog that trembles with excitement at the sight of a game vest.
My wife, Meredith, came on board, although I didn't pop the proposal until I'd softened her up with a chukar stir-fry and a good bottle of red wine.
"I can't imagine life without a dog," she said, confirming my good taste in women and her short memory for the chore of raising a pup.
What breed? I'm especially fond of pointers. After carrying my setter, Dickens, 1.5 miles out of steep chukar country with an injury years ago, I vowed I'd never have a field dog over 45 pounds. That rules out some excellent breeds.
I've had German shorthairs, Brittanies and English setters and loved them all at home and in the field. Meredith said she loves them all, too, but leans toward Brittanies. Decision made.
Which breeder? A hunter who's seen the gift of pointing dog stock developed to override natural predatory instincts knows the value of good breeding. A pointer must eagerly follow scent and then hold staunch instead of charging in on a game bird.
I searched the internet and interviewed breeder candidates, but most of all I relied on the recommendations of a few hunting friends I admire. Decision made.
Pick of the litter? If it's a reputable kennel and a good breeding pair, "Don't overthink it," said Dan Hoke, a veteran bird dog trainer and German shorthair breeder at Dunfur Kennel near Cheney.
"I can't tell you how many times I've been left with a pup that everyone else passed up only to have it grow up to be the best of the litter."
A healthy pup of good hunting stock usually has the ingredients of becoming a fine bird dog "if the owner doesn't screw it up," he said.
That's where we are now.
Since the pup was 7 weeks old in late April, Meredith and I have been proudly trying to raise Ranger into the best family member, house dog and hunting partner ever born.
We're falling short, of course.
But we're doing our best for two people with jobs that don't allow optimal time for puppy training and socialization.
"I think he's smart," Meredith said after our first successful session of teaching him "come" in the living room. "Is that good or bad?"
Successful puppihood is largely about controlled exposure to new experiences.
Good veterinary care is essential, but luck is involved since it's virtually impossible to prevent a pet from encountering potential parvo poops left by other dogs and coyotes. Canine droppings are everywhere nowadays, something you learn quickly when taking a pup for a walk.
Luckily, I'd conditioned Ranger to the crash of pots on the kitchen floor and the distant report of my starter pistol before the first thunderstorm of the season rumbled through Spokane. A gun-shy bird dog is a train wreck best avoided.
Pup's eagerness to retrieve has its ups and downs, but he's always eager. We have much more work ahead.
A hot July day was perfect for Ranger's first swim at a lake. Teaming up with my daughter's water-loving golden retriever enticed the pup not only to swim, but to compete for retrieves. The moment was as thrilling as watching a baby take its first steps.
Daily puppy romps have been leading to new discoveries, all of which are sniffed and many of which are snarfed. Dead voles and snakes, wildflowers, pine cones and sticks – especially sticks – and God only knows what else have run through pup's sensory development and digestive systems.
Most sticks are only partly gnawed before being spit out to sample another. Archeologists one day will follow my puppy romp tracks, examine the scats for historical evidence and wonder why some hunter was exercising a beaver.
I tried running Ranger with Old Setter to teach the pup how to be a mature dog in the field. Instead, I have a veteran dog that is adopting puppy habits.
In less than a week, pup had reacquainted Old Setter with the taste of "canine candy." My veteran bird dog hadn't lapped up deer pellets in nine years until he saw the enjoyment on pup's muzzle.
At 12 weeks, Ranger began making regular visits to Dunfur Kennel, where Hoke has been introducing pups to game birds.
It's all play at first. Homing pigeons and pen-raised quail were stashed in bushes to entice the pups. As they flew away, pups were allowed to chase and develop desire.
Ranger initially did great. His first sniff of a quail resulted in a picture perfect point. He eagerly gave chase at the flush. Bravo. Staunchness comes later.
Ranger also did well with the first find, point, flush and shoot experience, chasing down the dead pigeon and packing it around. Good dog.
This week, Hoke's German shorthair pups – Ranger's training mates – were progressing to look like stars at 5 months old. "These are both pups that people passed up," he said, after the dogs had pointed and chased downed birds to near puppy perfection.
Meanwhile, Ranger regressed. He pointed but suddenly didn't want to have anything to do with the downed bird.
I frowned; Hoke smiled.
Bird dogs are like any other athletes, he said: "They have ups and downs. Some dogs come on fast, others come on later. Some of the best dogs didn't look promising as pups."
He said I was way ahead of most bird hunters just by engaging in summer training.
"This is the time to work dogs, but most people wait until a week before the season opens," he said. "Training takes time, and for the best dogs, it never ends."
Ranger gave me a lick on the cheek when I put him in the car to leave the training grounds Wednesday.
"I'm glad you're not competitive," Hoke said, noting that it's way too early in Ranger's career for anything but optimism. "See you next week."
Local journalism is essential.
Give directly to The Spokesman-Review's Northwest Passages community forums series -- which helps to offset the costs of several reporter and editor positions at the newspaper -- by using the easy options below. Gifts processed in this system are not tax deductible, but are predominately used to help meet the local financial requirements needed to receive national matching-grant funds.
Subscribe to the sports newsletter
Get the day's top sports headlines and breaking news delivered to your inbox by subscribing here.
---