Sports
Ichiro Suzuki's pursuit of 3,000 hits on hold partly because of Marlins' starting outfielders
Thu., Aug. 4, 2016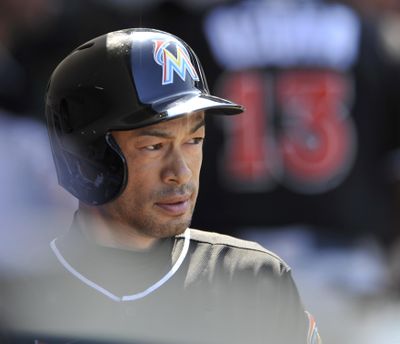 DENVER – Don Mattingly would have liked for Ichiro Suzuki to get his 3,000th hit when the Marlins were home. Mattingly confessed to feeling a "little" pressure to keep writing Ichiro's name on the lineup card to ensure that it happened.
"I wanted him to do it at home," Mattingly said. "I think we all wanted him to do it."
Just one problem.
In Giancarlo Stanton, Marcell Ozuna and Christian Yelich, the Marlins might have the best all-around outfield in the majors. Finding playing time for Ichiro – their fourth outfielder – isn't as simple as it might seem. Not for Mattingly, who is trying to win.
"Our guys have been really swinging the bats well in the outfield, and it's been really tough (to find playing time for Ichiro)," Mattingly said. "We go back to the context of winning, and that's where Ichiro fits into this thing perfectly. I don't think he wants me to just put him in there to get this thing done and sacrifice the team when you've got somebody else that's going good."
And so Ichiro has started twice over the Marlins' past 13 games.
Relegated mostly to a pinch-hitting role, Ichiro is hitless in his past 10 plate appearances and remains stuck on 2,998 major league hits – two shy of the milestone. A small army of 50 or so credentialed Japanese reporters and photographers has been on the trail – from Philadelphia to Miami to Chicago and now to Denver – to document the historic moment.
But unless Mattingly senses that one of his three starting outfielders is in need of a day off, Ichiro's quest for hit No. 3,000 could linger for who knows how long?
The Marlins have the No. 1 hitting outfield in the majors with a combined OPS (on-base plus slugging percentage) of .860. The Red Sox are second at .843. The next-best National League outfield belongs to the Pirates at .819.
Asked if he felt the Marlins had the best outfield in the majors, Yelich replied: "I think so. Guys have played well up to this point. But it's not for us to decide. It's for everybody else to talk about."
Marlins second baseman Dee Gordon was more blunt: "They're the best."
Outfield coach Lorenzo Bundy said he wouldn't trade the Marlins' threesome for any other.
"If you look at the total package, I would say our guys rank right on top," Bundy said. "For what our guys are doing right now, I'll take my guys any day of the week. They're really, really good."
The Marlins' lineup revolves around the threesome. Mattingly has positioned them in the No. 3 (Yelich), No. 4 (Stanton) and No. 5 (Ozuna) spots in the order.
Beyond hitting, each of the three has good speed and plays well on defense.
"You throw offense and defense together, Yelich already has won a Gold Glove, Ozuna is an All-Star and Stanton's made five highlight plays in the last month," Bundy said.
Some baseball observers pegged the Marlins' outfield as the best in the majors before the 2015 season. But the unit never had a chance to prove it. Yelich missed time with an injury. Stanton missed the second half of the season with a broken hand. And Ozuna spent significant time in the minors.
The three were in the same lineup for just 47 games last year.
"It really comes down to staying healthy and being on the field together, and we've been able to do that this year," Yelich said.
Yelich doesn't look at the Marlins' outfield as a three-man gang.
"I'd like to say it's four," Yelich said. "We've got Ichiro, too. He's had a great year. I count him, too. So I feel like we're four deep. That's big because if someone gets a day off, you can plug Ichy in and not miss a beat."
That hasn't happened much of late.
Local journalism is essential.
Give directly to The Spokesman-Review's Northwest Passages community forums series -- which helps to offset the costs of several reporter and editor positions at the newspaper -- by using the easy options below. Gifts processed in this system are not tax deductible, but are predominately used to help meet the local financial requirements needed to receive national matching-grant funds.
Subscribe to the sports newsletter
Get the day's top sports headlines and breaking news delivered to your inbox by subscribing here.
---