Sports
USA Gymnastics declined to look into potential abuse, reports says
Thu., Aug. 4, 2016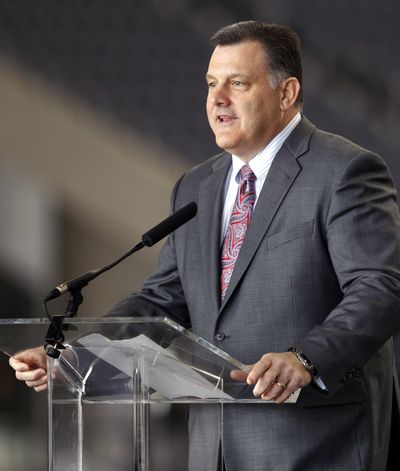 An investigation into USA Gymnastics published Thursday determined the organization collected complaints of improper conduct by more than 50 coaches between 1996 and 2006 and regularly declined to forward them on to the authorities unless expressly asked to do so, opening the door for further abuse in some cases.
The report's release comes as the U.S. women's program heads to the Olympics as the heavy favorites to defend the gold medal it won four years ago in London.
The report by The Indianapolis Star found several instances in which USA Gymnastics, the sport's governing body in the U.S. that counts more than 3,000 gyms and 110,000 among its members, filed complaints away citing a policy in which it would only contact authorities when the complaint came directly from a victim or a victim's parents.
USA Gymnastics president Steve Penny said during a 2015 deposition, "to the best of my knowledge, there's no duty to report if you are – if you are a third party to some allegation." The paper found four separate instances when USA Gymnastics received information about potential misconduct by a coach and did not take action, with each of the four coaches later being charged or convicted of abuse.
The list included 2010 national Women's Coach of the Year Marvin Sharp. In 2011 USA Gymnastics received a detailed complaint that described inappropriate touching of minors by Sharp. USA Gymnastics did not go to the authorities until 2015 after further information came to light. Sharp was charged in federal court last year and killed himself while in jail shortly thereafter.
Penny said in a statement released Thursday that "USA Gymnastics has been proactive in helping to educate the gymnastics community over the years, and will continue to take every punitive action available within our jurisdiction, and cooperate fully with law enforcement."
Penny said authorities told the organization "it went above and beyond its legal obligations" while dealing with Sharp.
"USA Gymnastics has, in the strongest terms, encouraged anyone who believes abuse has occurred to contact law enforcement and frequently works with law enforcement on these matters," Penny said. "The organization has continually reviewed its best practices on how it addresses these issues and has been among the first to initiate new policies and procedures including publishing a list of banned coaches and instituting national background checks."
Local journalism is essential.
Give directly to The Spokesman-Review's Northwest Passages community forums series -- which helps to offset the costs of several reporter and editor positions at the newspaper -- by using the easy options below. Gifts processed in this system are not tax deductible, but are predominately used to help meet the local financial requirements needed to receive national matching-grant funds.
Subscribe to the sports newsletter
Get the day's top sports headlines and breaking news delivered to your inbox by subscribing here.
---