Sports
Carlos Balderas, Nico Hernandez try to boost U.S. boxing fortune in opener
Fri., Aug. 5, 2016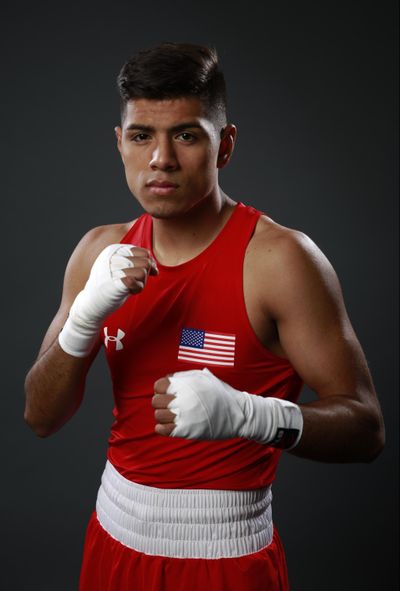 RIO DE JANEIRO – Carlos Balderas qualified for the Olympics nearly nine months ago, and he has been waiting anxiously for his next fight since.
The American lightweight only has to wait a few more hours after the opening ceremonies in Rio. Balderas fights in the opening session of the grueling, 16-day Olympic boxing tournament on Saturday morning.
"It's everything I've been thinking about since November," Balderas said. "The only thing that's been in my mind is bringing back a medal."
His friend and roommate, light flyweight Nico Hernandez, also fights on a big first day for the eight-person U.S. team. After the American men failed to win any Olympic medals for the first time in London, the new U.S. fighters believe their teamwork can help them exceed relatively low outside expectations in Brazil.
"We're definitely close, because we're all young," Hernandez said. "I'm the oldest one on the team, and I'm 20. We've all been on the same team since juniors, so we've been traveling together for a couple of years now. We're really close, like family. I think that helps us a lot. We all support each other."
Balderas and Hernandez are key parts of the tight-knit core on a U.S. team that has bonded through years of shared competition. All six American men were born less than two years apart.
"The vibe is really, really cool," Balderas said. "Because me, Nico, Tony (Vargas), Shakur (Stevenson), we've pretty much been together since the youth team. We were always around each other. It's not like somebody came out of nowhere and just took a spot. Everybody was always very cool with each other."
The U.S. men could use all the good vibes they can get.
They haven't won a gold medal since Andre Ward triumphed in Athens in 2004. They claimed one bronze medal in Beijing – and none at all in London, an embarrassment for the most successful boxing nation in Olympic history.
USA Boxing hired veteran Irish coach Billy Walsh last year, but his plans are necessarily focused on Tokyo in 2020. He hopes the current team's talent will be enough to counteract their opponents' years of centralized training.
"It's a massive challenge," Walsh said. "There definitely is a skill level that we need to change. It's a Tokyo project."
Balderas and Hernandez could have turned pro before Rio but instead participated in the professional ventures of the International Boxing Association (AIBA) to improve their chances of landing a spot in Brazil. Balderas qualified early for the Olympics through his victories in AIBA's World Series of Boxing.
Both realize the importance of starting a pro career with an Olympic pedigree. They also wanted extra experience with the particularities of Olympic-style boxing, which can be difficult for American-trained prospects.
Neither fighter hails from a particular boxing hotbed: Hernandez is from Wichita, Kansas, while Balderas came up from Santa Maria, California.
"It's definitely not a big sport in Wichita," Hernandez said. "It means a lot to me to get here, because not a lot of people that came from there have really made anything of themselves. I want to be the one to inspire other people. I like to say that I'm one of the ones that made it from there, because there's not a lot of recognition like there is in California or something."
Balderas is a first-generation Mexican-American whose grandfather moved his family north to work the fertile fields of central California.
"I know regardless of what happens at the Olympics, my family is always going to be behind me," Balderas said. "I do feel some pressure, because I feel like I can't let them down, you know? I know that everybody has made sacrifices for me, so I feel like it's only right for me to do the same for them."
Balderas and Hernandez train with their fathers and other relatives. Hernandez's parents are leaving the U.S. for the first time to watch their son, while Balderas' traveling party is slightly larger – including uncles, aunts and cousins who were able to book the trip several months in advance because of his early qualification.
"It kind of makes me feel nervous in a way, but also it makes me just feel happy," Balderas said. "I want to prove to them that I can do something big, because we went from the strawberry fields to the Olympic Games."
Local journalism is essential.
Give directly to The Spokesman-Review's Northwest Passages community forums series -- which helps to offset the costs of several reporter and editor positions at the newspaper -- by using the easy options below. Gifts processed in this system are not tax deductible, but are predominately used to help meet the local financial requirements needed to receive national matching-grant funds.
Subscribe to the sports newsletter
Get the day's top sports headlines and breaking news delivered to your inbox by subscribing here.
---