Sports
Conrad Provan passes on his love for tennis to young students
Fri., Aug. 5, 2016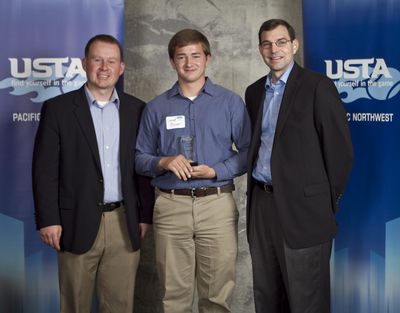 Conrad Provan has been in love with the game of tennis since he first started taking lessons as a youngster.
"We had this great teacher when we were back in New Jersey and he gave our whole family lessons," the Ferris graduate said. "Since he was teaching our whole family, he gave us a discount.
"My whole family loves tennis. Well, my older sister played volleyball, but that doesn't count. It's a game I will be playing for the rest of my life."
Provan's passion for the game has carried him through junior tennis on both coasts and now has him playing at Community Colleges of Spokane.
But as the sophomore prepares for his final season at CCS and ponders his future, as a student and as a tennis player, he wants to concentrate on one specific part of his game: his service.
Not his serve – that part of his game is solid.
To Provan, service means serving the game he loves.
"I love to teach the game," he said. "I love working with kids. That feeling you get when you work with a kid and they finally get what you're trying to teach them – that's the best feeling in the world.
"I can't tell you how much I love watching the kids develop in the game and helping them learn new skills. I really enjoy watching their self-confidence grow."
Provan got involved teaching tennis to youngsters while he was in high school
Provan's summer job is teaching the game to youngsters as a United States Tennis Association Pacific Northwest RecTennis instructor.
The USTA recently named Provan a "Local Hero" for his hard work promoting and teaching the game at the grassroots level.
"It was a nice surprise," Provan said. "I wasn't expecting it, but it's nice to be recognized for something you really love doing."
The USTA has placed a priority on teaching the game at the grassroots level. The aim isn't necessarily to create the next wave of professional tennis players but to promote tennis as a key element in developing a healthy, active lifestyle. Teachers they've honored work with players at all skill levels and age groups.
In honoring Provan, the USTA noted that he has taught hundreds of students, from the youngest beginners through adults through Spokane RecTennis Summer Camps and Family Friendly Tennis programs.
"I work with the little ones who are just learning how to hold a racquet and I try to concentrate on teenagers up to and through high school age," Provan said.
Provan said he plans to make teaching tennis a full-time profession.
"It doesn't quite pay the bills right now – I still have a part-time job at Best Buy," he said. "I want to keep teaching lessons and I eventually like to teach at a high school and coach the tennis team. I'm really good at math and I can see myself teaching high school calculus and coaching tennis."
Provan said that he's not unhappy seeing an end to his competitive tennis career. He will likely not play intercollegiate tennis when he moves on to a four-year school after this season.
"I can see myself concentrating on school and just playing recreational tennis," he said. "I'm good with that and I'm excited about becoming a teacher."
Local journalism is essential.
Give directly to The Spokesman-Review's Northwest Passages community forums series -- which helps to offset the costs of several reporter and editor positions at the newspaper -- by using the easy options below. Gifts processed in this system are not tax deductible, but are predominately used to help meet the local financial requirements needed to receive national matching-grant funds.
Subscribe to the sports newsletter
Get the day's top sports headlines and breaking news delivered to your inbox by subscribing here.
---