Sports
Junior America's Cup champ Ryan Maine makes most of busy summer
Fri., Aug. 5, 2016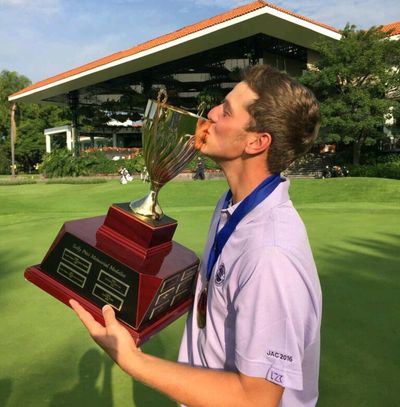 For many top amateur golfers, summer is spent playing in tournaments, practicing for tournaments or traveling to and from tournaments.
Freeman High senior-to-be Ryan Maine knows the routine.
"Oh gosh, I have no clue," said Maine, when asked how many days off he's taken this summer. "No more than 10 days, no more than five days probably."
Maine has kept a brisk pace, returning from the biggest win of his young career last week at the 44th Junior America's Cup in Guadalajara, Mexico, to finish tied for sixth at the Washington Junior Golf Association State Championship in Bellingham earlier this week.
He flew from Mexico to Seattle to get in a few practice rounds prior to the WJGA tournament. Next up: back to the west side for the Washington State Amateur at Tacoma Golf and Country Club, which begins Tuesday.
Maine has found time to savor his achievements, topped by the sizable trophy representative of the Junior America's Cup individual championship and another plaque for helping Washington win the title over 17 teams, 14 representing western U.S. states/regions, two from Mexico and one from British Columbia.
Team Washington won five previous titles, most recently in 2007, a shared crown with Oregon. The trophies are on display at the WJGA offices. The memories are etched in Maine's mind.
"It was awesome, especially winning the team, too," he said. "Everybody played well that final day."
Maine fed off the individual and team aspect, particularly in the last round when he was 2 over after the front nine.
"I was thinking I have to get a couple back if our team was going to come back because we were down by four going into the last day," said Maine, who has orally committed to Washington State University. "Thinking about the team kind of took the pressure off me."
Team Washington shot 7 under in the last round at Guadalajara Country Club to rally past San Diego for a one-stroke victory. Redmond's Sean Kato (68), Richland's Carl Underwood (70), Bellevue's Ian Siebers (71) and Maine (71) all broke par. The foursome qualified through a WJGA points system. Maine racked up major points for winning the WJGA's Eastern Open.
Maine fired a 5-under 67 in the second round to take the Junior America's Cup individual lead. He hit 17 greens in regulation, made six birdies and had just one bogey on his lone three-putt.
"I could have actually been a couple lower," he said. "I lipped out a par putt on 15 and a short birdie putt on 16."
Maine was steady early in the final round until making a double bogey on No. 6 and a bogey on No. 8, a 239-yard par 3. He rebounded with birdie on No. 9 and played the back side in 3 under to hold off San Diego's Cameron Sisk by two shots.
"I played with Charles (Reiter of San Diego), who was in second after two rounds," Maine said. "We were both struggling. He was 4 over through eight and finished 5 over. On No. 9, I took an aggressive line with a 3-wood (second shot) and made birdie and that got me going.
"Sisk was in the group in front of me. He was one stroke back on No. 17 and I watched him make bogey."
Maine finished with a pair of pars for an 8-under 208 for 54 holes. He played par 5s in 7 under, par 4s in 5 under and par 3s in 4 over.
"The course was a little shorter because of the elevation, kind of narrow and tougher par 3s," Maine said. "A lot of wedges on par 4s if you were in the fairway and the par 5s were reachable (in two)."
The Junior America's Cup has traditionally focused on team competition but an individual trophy was introduced in 2006 in honor of Sally Pini, a long-time executive director who died in 2004.
Maine's name is engraved on the Pini Memorial Trophy alongside 2006 co-champion Tony Finau, now 80th in the world golf rankings, and 2008 champ Patrick Cantlay, the former No. 1-ranked amateur in the world.
The Junior America's Cup website lists nearly two dozen familiar names among past participants, including Tiger Woods, Phil Mickelson, Fred Couples, Corey Pavin, John Cook, Peter Jacobson, Charley Hoffman, Kevin Na and Ryan Moore.
"It's an honor," Maine said.
The kind that makes for a memorable summer.
Local journalism is essential.
Give directly to The Spokesman-Review's Northwest Passages community forums series -- which helps to offset the costs of several reporter and editor positions at the newspaper -- by using the easy options below. Gifts processed in this system are not tax deductible, but are predominately used to help meet the local financial requirements needed to receive national matching-grant funds.
Subscribe to the sports newsletter
Get the day's top sports headlines and breaking news delivered to your inbox by subscribing here.
---