Sports
Tony Dungy: Rooney Rule not being used as intended
Fri., Aug. 5, 2016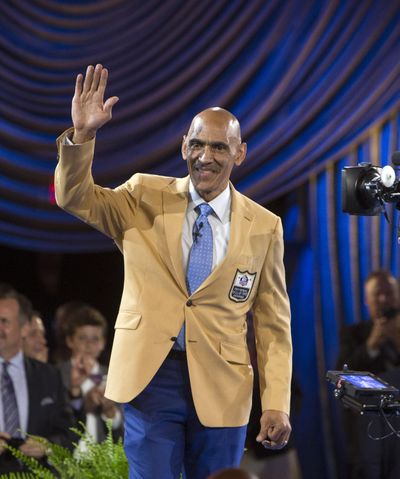 CANTON, Ohio – Tony Dungy would like to see the NFL's Rooney Rule used in the manner it was intended.
The new Pro Football Hall of Fame member said Friday that he doesn't believe teams are "following the spirit of the rule now." The rule, designed by and named after Steelers owner Dan Rooney, requires teams to interview minority candidates for coaching and front-office positions.
"What it was designed to do is slow the process down and for teams to investigate candidates," said Dungy, the first black coach to win a Super Bowl. "Then you can look at the whole sphere of candidates.
"Teams still want to get a coach (quickly) and fill a staff. People who do their homework will unearth good coaches if they investigate everything."
He pointed to Pittsburgh's Mike Tomlin and Arizona's Bruce Arians as examples of coaches who got jobs because teams were thorough in their searches.
Dungy, who won the title with the Colts in February 2007, has been a mentor to many NFL head coaches, including Mike Tomlin, Lovie Smith and Jim Caldwell. All of them are African-Americans and have coached Super Bowl teams, with Tomlin winning a championship.
Owners who hired them were willing to look beyond the norms, he said.
"People can't be afraid to go outside the box," Dungy said. "When I came up (through 15 years as an assistant coach), I might not have been a big enough name to sell tickets, or I didn't fit the mold. If someone does not have confidence in themselves, they won't hire those guys. They'll make the safe hire.
"We've got to get past that."
Dungy, who turned around perennial loser Tampa Bay before winning the championship with Indianapolis, was inducted into the hall Saturday night. He went 127-65 as a head coach, and had only one losing record – in 1996, his first year in Tampa, when the Bucs needed a total rebuild.
He has nothing but words of support for anyone seeking coaching opportunities.
"Don't ever allow anyone to make you think you can't do something," he said. "You can't let history stand in your way. Stay encouraged."
Local journalism is essential.
Give directly to The Spokesman-Review's Northwest Passages community forums series -- which helps to offset the costs of several reporter and editor positions at the newspaper -- by using the easy options below. Gifts processed in this system are not tax deductible, but are predominately used to help meet the local financial requirements needed to receive national matching-grant funds.
Subscribe to the sports newsletter
Get the day's top sports headlines and breaking news delivered to your inbox by subscribing here.
---