Sports
Alex Rodriguez to play final major league game next Friday
Sun., Aug. 7, 2016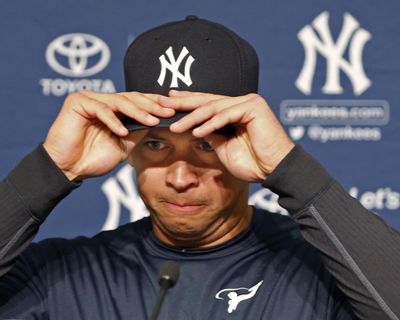 NEW YORK – Ready or not, Alex Rodriguez will play his final game in pinstripes this week.
One of the most prolific hitters and polarizing figures in baseball history, the slumping slugger plans to take his final turn at-bat with the New York Yankees this week and then become a special adviser and instructor with the team next year.
A-Rod and the club made the announcement before Sunday's game against Cleveland.
"This is a tough day. I love this game and I love this team," he said, often choking up. "And today I'm saying goodbye to both."
The 41-year-old Rodriguez, who sat out the 2014 season while serving a performance-enhancing drug suspension, will play against Tampa Bay at Yankee Stadium on Friday night and then be released. New York will pay him the remainder of the approximately $27 million he's owed as part of his $275 million, 10-year contract.
Rodriguez said the agreement arose out of conversations over the past few days with Yankees Managing General Partner Hal Steinbrenner. The two met face-to-face more than once, and A-Rod said he asked for one more chance to play in front of the Yankee Stadium crowd.
Relegated to little more than a spare part lately, the three-time A.L. MVP acknowledged "the last four weeks have not been fun."
"It's been very painful and embarrassing to sit on the bench. It's been awkward," Rodriguez explained.
But he made it clear he still thinks he could contribute on the field.
"Of course, I think I can play baseball. You always think you have one more hit in you, or help the team win one more game, for sure," said Rodriguez, who is four home runs shy of 700. "That wasn't in the cards. That was the Yankees' decision and I'm at peace with it."
A news release issued by the club indicated Rodriguez will be released after "his final major league game" to sign a contract that gives him a job working with minor leaguers throughout the Yankees' farm system. That deal runs through Dec. 31, 2017.
A-Rod said he'll go home to Miami following Friday's game, and he thought his new duties would begin during spring training. He thanked the Steinbrenner family for the opportunity to stay in baseball.
General manager Brian Cashman acknowledged that Rodriguez has a right to change his mind and pursue any potential opportunity. And for his part, Rodriguez never used the word "retire."
So, if another team offered him a chance to play, would he consider it?
"You know, when Hal told me, I just told him: 'Give me a few days. I need to kind of think on this, sleep on it.' I have not thought past the pinstripes, and my horizon is Friday," he said.
A 14-time All-Star, Rodriguez is hitting .204 this season with nine home runs and 29 RBIs in 216 at-bats. He's started only once in 14 games since July 22.
"We all want to keep playing forever," he said. "But it doesn't work that way."
New York manager Joe Girardi said he'd talk to Rodriguez about possibly playing this week in Boston.
"If he wants to play in every game, I'll find a way," Girardi said.
When the fourth-place Yankees (55-55) traded veterans Aroldis Chapman, Andrew Miller and Carlos Beltran leading up to last week's trade deadline, they made it clear they were turning toward a youth movement.
On Friday, 36-year-old first baseman Mark Teixeira announced he will retire at the end of the season.
A-Rod trails only Barry Bonds (762), Hank Aaron (755) and Babe Ruth (714) on the career home run list and joins Boston bopper David Ortiz as iconic stars apparently in their final seasons this year.
"As much as he's gone through, the PED stuff and all the stuff that's kind of happened throughout his career, he's still one of my favorite players to watch as a child growing up," Rays outfielder Steven Souza Jr. said. "Hopefully we can send him off with a thank you for a great career."
Rodriguez has a $20 million salary this year and is owed $20 million more in 2017, the final season of a $275 million contract that was the largest in baseball when he signed it.
"After spending several days discussing this plan with Alex, I am pleased that he will remain a part of our organization moving forward and transition into a role in which I know he can flourish," Steinbrenner said in a statement.
Rodriguez helped the Yankees win the 2009 World Series but had been in repeated controversy since he arrived ahead of the 2004 season in a trade with Texas.
He won his second and third A.L. MVP awards with the Yankees but has been a pariah to some since his 2009 admission he used performance-enhancing drugs while with the Rangers.
Starting in 2008, Rodriguez made six trips to the disabled list in six seasons.
Major League Baseball suspended him on Aug. 5, 2013, for the remainder of that season and all of 2014 for violations of baseball's drug and labor contract, caused by use and possession of numerous prohibited performance-enhancing substances and attempting to cover up his violations.
On Sunday, Rodriguez said he's "been to hell and back."
He returned from hip surgery and played while appealing the suspension, and the following January an arbitrator cut the penalty to all of the 2014 season.
A-Rod made a successful return last year, when the Yankees made him a full-time DH, but his offense slid late in the season. He hit .250 with 33 homers and 86 RBIs overall.
His slump continued at the start of this season when he hit .185 with four homers and eight RBIs in April. He batted .130 in May and was on the disabled list because of a strained right hamstring. His average rose to .267 with two homers and 13 RBIs in June before dropping.
Rodriguez started his big league career with Seattle in 1994 and signed a $252 million, 10-year contract with Texas before the 2001 season. When the Rangers decided to trade him, a proposed deal to Boston fell through before he was traded to New York. He agreed to shift from shortstop to third base with the Yankees, who already had Derek Jeter at shortstop.
A-Rod opted out of the contract after the 2007 season, became a free agent and signed his $275 million deal with the Yankees.
Local journalism is essential.
Give directly to The Spokesman-Review's Northwest Passages community forums series -- which helps to offset the costs of several reporter and editor positions at the newspaper -- by using the easy options below. Gifts processed in this system are not tax deductible, but are predominately used to help meet the local financial requirements needed to receive national matching-grant funds.
Subscribe to the sports newsletter
Get the day's top sports headlines and breaking news delivered to your inbox by subscribing here.
---