News > Nation/World
Boy dies on giant slide at Kansas waterpark
Sun., Aug. 7, 2016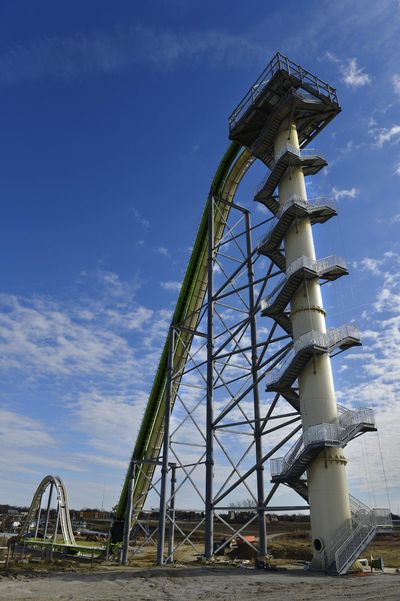 KANSAS CITY, Kan. – The son of a Kansas state lawmaker died Sunday on a water slide that is billed as the world's largest, according to officials and the boy's family.
Authorities did not immediately identify the child who died at Schlitterbahn Waterpark in Kansas City, Kansas, but state Rep. Scott Schwab and his wife released a statement saying it was their son Caleb Thomas Schwab.
"Since the day he was born, he brought abundant joy to our family and all those he came in contact with," said the statement, which asked for privacy as the family grieves.
Schlitterbahn spokeswoman Winter Prosapio said the child died on one of the park's main attractions, Verruckt, a 168-foot-tall water slide that has 264 stairs leading to the top. The slide's name means "insane" in German.
Officials haven't provided specific details about what led to Caleb's death. Kansas City police spokesman Officer Cameron Morgan said he did not have any information, and Prosapio declined comment, saying more details would be released later.
The park will be closed Monday, Prosapio said. An investigation is ongoing.
"Our thoughts and prayers are with the family during this difficult time," Prosapio said in a statement. She told reporters at a news conference that the boy's family had been at the park with him on Sunday.
Authorities initially said the victim was 12 years old, but Clint Sprague, a pastor who is acting as a spokesman for the family, said Caleb was 10.
Scott Schwab is a Republican from Olathe. He and his wife, Michele, have four sons, Sprague said.
Verruckt was certified as the world's tallest water slide by Guinness World Records. Riders go down the slide in multi-person rafts and have to be at last 54 inches tall, according to the park's website.
Local journalism is essential.
Give directly to The Spokesman-Review's Northwest Passages community forums series -- which helps to offset the costs of several reporter and editor positions at the newspaper -- by using the easy options below. Gifts processed in this system are not tax deductible, but are predominately used to help meet the local financial requirements needed to receive national matching-grant funds.
Subscribe now to get breaking news alerts in your email inbox
Get breaking news delivered to your inbox as it happens.
---