Sports
Former WSU star Rueben Mayes to become U.S. citizen
Mon., Aug. 8, 2016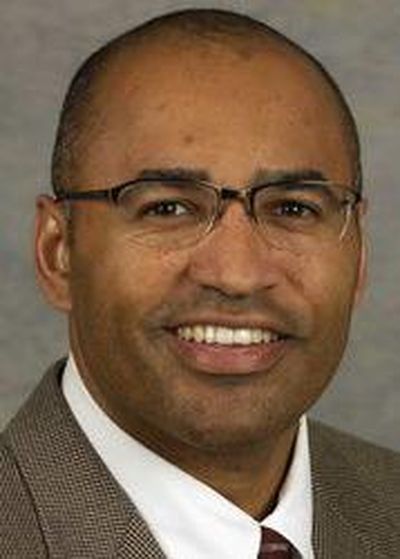 PULLMAN – Since coming to the United States to play football and run track at Washington State University, Rueben Mayes has been a record-setting running back, an Offensive Rookie of the Year and an NFL All-Pro.
On Tuesday, Mayes, 53, will become a U.S. citizen at the federal courthouse in Spokane. His wife and three or four close friends will attend the ceremony.
The Canadian-born Mayes, who lives in Pullman and is the chief development office for Pullman Regional Hospital, said the process of gaining his citizenship took six-to-eight months.
He gave three reasons when asked why now, after living in the U.S. his entire adult life, he decided to seek citizenship:
"One, I'm so appreciative of all the opportunities that have been given to me while being in the country and I just felt at this time in my life I need to finalize becoming a citizen," Mayes said. "I plan to stay and live in this community and was just so appreciative I felt it was time.
"No. 2, learning about all the rights of being a citizen and being a part of this country and community, it really has resonated with me. I really value what the United States stands for. I always have, but even more so just learning the history and what America stands for.
And No. 3, I just love being in the community and, having been raised in Canada, I don't see going back, and I felt obligated to validate my living in the community and vote eventually, and fulfill all that."
Mayes played for the Cougars from 1982-85. He rushed for 357 yards during a 1984 game against Oregon that was then the NCAA rushing record and remains the Pac-12 single-game record. Two weeks earlier he had gained 216 yards on the ground to bring the Cougars back from a 28-point deficit against Stanford.
Jim Walden, who coached Mayes at WSU, recalls recruiting the impressive athlete out of North Battleford, Saskatchewan. The Cougars caught wind of a dominant runner up north thanks to defensive coordinator Bob Padilla's relationship with former WSU football player Hugh Campbell, who had coached the Edmonton Eskimos in the Canadian Football League.
"Bob went up to work Hugh's camp, and while he was there one of the high school coaches in the area asked if he ever heard of a young man named Reuben Mayes, who was absolutely a phenom in Canada, just a major big fish in a small pond," Walden explained.
"We got some film and it looked like somebody was taking it from the back of a pickup truck," Walden recalled. "But the one thing we did see was every time he touched the ball he ran it 80 yards for a touchdown."
The Cougars signed Mayes, who had a successful college career and was chosen by the New Orleans Saints in the third round of the 1986 NFL draft. Mayes was named the Offensive Rookie of the Year in 1986, and was named an NFL All-Pro during the first two years of his eight-year NFL career.
Local journalism is essential.
Give directly to The Spokesman-Review's Northwest Passages community forums series -- which helps to offset the costs of several reporter and editor positions at the newspaper -- by using the easy options below. Gifts processed in this system are not tax deductible, but are predominately used to help meet the local financial requirements needed to receive national matching-grant funds.
Subscribe to the sports newsletter
Get the day's top sports headlines and breaking news delivered to your inbox by subscribing here.
---