News > Spokane
Expanded Cheney CHAS clinic to offer dental for low-income patients
Tue., Aug. 9, 2016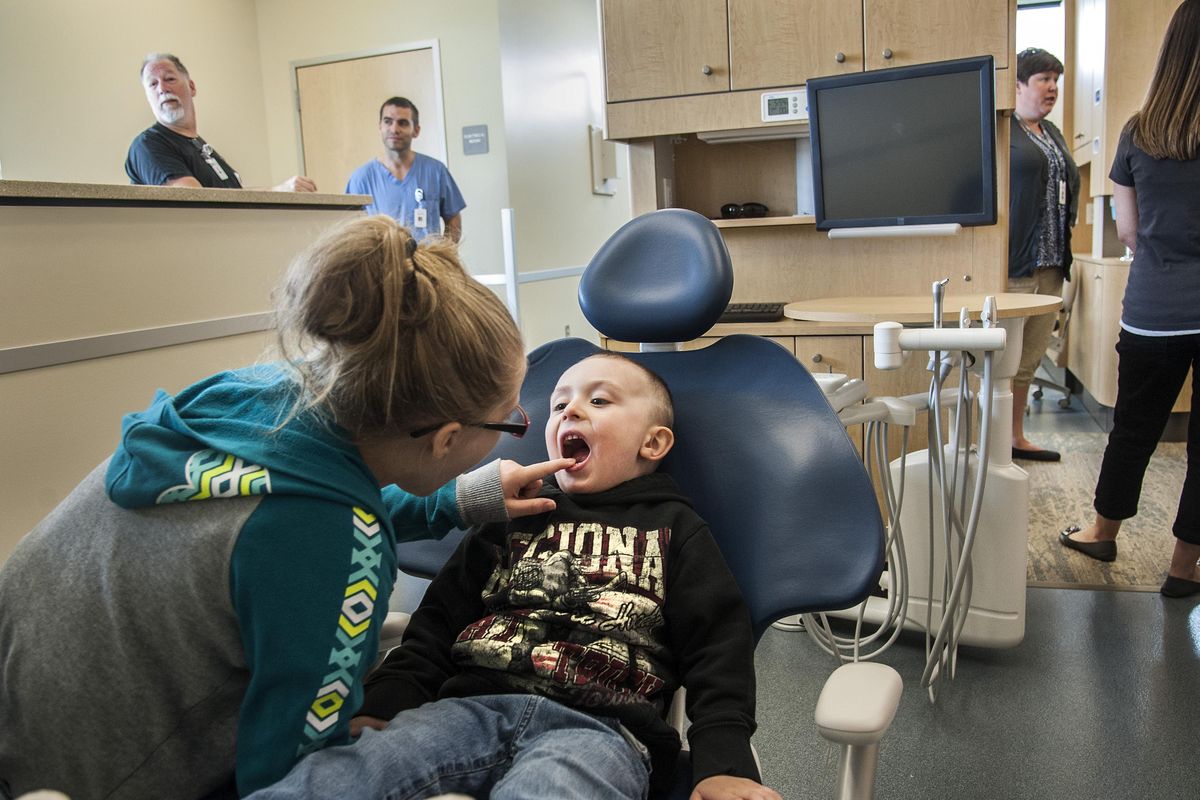 Rylan Talmage, 3, gets a dental exam in the dental clinic from his sister, Amarah, 10, during a tour Tuesday of the new CHAS Cheney Health Center. Dentist Bill Pedey is second from left in the rear. The children's father, Glenn, works for CHAS. (Dan Pelle / The Spokesman-Review)
A newly expanded Cheney clinic aims to provide dental services to people who couldn't get them anywhere else.
CHAS, a community health care organization, is adding dental services to its Cheney clinic and plans to expand dental to its Moscow, Idaho, clinic later this year. Appointments in Cheney are being scheduled, and dentists will start seeing patients Monday.
"Adequate access to oral health services continues to be a significant challenge for our patients throughout the greater Spokane community," said Aaron Wilson, the CEO of CHAS.
The Cheney clinic opened in December in a section of a building that once housed an Ace Hardware store. Only some medical services were provided while the rest of the building underwent renovation.
During a grand opening Tuesday, CHAS unveiled the fully renovated, 17,000-square-foot clinic, which is doubling its staff to offer more medical services, as well as dental and behavioral health care.
It's part of a broader expansion of CHAS services in the Inland Northwest, driven by increased demand from adults who are newly insured through Medicaid under the Affordable Care Act. That law gave many people dental insurance for the first time in years.
Chad Lennox, a program manager for the Washington Dental Service Foundation, said the state has been trying for years to improve access to dental services – even for those with dental insurance.
"There's been a gap between coverage and access," Lennox said. "And here, even in the Cheney area, we saw over 6,000 individuals with coverage for dental that couldn't get into care anywhere else."
Lennox said the clinic, which received funding from the Dental Service Foundation, will provide dental services to an estimated 2,700 of those underinsured people. Many will come to the dentist with long-standing problems they haven't been able to get treated.
"Frequently we see folks that haven't been to the dentist in 10 to 15 years," Wilson said. But over time, he said, new patients tend to get onto a regular preventive care plan.
The expansion should take pressure off CHAS' dental clinics in Spokane, where patients often wait up to four weeks for a routine appointment. Waits like that are common across clinics for Medicaid patients, Wilson said, because many offices don't take Medicaid or limit the number of Medicaid patients.
The Cheney clinic will have one dentist and six rooms for treating dental patients. CHAS hopes to open a pharmacy there later this fall.
Additionally, the added space will accommodate behavioral health experts and doctors in specialized medical fields, making the most of CHAS' resources, said Shayla Jeffries, the Cheney clinic administrator.
"Behavioral health is one thing that we noticed very quickly is needed out here," Jeffries said. "We can't have every specialist in every clinic, but if they rotate through, we can serve people in outside communities."
CHAS opened several new clinics in 2015 to provide care to newly insured people. In addition to the Cheney facility, the organization opened an urgent care center in Spokane Valley and a clinic in Spokane's Perry District.
Late this year, the Moscow clinic will move to a new location just across the street, where it will offer dental services. Wilson said CHAS serves about 60,000 patients, but expects that to grow to 65,000 by the end of the year.
"The bow wave of newly covered insured individuals is so significant, it's going to take a few years for access issues to settle down," he said.
Local journalism is essential.
Give directly to The Spokesman-Review's Northwest Passages community forums series -- which helps to offset the costs of several reporter and editor positions at the newspaper -- by using the easy options below. Gifts processed in this system are not tax deductible, but are predominately used to help meet the local financial requirements needed to receive national matching-grant funds.
Subscribe now to get breaking news alerts in your email inbox
Get breaking news delivered to your inbox as it happens.
---