Sports
Michael Phelps enjoys two-gold night; Katie Ledecky wins again, too
Tue., Aug. 9, 2016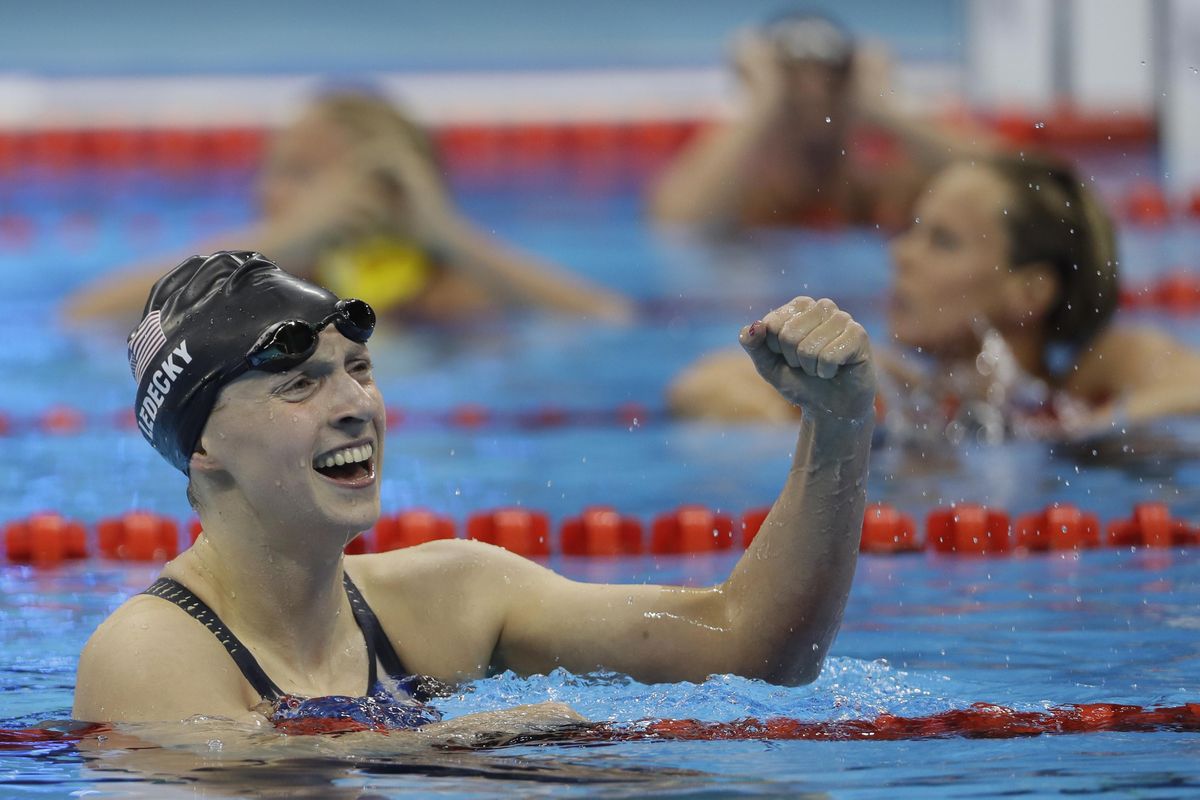 Stanford swimmer Katie Ledecky, a decorated U.S. Olympian, was named the top collegiate female athlete. (David J. Phillip / Associated Press)
RIO DE JANEIRO – As he looked up at a boisterous crowd, triumphant for the 20th time in his unmatched Olympic career, Michael Phelps raised his hands and flicked them in his direction as if to say: "Bring on the world."
Because he has won so relentlessly, Phelps has rarely needed to seek retribution. Hence the exquisite tension as he prepared to meet South African Chad le Clos in the 200-meter butterfly final Tuesday night.
Le Clos is the man who beat Phelps in the same event four years ago and also the rival who seems to irritate him most. So after Phelps won his second gold medal of these Games and vanquished le Clos, who finished fourth, he seemed to defy anyone to come and beat him.
A little more than an hour after his butterfly final, Phelps picked up another gold medal, anchoring the United States to a comfortable victory in the 4x200 freestyle relay. That pushed his record totals to 21 gold medals and 25 medals overall.
Just as he did Sunday night, Phelps shared the stage at the Olympic Aquatics Stadium with Katie Ledecky, the Bethesda, Maryland, teenager who's primed to replace him as the world's most dominant swimmer.
The 200 freestyle is not an event in which Ledecky overwhelms. She's still relatively new to being a world-class sprinter and was considered a co-favorite with Sarah Sjostrom of Sweden.
But Ledecky showed she's just as good in a dogfight as she is when swimming away from the field, winning her second gold medal of the Games in 1 minute, 53.73 seconds. Sjostrom pushed her hard over the last 50 meters and won silver in 1 minute, 54.08 seconds.
Asked if she's the future of American swimming, Ledecky said, "I'm kind of the present, too."
The 200 butterfly was more than Phelps' first individual final of these 2016 Games. It was a chance for him to wipe away one of his few Olympic disappointments.
Four years ago, he sought his third consecutive gold medal in the event, the same one in which he qualified for his first Olympics at age 15 and the same one in which he lowered his own world record seven times between 2001 and 2009.
But an undertrained and unhappy Phelps did not account for a late surge from le Clos, the confident young South African who wanted to be, well, the next Michael Phelps.
The possibility of a Rio rematch has intrigued the swimming world since.
The story became that much richer with the late-career improvement of Hungarian Laszlo Cseh, a five-time Olympic medalist who has never managed to beat Phelps in the biggest races but who came in with the fastest time of 2016. And then another Hungarian, Tamas Kenderesi, asserted himself by swimming the fastest semifinal time.
Phelps has always lived for such moments, ever since he was the young swimmer on the rise, angling to take down Ian Thorpe or Ian Crocker.
In the end, neither le Clos nor Cseh threatened him. Masato Sakai of Japan, yet another swimmer who grew up watching Phelps on television, won the silver medal, just .04 seconds behind. Phelps' time of 1 minute, 53.36 seconds was slower than his world-best time of 2015, but that hardly seemed to matter.
After he received his medal, Phelps climbed to the edge of the stands to kiss his mother, Debbie, and fiancee, Nicole Johnson. Then, he held his 3-month-old son, Boomer, and gave him a kiss on the cheek.
About 10 minutes later, he was ready to swim again.
In a twist few had contemplated coming into the Olympics, Phelps' coach and the coach of the U.S. men, Bob Bowman, added him to the 4x200 freestyle relay, scheduled to start about 70 minutes after the 200 butterfly. Phelps would anchor behind Conor Dwyer, Townley Haas and Ryan Lochte.
The decision indicated Phelps felt bullish about both his fitness and his freestyle stroke.
He did not swim either a 100 or 200 freestyle at Olympic trials, so it wasn't clear if he would compete in either freestyle relay in Rio.
But Phelps ironed out his stroke – which had been iffy since he came out of retirement in 2014 – at pre-Olympic training camps in San Antonio and Atlanta. He swam so impressively in a time trial a week before the Olympics that Bowman put him on the 4x100 team, a decision Phelps more than justified with his race-altering relay leg on Sunday night.
The 4x200 relay raised different questions, however. Not only would it be a longer swim, it would come on the heels of the highly competitive butterfly final. Such a double was no big deal to the Phelps of eight years ago. But his 31-year-old body does not recover as quickly as it once did. He had not attempted this particular double since 2012.
On the other hand, Phelps was one of the greatest 200 freestylers in history at his peak. And he could go all out on Tuesday, knowing he only has to swim two qualifying heats in the 200-meter individual medley on Wednesday.
Regardless of the exact calculations, Phelps' entry in the relay added zest to a night that was already one of the highlights of his week because of his butterfly rivalry with le Clos and Cseh.
Phelps-le Clos achieved meme status Monday night when NBC broadcast footage of Phelps glowering in the waiting room before their semifinal as le Clos bopped around with a grin on his face.
It screamed boxing movie more than swim meet, right down to the hooded robe that cast a shadow over Phelps' grim countenance.
Beyond spurring a cascade of PhelpsFace hashtags, the scene spoke to the real differences that have made Phelps-le Clos a compelling rivalry.
The South African grew up hoping to emulate Phelps as a swimmer, and then he actually beat him in the 200 butterfly four years ago in London.
That race has stuck in Phelps' craw, and le Clos has periodically fanned the flames by talking trash in the years since. The swimming world was titillated last summer when le Clos took shots at Phelps after laying down a world-best time in the 100 butterfly. Phelps came back later the same day with a faster swim in the same event.
Phelps was asked about the video of him and le Clos from the waiting room before their 200 butterfly semifinal.
"Everybody has their own race strategy and what they do, and if that's his, that's his," he said. "I honestly was trying to focus on what the guys in the heat before me were doing and tried to not really even pay attention. He had a tough double tonight, some decent swims. Tomorrow's race I would expect will get a lot of hype."
Note that one of those "decent swims" he alluded to was le Clos' silver-medal performance in the 200-meter freestyle. So Phelps was in no mood to give le Clos too much credit.
Whether he would fully acknowledge it or not, it seemed the old lion was eager to slap down his 24-year-old foe.
The PhelpsFace meme was an apt summation of its source. He's a legendarily focused competitor who tries to keep his mind blank in the moments before a big race. And he thrives on perceived challenges to his throne.
Local journalism is essential.
Give directly to The Spokesman-Review's Northwest Passages community forums series -- which helps to offset the costs of several reporter and editor positions at the newspaper -- by using the easy options below. Gifts processed in this system are not tax deductible, but are predominately used to help meet the local financial requirements needed to receive national matching-grant funds.
Subscribe to the sports newsletter
Get the day's top sports headlines and breaking news delivered to your inbox by subscribing here.
---