Sports
WSU backup quarterback Tyler Hilinski prepares as if he'll take the next snap
Tue., Aug. 9, 2016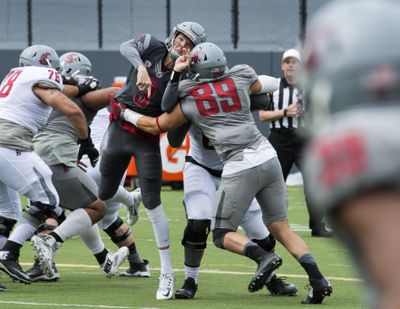 LEWISTON – During one of Mike Leach's frequent quarterback summits, he decided to call-out the backup.
"All right, Hilinski," Leach said. "Since you're a superior athlete, why don't you come cover me."
And so Washington State's backup quarterback, redshirt freshman Tyler Hilinski, underwent a brief position switch to defensive back. Rumor is his backpedal needs some work.
Of course, Hilinski cannot leave his current position, no matter how many passes he swats away from his 55-year-old coach. He's far too valuable in his current position. Because while it's entirely certain that Luke Falk will be starting behind center for the Cougars, it's just as certain that Hilinski will play. And it's pretty likely the redshirt freshman will take at least a few meaningful snaps this year.
Last year, backup quarterback Peyton Bender was relied upon to throw a touchdown pass in WSU's last-second win at UCLA, finish out the win at Colorado and play the entirety of the Apple Cup. Falk also got his first start as a redshirt freshman, leading the Cougars to a win at Oregon State.
Historical trends indicate that at some point this season Hilinski will be needed to contribute to a close win.
"I'm so excited," Hilinski said. "Coach Leach, when we were talking over the summer about getting ready for the season and being the backup. He said I'm a twisted ankle away from going in at any time, so I just have to be ready and I can't wait to play for the Cougs."
Hilinski likely would have had more time to percolate before being thrust into pressure situations, but Bender transferred during the summer after becoming academically ineligible. That's meant an increased role for Hilinski, and it's also meant far more reps in practice after splitting time with Bender.
Hilinski's biggest issue in practice is a tendency to have bad days where he throws too many passes that hit the hands of defenders. He has a good arm and he's athletic. He has the ability to be very accurate and he throws a pretty, catchable ball.
The increased practiced reps have helped him quicken his release, and coaches have raved about his skills as a communicator when in the huddle and before the snap.
"I'm a really vocal guy. I like to talk to the linemen and receivers," Hilinski said. "Switching every day was a little more difficult, but now having more reps every day I've been getting closer and better chemistry with the running backs, receivers and all that."
"Tyler's definitely matured a lot from what I've seen," sophomore receiver Kyle Sweet said. "Since I've been here it just seems like he's getting stronger and stronger every practice, mentally."
The 6-foot-3, 187-pound Hilinski had a good spring and capped it off with a successful debut in front of WSU fans in the Crimson and Gray game, completing 9 of 14 pass attempts for 133 yards and two touchdowns.
After that appearance, he was consistently cited by teammates and coaches as one of the team's most improved players this offseason.
"What he's done is bought into what coach Leach preaches," assistant coach Dave Nichol said. "Compete with yourself. Don't worry about who the starter is. Don't worry about who the backup is. You get better. And that's what Hilinski did this summer."
Local journalism is essential.
Give directly to The Spokesman-Review's Northwest Passages community forums series -- which helps to offset the costs of several reporter and editor positions at the newspaper -- by using the easy options below. Gifts processed in this system are not tax deductible, but are predominately used to help meet the local financial requirements needed to receive national matching-grant funds.
Subscribe to the sports newsletter
Get the day's top sports headlines and breaking news delivered to your inbox by subscribing here.
---