Sports
Digest: Prince Fielder ends career after neck surgeries
Wed., Aug. 10, 2016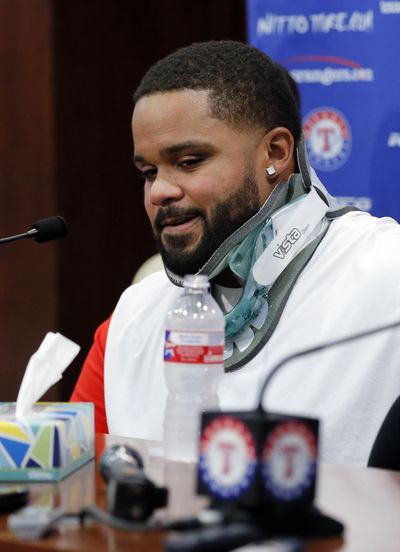 MLB: Prince Fielder will not be able to come back after a second neck surgery.
The Texas Rangers slugger wept as he said health issues were forcing him to end his 12-season major league career. He was still wearing a neck brace 12 days after his second cervical fusion in just over two years.
The 32-year-old Fielder said it's going to be tough not being able to play again after being around the majors since he was a kid with his father, Cecil, a slugger who played 13 seasons for five different teams. Prince's two young sons sat with him at the podium, mostly with their heads down and also shedding tears.
All of his Rangers teammates, along with coaches and staff, filled the interview room at their home ballpark to support him.
Fielder was one of the most durable players in the majors when Texas acquired from Detroit after the 2013 season for second baseman Ian Kinsler.
The stout first baseman had played at least 157 games every year since 2006, and appeared in 809 of 810 possible games the previous five seasons before joining the Rangers. But Fielder was limited to 289 games in Texas, including the two season-ending neck surgeries.
Fielder will finish his career with 319 career homers, the same number that his father had playing one more season but 141 fewer games.
Francona returns: Cleveland manager Terry Francona was back at the ballpark Wednesday afternoon for the Indians' game against Washington. Francona missed Tuesday's game after he complained of chest pains, broke out into a sweat and had a heart rate over 100 beats a minute at Nationals Park. After an electrocardiogram and full checkup at the stadium, the Indians sent him back to the hotel as a precaution.
The 57-year-old has twice suffered a pulmonary embolism. He compared Tuesday's episode to something that happened to him at Yankee Stadium in 2005 when he was managing the Boston Red Sox.
Crawford, Sennett meet after seven-hit game: The National League's only living seven-hit men met Wednesday. Rennie Stennett visited Marlins Park so he could congratulate San Francisco Giants shortstop Brandon Crawford, who had seven hits in Monday's 14-inning victory at Miami.
The seven-hit game was the first since Stennett went 7 for 7 for the Pittsburgh Pirates at Wrigley Field in 1975.
"It was cool to meet him," Crawford said. "We talked about the game he had a little bit and how he'll never forget it. I said, 'I'm sure I won't either.'"
Stennett, 65, was a .274 hitter in 11 seasons with the Pirates and Giants. He lives in South Florida.
Bonds ejected: Barry Bonds has been ejected from the Miami Marlins' game against San Francisco for arguing about balls and strikes.
The home run king and Marlins' hitting coach was in the dugout when he was thrown out by plate umpire Cory Blaser after Chris Johnson was called out on strikes to end the sixth inning. Bonds then came onto the field to briefly argue further with Blaser. It was the first ejection for Bonds since he returned to the majors this year as the Marlins' hitting coach.
Rodriguez still slated for Thursday: Yankees manager Joe Girardi is staying with his plan to start Alex Rodriguez for Thursday's series finale at Fenway Park despite a change in Boston's rotation.
Left-hander Eduardo Rodriguez will start for Boston instead of knuckleballer Steven Wright because the right-hander jammed his pitching shoulder while diving into a base as pinch runner in an interleague game against the Los Angeles Dodgers over the weekend.
"It's about winning the games," Girardi said when asked if he liked the matchup. "That's what it's always about here. It'll continue to be that way."
Girardi then went on to answer about 12 minutes of questions why A-Rod wasn't starting the first two games of the series. The Yankees said Sunday that Rodriguez will be released following Friday's homestand opener against Tampa Bay. The 41-year-old designated hitter, who has 696 home runs, didn't play in a 5-3 loss in Tuesday.
Fans chanted "We want A-Rod'!' late in the game.
"You could say what you want, there's a lot of relationships involved here and it bothers me sometimes because people say one thing to do and because it becomes controversial they say another and it's difficult," Girardi said. "When we look at this decision, we're basing it on a substantial amount of at-bats – and it's not what we want. I think our hope is he'd hit 30 home runs again, but that hasn't been the case this year."
Girardi said he understands some may consider him a `bad guy' for not playing A-Rod.
"It is what it is," he said. "It's part of the job, I guess."
Girardi said he "made a mistake" by saying on Sunday that if Rodriguez wanted to play in all remaining games before his release that he would try to get him in the games.
"My job is to put out what I feel is the best lineup, and that's what I'm trying to do," Girardi said. "It's been difficult."
Richards hopes to be cleared to throw: Los Angeles Angels ace Garrett Richards hopes to be cleared to throw next week as he seeks to avoid Tommy John surgery.
Richards last pitched on May 1 and was diagnosed with a torn ulnar collateral ligament five days later. He won't pitch again this season, but he's been undergoing stem-cell treatments in hopes of avoiding surgery that would sideline him through the 2017 season.
Richards was optimistic after a workout at Wrigley Field on Wednesday before the Angels faced the Cubs. He's been lifting and doing exercises with a weighted ball to stimulate the throwing motion.
In other MLB news:
The Texas Rangers activated outfielder Drew Stubbs from the 60-day disabled list after a toe injury and sent outfielder Ryan Rua to Triple-A Round Rock. The Rangers designated infielder Kyle Kubitza for assignment. … The Toronto Blue Jays placed slugger Jose Bautista on the 15-day DL because of a sprained left knee. Toronto also recalled outfielder Junior Lake from Triple-A Buffalo. … St. Louis Cardinals first baseman Matt Adams was scratched from the lineup after waking up with left shoulder soreness. Jhonny Peralta replaced Adams in the lineup batting sixth and playing third, and Matt Carpenter moved from third to first. Yadier Molina moved up one spot from sixth to fifth. … Hector Olivera was placed on unconditional release waivers by the San Diego Padres, who will release him when he clears waivers later this week and will be responsible for the remainder of the $62.5 million, six-year contract he signed with the Los Angeles Dodgers in early 2015. … The New York Mets called up infielder T.J. Rivera from Triple-A Las Vegas to fill the roster spot opened up when outfielder Brandon Nimmo was optioned.
Browns' Coleman to miss first exhibition
NFL: The Browns will be without Corey Coleman, their top rookie receiver for their first exhibition game against Green Bay. Coleman, who hasn't practiced since catching three long passes from Robert Griffin III in a scrimmage last week, will miss Friday night's game with a hamstring injury, according to coach Hue Jackson.
Ragland needs surgery, could miss season: Buffalo Bills rookie linebacker Reggie Ragland needs surgery to repair a torn left knee ligament and may miss the season. Ragland was hurt during practice Friday while going after the ball carrier. He pulled up and went to the ground without being hit.
Dolphins place Culliver on PUP list: Cornerback Chris Culliver was placed on the physically unable to perform list after signing a one-year deal with the Miami Dolphins, and said he expects to join practice soon. Culliver, who signed Tuesday, is still recovering from torn ACL and MCL ligaments in his right knee. He was hurt last Thanksgiving and released in May by the Washington Redskins.
Illinois QB Fitzgerald announces departure
College athletics: Illinois coach Lovie Smith says redshirt freshman quarterback Jimmy Fitzgerald is leaving the team. Smith said the quarterback is leaving to "get a fresh start" at another school.
The release did not say where Fitzgerald plans to go. He said in the release that he plans to "consider other opportunities for my collegiate career."
Wichita State coach suspended: Wichita State coach Gregg Marshall has been suspended for the last game of an exhibition tour in Canada after receiving two technical fouls and getting kicked out of a game against McGill University. Shockers athletic director Daron Boatright said in a statement that "while I understand the competitive spirit that accompanies coaching, there remains a professional behavior that is inherent in a position of leadership that we must all meet."
Marshall had to be restrained Tuesday night from chasing after two referees. He complained several times about physical play that resulted in one of Wichita State's players sustaining a concussion.
Florida's Riles out for season: A person familiar with the program tells The Associated Press that Florida will be without guard Antonio Riles for the season because of a knee injury. Riles tore a knee ligament in practice Monday. Tests revealed the extent of damage, according to the person who spoke Wednesday on the condition of anonymity because only coach Jim McElwain is authorized to discuss Florida's injuries. McElwain's next media availability is Friday.
Devils re-sign left wing Boucher for 715K
NHL: The New Jersey Devils have re-signed restricted free agent left wing Reid Boucher to a one-year, two-way contract. General manager Ray Shero said Boucher will be paid $715,000 at the NHL level.
Boucher split last season between New Jersey and Albany (AHL). The 22-year-old had eight goals and 11 assists in 39 games with the Devils. He had 19 goals and 13 assists in 34 games in the minor leagues. He also added four goals and six assists in 11 Calder Cup playoff games with Albany.
Local journalism is essential.
Give directly to The Spokesman-Review's Northwest Passages community forums series -- which helps to offset the costs of several reporter and editor positions at the newspaper -- by using the easy options below. Gifts processed in this system are not tax deductible, but are predominately used to help meet the local financial requirements needed to receive national matching-grant funds.
Subscribe to the sports newsletter
Get the day's top sports headlines and breaking news delivered to your inbox by subscribing here.
---