Sports
Mike Lynch, longtime sportswriter, copy editor in Spokane, dies
Wed., Aug. 10, 2016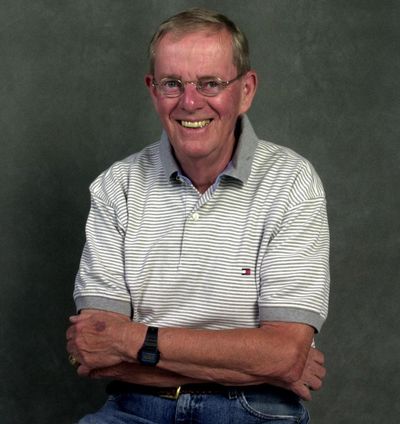 Mike Lynch, who served more than half a century as a member of The Spokesman-Review editorial staff, died Tuesday night of a heart attack. He was 86.
A sharp-tongued Irishman with a gift for storytelling, Lynch was best known for his long tenures as the newspaper's ice hockey and professional baseball expert.
A surgeon's son born George Michael Lynch in Fairbury, Nebraska, he graduated from high school in La Jolla, California, and enrolled in Gonzaga University. Within months, he joined the paper as a copy boy. After receiving a promotion to the sports department and earning his degree, he spent two years in the U.S. Army.
Returning to the paper, Lynch worked on the sports desk and covered boxing, when that was still a highly popular sport. He liked to recall watching light heavyweight champion Archie Moore tune up for a 1953 Spokane fight in Al Morse's Recreation and spoke fondly of ill-fated Northwest lightweight champion Bobby Woods.
In the late 1950s, he became the department's copy chief, editing the important Sunday section for several years.
Lynch took over the hockey beat in 1962 and held it for more than a decade as Spokane won three Allan Cup championships, Canada's top honor for senior amateur teams. In 1964, he began covering the Spokane Indians. Within 10 years, they had won three Pacific Coast League baseball titles.
He retired from full-time employment in 1987 but worked 22 years more as a part-time copy editor and occasional correspondent.
Throughout the years, Lynch was known for his detailed and apparently accurate recall of facts, scores, road trips and amusing locker-room and press-box conversations, some of them not fit to print. He formed lasting friendships with team executives, managers and players, particularly Spokane hockey great Tom Hodges.
Lynch is survived by his wife, Lorine, four children, several grandchildren, two great grandchildren and a younger brother. Services have been scheduled for 10 a.m. on Aug. 18, in St. Aloysius Catholic Church.
Local journalism is essential.
Give directly to The Spokesman-Review's Northwest Passages community forums series -- which helps to offset the costs of several reporter and editor positions at the newspaper -- by using the easy options below. Gifts processed in this system are not tax deductible, but are predominately used to help meet the local financial requirements needed to receive national matching-grant funds.
Subscribe to the sports newsletter
Get the day's top sports headlines and breaking news delivered to your inbox by subscribing here.
---