Sports > Outdoors
Outpeople: Local pro bass anglers Palaniuk, Nania in national 'top 30 under 30'
Wed., Aug. 10, 2016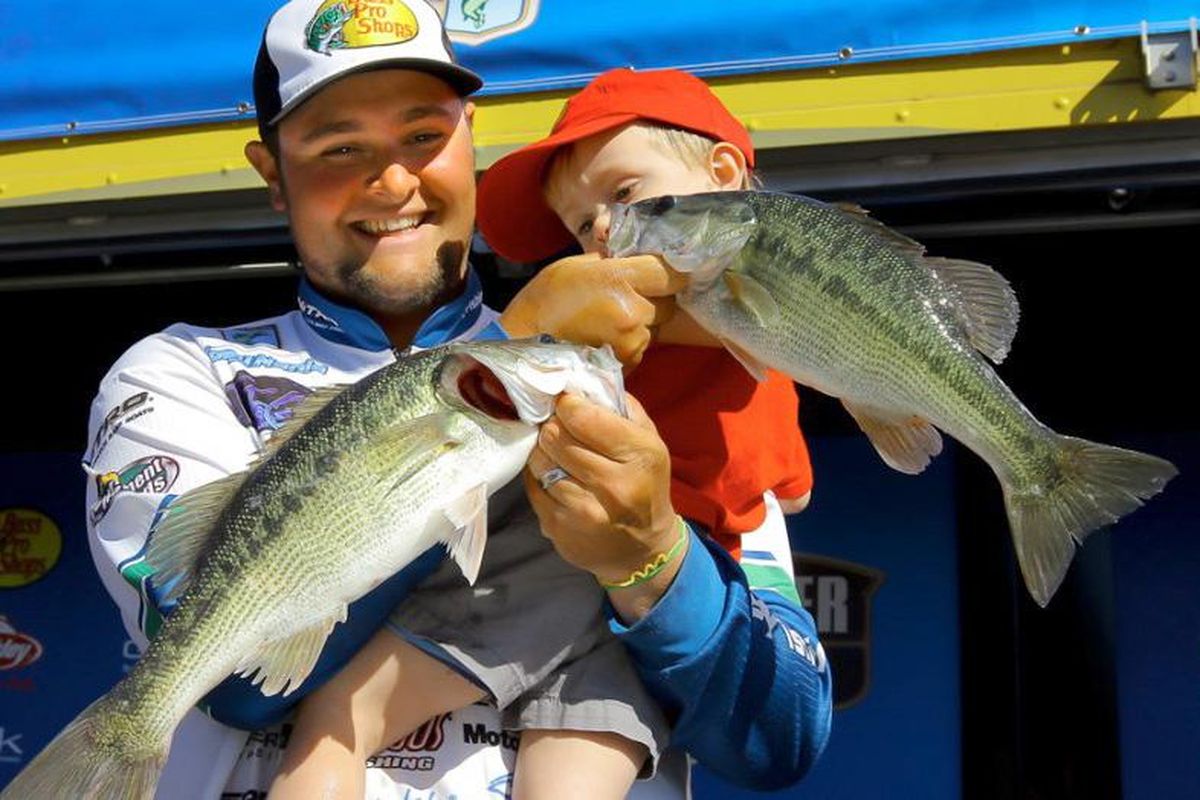 Joey Nania, 25, a native of Liberty Lake, Washington, is in his sixth year of fishing professional open bass tournaments in 2016. He is also the co-host of Sweetwater Fishing TV and maintains a steady fishing guide business in Alabama. He is shown here at a tournament weigh-in with his son, Zeke. (Courtesy photo)
Two local anglers-turned-pro have been ranked in "The Top 30 Under 30" by the Bass Anglers Sportsman Society.
Brandon Palaniuk, 28, of Hayden and Joey Nania, 25, formerly of Liberty Lake, have been in the spotlight of the national bass fishing industry since they were teens.
"The growth of college and high school fishing is helping churn out solid anglers who can compete at the pro level," says the story on Bassmaster.com.
"There are a greater number of bass anglers waiting in the wings to swoop down and capture tournament titles than ever before, and we've taken up the task of narrowing them down to the top 30 anglers under 30 years of age."
Palaniuk was ranked No. 1 of the group with earnings totaling $706,349 since he joined the BASS circuits in 2011. Bassmaster dubbed him "undoubtedly the most successful angler in the world still in his 20s."
Palaniuk is one of 111 anglers in the Bassmaster Elite Series, billed as the highest level of professional bass fishing competition.
He finished in the money in 45 of 72 top-level tournaments, earning two Bassmaster Elite Series wins and qualifying for six consecutive Bassmaster Classics – the "super bowl" of bass fishing.
"Since bursting on the scene as the B.A.S.S. National representative in the 2011 Bassmaster Classic, Palaniuk has proven he's anything but a one-hit wonder," Bassmaster says.
Joey Nania, ranked No. 22 in the under-30 group, started hot out of the blocks as a two-time Junior Bassmaster champion before he turned 18.
He's currently an Open Series competitor and father of two young boys, based out of Cropwell, Alabama.
While competing in his sixth year of Opens, he's also the co-host of Sweetwater Fishing TV and maintains a fishing guide business on the Coosa River System of Lakes.
Nania has three top-10 finishes and ended last season ranked No. 11 of the 220 anglers in the Bassmaster Southern Opens series.
Local journalism is essential.
Give directly to The Spokesman-Review's Northwest Passages community forums series -- which helps to offset the costs of several reporter and editor positions at the newspaper -- by using the easy options below. Gifts processed in this system are not tax deductible, but are predominately used to help meet the local financial requirements needed to receive national matching-grant funds.
Subscribe to the sports newsletter
Get the day's top sports headlines and breaking news delivered to your inbox by subscribing here.
---