Sports > Outdoors
Paddleboards are versatile, convenient and fun way to get on the water
Wed., Aug. 10, 2016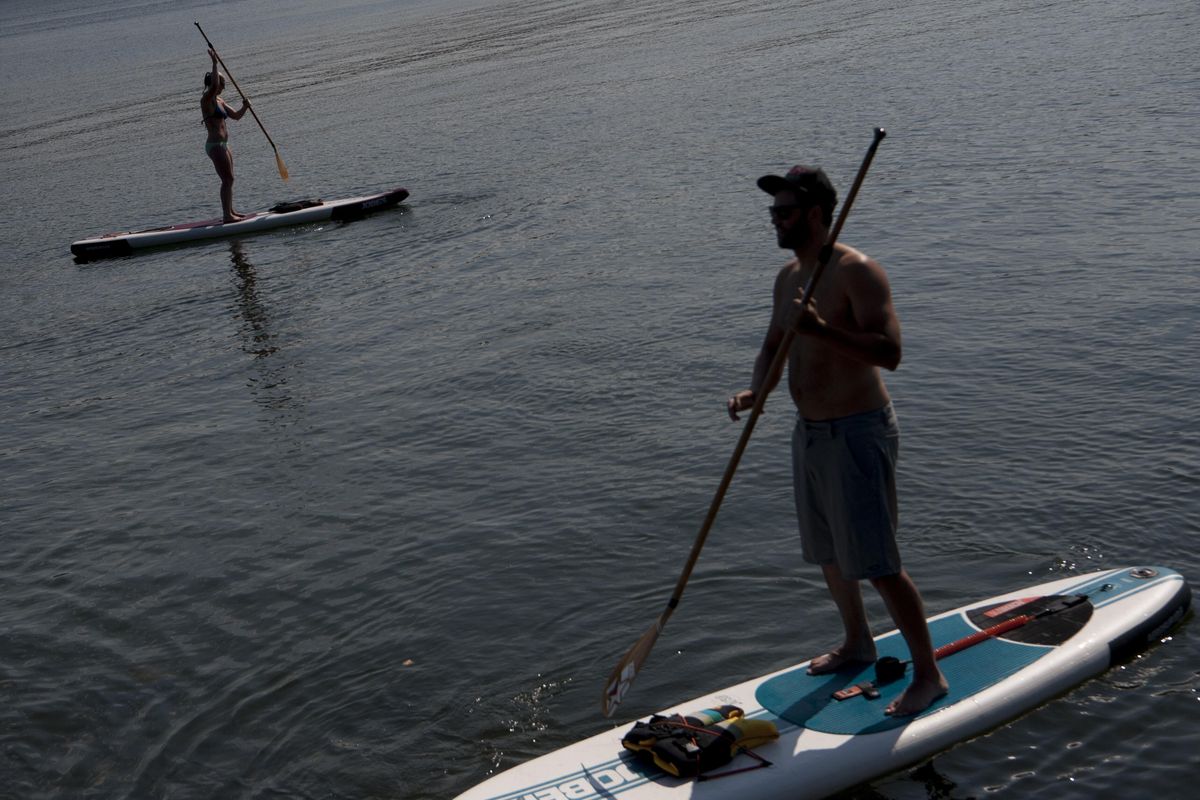 Rachel and Drew Harding try out paddle boards at the Liberty Lake boat launch in Liberty Lake. (Tyler Tjomsland / The Spokesman-Review)Buy a print of this photo
While the power boating industry seems to be leaning towards finding ways to create bigger waves, another company is changing a human-powered boat geared for lakes.
The Jobe Sports RV tour stopped in Liberty Lake last week to give locals a chance to ride its rigid and inflatable paddleboards, all of which come with a water-proof backpack, paddle and pump.
Stephanie Martian, a 29-year-old paddleboard tour guide from Lake Tahoe, said one of her favorite things about the new inflatable paddleboards are their versatility.
"You can do Yoga on them," Martian said. "You can make it as relaxing as you want or an intense, cardio-taxing workout."
It seemed fitting that Martian and the other Jobe Sports ambassador, Taylor Newton, plied their wares at the constricted Liberty Lake boat launch.
Newton and Martian sent several folks out on paddleboards, as other traditional boaters were trying to launch boats and pick up personal watercraft. Several paddleboarders could head out at once, while boaters had to wait in line for the boat launch.
"That's one of the great thing about the inflatables is that you can backpack them to remote areas," she said.
Speaking of specialized, Martian said Jobe actually designed a Yoga-specific paddleboard that comes with a special pad that stretches over the board so that users don't slide as they contort their bodies.
Newton, 27, of Houston, was traveling with Martian across the Northwest and California in the 19-foot Jobe touring RV. He said he got into the sport of paddleboarding because it was a low-impact way for his father to get back on the ocean.
"The new boards are more portable and more durable," he said. "You can either put it in your back pack or ride it in on your bike. You can even check it on an airplane."
One of the appealing aspects of the sport is that it's low impact, it doesn't use fossil fuel, it's quiet and it allows users to get on smaller bodies of water.
"You can get down and kneel and paddle. Sometimes, I just lay down on it," he said.
Rachel and Drew Harding, the new owners of Spokane Alpine Haus, have done a fair amount of paddle boarding and visited the Jobe tour at Liberty Lake.
They took a pair of Jobe boards, provided by Martian and Newton, and quickly paddled out of view.
The Hardings, who recently married, said they own a boat and have paddleboarded. They really like how they can quickly get on the water without the effort of hauling a boat and finding parking.
"I grew up hiking into campsites," said Rachel, 33, who is originally from Missoula. "I think (a paddleboard) is a really cool tool if you don't own a boat. It's a way to get on the water. And, they are very relaxing."
The couple, which is trying to boost the water sport side of Alpine Haus, now offer paddle board rentals, Drew said.
"Everybody can get out and do it and you don't have to spend thousands of dollars," he said. "It's easy to get into this without going out and buying a boat."
Matthew Littrel, 26, of Spokane, came out with his wife and two brothers to try out the paddleboards.
"I had never been on one before. I never fell off, so I guess that's a good thing," he said. "It was a lot of fun."
Littrel rode a 12-foot-6 inflatable Jobe board, which he said really appeals to him.
"I just have a small car, so it definitely would fit into my vehicle easier," he said. "Actually, my wife and I are wanting to move out to Liberty Lake. We were joking that we have to get some now that we are going to be so close to the water."
Local journalism is essential.
Give directly to The Spokesman-Review's Northwest Passages community forums series -- which helps to offset the costs of several reporter and editor positions at the newspaper -- by using the easy options below. Gifts processed in this system are not tax deductible, but are predominately used to help meet the local financial requirements needed to receive national matching-grant funds.
Subscribe to the sports newsletter
Get the day's top sports headlines and breaking news delivered to your inbox by subscribing here.
---