News > Spokane
Restored Pierce-Arrow Travelodge just one of collector's many treasures
Wed., Aug. 10, 2016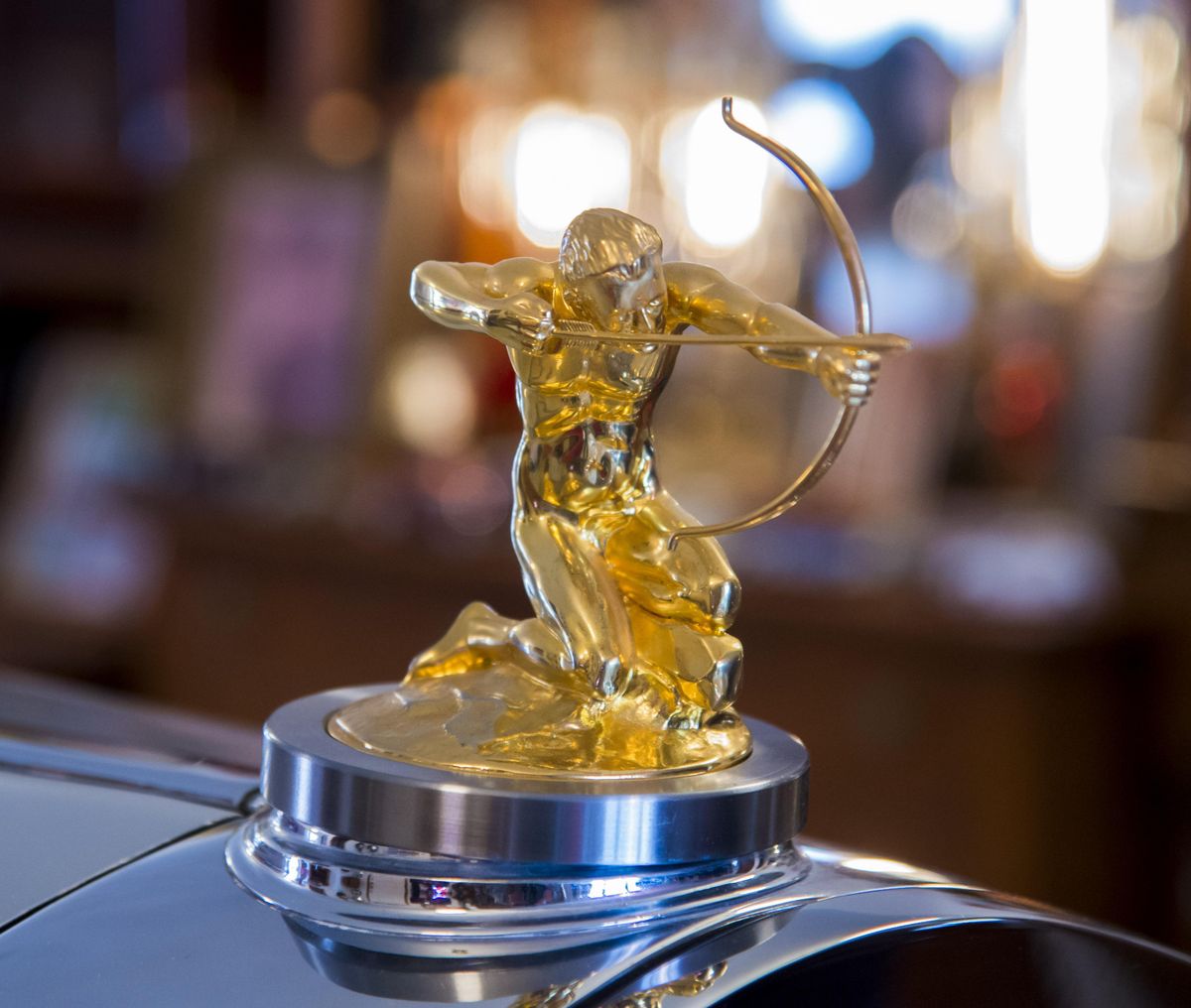 The hood ornament of Don Fries' rare, restored 1931 Pierce-Arrow convertible. (Colin Mulvany / The Spokesman-Review)Buy a print of this photo
In 1937 the average American working stiff was lucky to make $1,700 a year, which was all right since gas sold for a dime a gallon and a letter could be mailed to mom with a 3-cent stamp.
I bring up this obscure history lesson to underscore what an economic blunder it was for the Pierce-Arrow Motor Car Corporation to start making travel trailers that year at $1,200 for the top-of-the-line, a 19-footer.
Talk about sticker shock.
It's no wonder the luxury car company soon called it quits after building a measly 440 trailers.
Today, with just four of those 19-footers said to exist, about the only way you'll ever see one is in a museum or …
On the 50 acres that Don and Carolyn Fries (pronounced Freeze) own in the Mead area north of Spokane.
Last weekend, 300 car lovers dropped in to celebrate the unveiling of Don's 1937 Pierce-Arrow Travelodge, a restoration project that took the retired teacher six years to complete.
Sadly, I didn't make the guest list.
But hearing about the event from a friend, I called Don. He graciously surrendered to my begging and agreed to let me come gawk at his trailer and other automotive treasures.
Midway through our Tuesday tour my jaw was getting sore from all the dropping.
"I don't sell anything," he told me, perhaps as a warning, "because I don't have to."
To anyone who loves vintage vehicles as much as I do, visiting Don was like wandering through the Magic Kingdom.
Inside one of his vast outbuildings, for example, is a classic car lot. There you'll find gems like a 1956 Ford Victoria, a 1960 225 Buick Electra convertible, a 1929 Model A, a 1965 Ford pickup, a 1963 Corvair pickup, two turquoise and white Chevy Cameo pickups.
Each car is restored to shiny showroom condition. It's obvious that Don, who retired from the U.S. Army reserve as a colonel, is a perfectionist who knows his way around a wrench.
"I do the best I can," he said in one of those aw-shucks tones.
Sure you do.
Don doesn't keep the crown jewels of his collection in a garage. Oh, no. He's given them their own rooms in his home.
Carolyn is a very understanding woman.
"We've been married 56 and a half years," she told me.
Back to the jewels. They are not one, but two '31 Pierce-Arrows, red and gray and gleaming.
If you're unfamiliar with Pierce-Arrow there's a good reason for that. These 5,000-pound brutes were rare even when they were hatched.
If you drove a Pierce-Arrow back in the day you were most certainly rich and very likely on the celebrity A-list.
Presidents sat in Pierce-Arrow limos. Movie stars owned Pierce-Arrows. Tycoons had Pierce-Arrows.
Prior to the 1929 stock market crash, up to 10,000 Pierce-Arrows were sold in a year. In 1937, the year before the company went bust, fewer than 200 of the luxury cars were made.
Don said he never set out to become a collector of such an elite brand. It just happened that way.
The year was 1966. Don's father-in-law, Bert, who worked for the Farmer's Home Administration, met a man in Colville who, by coincidence, was trying to sell his old car, a 1931 Pierce-Arrow.
"It just came to me," said Don. "Call it fate or whatever you want."
Looking for a project, Don finally made a deal for 200 bucks.
Although that sounds like grand larceny, the automobile was 50 shades of beat to hell, full of chicken wire and in need of a restoration.
As it turned out, the car once hauled a dog show act all over the country. The mutts had even performed at Don's elementary school when he was a third-grader.
The restoration took 13 years and plenty of Don's Army Reserve money, but the result remains spectacular.
Pierce-Arrows "came with a chrome dipstick to check the oil," exclaimed Don with a laugh. "What car has a chrome dipstick?"
The Pierce-Arrow was the classy catalyst for 20 auto makeovers including another '31 Pierce-Arrow, a fancier convertible, and the recently restored Travelodge, which looks like you could tour the nation in it today.
The Travelodge, painted deep red, features an immaculate wood interior in a rich mahogany stain, a wood dresser, a toilet with a wood seat, green linoleum floors, a pocket door for privacy, a heater that sits behind a chrome safety screen, the original wall thermometer and shiny moon hubcaps.
Don considers the trailer his "last rah-rah" as far as restorations go.
Color me unconvinced. Immediately after finishing our trailer walk-through, Don guided me to a rough-looking elderly tractor, an International Cub, that is screaming for a paint job and some serious TLC.
"Bought it for $1,500," said the restoration man. "Always wanted one."
Some things never change.
Doug Clark is a columnist for The Spokesman-Review. He can be reached at (509) 459-5432 or by email at dougc@spokesman.com.
Local journalism is essential.
Give directly to The Spokesman-Review's Northwest Passages community forums series -- which helps to offset the costs of several reporter and editor positions at the newspaper -- by using the easy options below. Gifts processed in this system are not tax deductible, but are predominately used to help meet the local financial requirements needed to receive national matching-grant funds.
Subscribe now to get breaking news alerts in your email inbox
Get breaking news delivered to your inbox as it happens.
---