News > Spokane
Minor tornado confirmed near Airway Heights
Wed., Aug. 10, 2016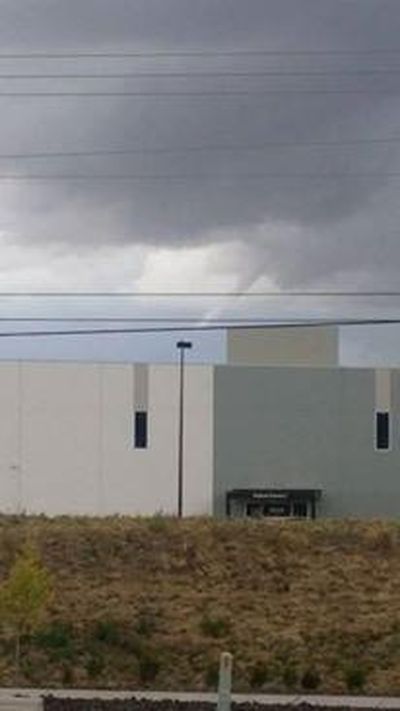 The National Weather Service has confirmed that a small tornado briefly touched down Tuesday evening near Airway Heights.
The cold air funnel touched ground about 5:40 p.m. near Flint Road, 2 miles northeast of Airway Heights, said Steve Bodnar, a weather service meteorologist.
Cold air funnels occur a few times a year in the Spokane area, usually in the spring or fall, and they rarely touch the ground, Bodnar said. But lower temperatures and humid air created conditions allowing one to form.
Tuesday's high was 65, 20 degrees lower than normal and the second-lowest high recorded for Aug. 9. The lowest for the date was 61 in 1907.
The weather service has received no reports of damage from the twister, which Bodnar said was ranked zero on the Enhanced Fujita Scale, meaning it likely had winds up to 85 mph.
The weather service did not issue a tornado warning because Tuesday's tornado was so small it could not be detected on radar.
Tornadoes are rare in Washington, occurring about once a year. But Tuesday's tornado was the third recorded this year in Eastern Washington. Small tornadoes, also ranked 0 on the tornado scale, were recorded near Airway Heights and Coulee City on July 22.
The last time a tornado warning has been issued in Spokane County was May 2004. The last time a warning was issued from the Spokane office of the National Weather Service was in 2010 for the Camas Prairie.
Local journalism is essential.
Give directly to The Spokesman-Review's Northwest Passages community forums series -- which helps to offset the costs of several reporter and editor positions at the newspaper -- by using the easy options below. Gifts processed in this system are not tax deductible, but are predominately used to help meet the local financial requirements needed to receive national matching-grant funds.
Subscribe now to get breaking news alerts in your email inbox
Get breaking news delivered to your inbox as it happens.
---