Sports > Spokane Indians
Spokane Indians pitcher Kevin Lenik received big break after years-long detour
Thu., Aug. 11, 2016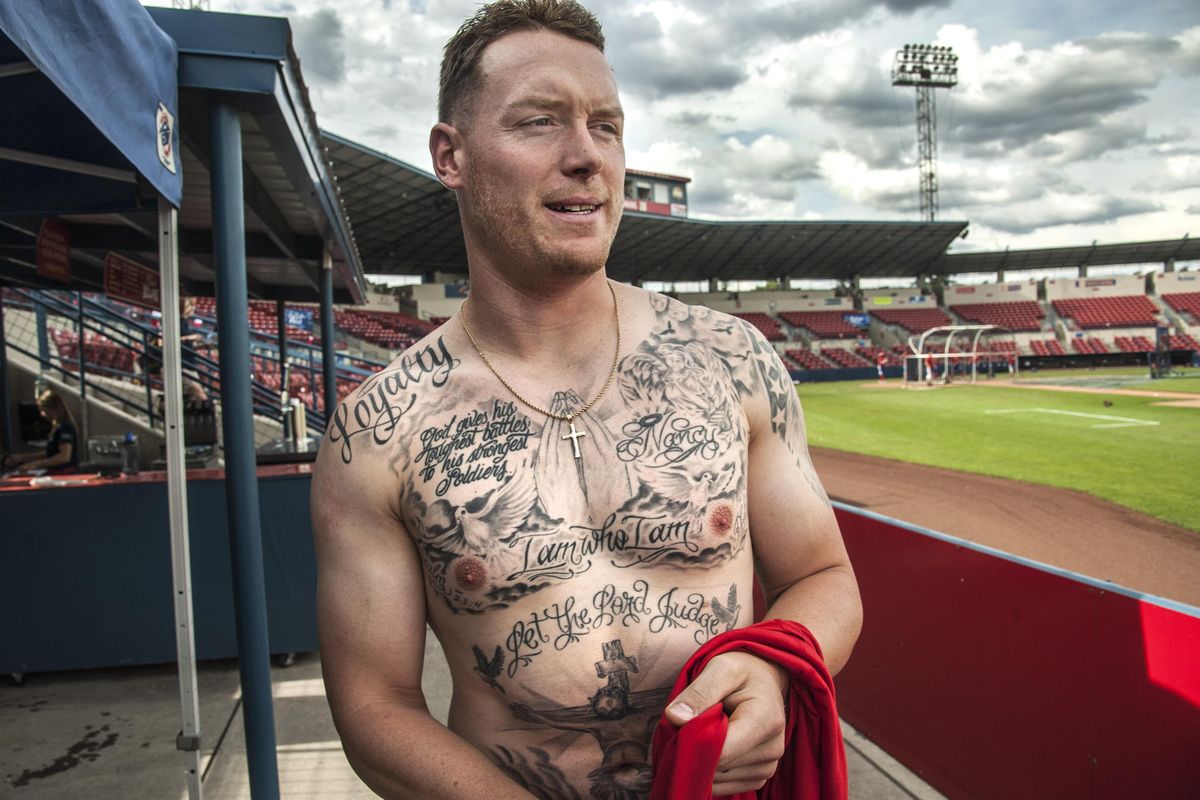 Spokane Indians pitcher Kevin Lenik has tattoos honoring his mother, sister, brother and religious beliefs. (Dan Pelle / The Spokesman-Review)Buy a print of this photo
On a typical day, Kevin Lenik would wake up at 6 a.m.
He would swing his legs from the end of the couch to the floor as his roommate, Pierre Prince, returned home from working as a bouncer at "Sound," a popular Hollywood nightclub. Lenik would open one of the two curtains aligned perpendicularly to form his makeshift bedroom and start his morning.
Lenik, a right-handed pitcher for the Spokane Indians, slept on the couch in the den of his childhood home in Mission Hills, California, for about a year before signing with the Texas Rangers this spring. He lived with his brother, Chris Lenik, and his two friends, Quan Tran and Prince.
In the morning, he lifted weights and worked on pitching. In the afternoon, he did chores to earn his keep around the house. In the evening, he was an Uber driver and steered his 2006 Impala around West Hollywood to take people to and from bars and clubs.
This was a normal day for Lenik as he pursued an improbable road to professional baseball.
"It's a beautiful thing to see when someone wants something so bad, that not only they pray on it as much as they possibly can, but they go out and take action and work on it," Chris Lenik said. "I've never seen anybody work that hard."
Lenik received his big break at a Rangers open tryout in February. Pitching his last game of the season for the Palm Springs Power in the California Winter League, Lenik was approached between innings by Texas scout Rick Schroeder.
Impressed by his 95-mph fastball and lively change-up, Schroeder invited Lenik to a tryout at the team's facility in Surprise, Arizona, with 120 players, including 50 pitchers. Lenik was the only one signed.
Life without baseball
Lenik was a standout player when he was younger, being named a travel-ball All-American when he was 13. But after his sophomore season in high school, Lenik decided to focus on football and ran track in the spring instead to improve his speed and athleticism.
But there may have been a darker reason for abandoning the sport he loved.
His parents divorced when Kevin was 13 and his father moved away two years later. The brothers remember their father drinking heavily when they were younger, but at the time it was something they thought was normal. They were used to it. Their father's addiction got more serious after the divorce and his children began to notice.
"(Kevin) was so gifted (athletically), and on the outside looking in a lot of people would say 'I would kill for that guys life,' " Chris Lenik said. "And little do they do know things happen behind closed doors and car rides where Dad was drunk half the time. It just gives you a different perspective."
His departure and his drinking problem made an impact on Kevin and his siblings. Kevin said he doesn't drink "because he's seen the effect it can have on people." Chris is getting his master's in Marriage and Family Therapy from Phillips Graduate Institute in Los Angeles.
Chris said it was hard for Kevin to play baseball after their father left. Lenik needed a break from the sport to escape the trauma he went through after his dad's desertion. Chris said he admired the amount of courage it took for Lenik to pursue pitching. The biggest obstacle he had to overcome may have been letting the sport back into his life.
"I remember the day of the (2010) MLB draft, he sat in his room with the lights off for like four hours and said, 'Man, I made a huge mistake playing football,' " Chris said. "The football was more of a reaction. Baseball was for him so associated with my dad that when it all that went bad, he kind of had to get away from it for a while."
He was a first-team all-league performer at tight end for Bishop Alemany High School and generated interest from Western Athletic and Mountain West conference schools in football. He decided to try baseball again when poor grades and SAT scores prevented him from qualifying for the NCAA.
The long shot
Lenik's reintroduction to baseball was not as a pitcher, but as an outfielder. He played his first two seasons at College of the Canyons in Santa Clarita, California, and his third at Hawaii Pacific in Honolulu. Lenik moved back home to play his final season at Cal-State Dominguez Hills, where he discovered his aptitude for pitching.
"Toward the end of the year, we had some problems pitching and closing the game out," Lenik said. "I told the pitching coach (Bill Erickson) to give me a chance. He was crazy enough to do it."
He posted a 0.87 earned-run average but exhausted his college eligibility before any scouts got a glimpse of his talent. He was not drafted in 2015.
Lenik moved on from the sport, working as a personal trainer at his friend's gym, Muscle by Russell, in Granada Hills, California, and driving Uber for a month and a half, until he had a significant moment.
"What if I would have tried to go the pitching route?" Lenik recounts telling a friend.
That friend connected him with Tom House, a pitching coach for USC who helped develop former MLB stars Nolan Ryan and Randy Johnson. House agreed to evaluate him and asked him two questions after his evaluation: Do you have any kids and do you have a wife you need to provide for? Lenik answered no to each question and House responded:
"I think you should keep pitching."
Lenik worked with House for six months until landing a spot in the California Winter League.
He maintains House is the reason he's playing minor league baseball.
"He saw something in me that I didn't really see in myself," Lenik said.
When Lenik showed up to the team's facility in Surprise for the open tryout, there were not enough workout jerseys. He was bothered that he wouldn't be wearing the same teal jerseys as the other participants. But in the end, it gave him a boost of confidence.
"I didn't show up for a T-shirt," Lenik thought at the time. "I came here to get a job. … If I do well enough, I can have as many T-shirts as I want."
Seconds after Lenik fired his last pitch, donning a plain black T-shirt, Schroeder waved him over. Schroeder and other Rangers scouts began asking him about his story, and told him he might receive a phone call in the next day or two.
"I could tell there was a bit of interest there," Lenik said.
Lenik walked away and peered down at his phone to see he had four voicemails, all from other MLB teams. He re-approached Schroeder and showed him the voicemails.
"You'll maybe receive a call in a few hours," he told him.
So Lenik sat with Tran at a Red Robin near the team's facility, waiting for the call. After three hours, Lenik headed back to Mission Hills and started pondering what his next step would be. He thought his chance with the Rangers had come and gone, but then his phone buzzed. It was Schroeder, telling Lenik to turn around and head back to Surprise for a physical. He signed the next day.
The Indians have benefited from Lenik's awakening. He is a fresh arm in their bullpen.
After a rocky start, he has settled in. He was the Northwest League Pitcher of the Week for July 25-31, after giving up no runs and two hits over 7 1/3 innings.
"It appeared to me (early on) that he was trying to throw every pitch through the wall, just trying to throw too hard, make every pitch too nasty," Indians pitching coach Joey Seaver said. "To do what he's done in a short amount of time, you have to give him a lot of credit."
Tattooed on Lenik's right pectoral is "God gives his toughest battles to the strongest soldiers." It's something his brother told him during difficult times growing up. Small things remind Lenik of his journey.
"When I went to spring training, I was like, 'Dang, I get to sleep in a bed again,' " Lenik said. "It felt really good to know I made it."
Lenik knows that making isn't the end goal.
"It's only the beginning," Lenik said. "My story ain't over."
Local journalism is essential.
Give directly to The Spokesman-Review's Northwest Passages community forums series -- which helps to offset the costs of several reporter and editor positions at the newspaper -- by using the easy options below. Gifts processed in this system are not tax deductible, but are predominately used to help meet the local financial requirements needed to receive national matching-grant funds.
Subscribe to the sports newsletter
Get the day's top sports headlines and breaking news delivered to your inbox by subscribing here.
---