WSU kicker Erik Powell feels right at home with heavy lifting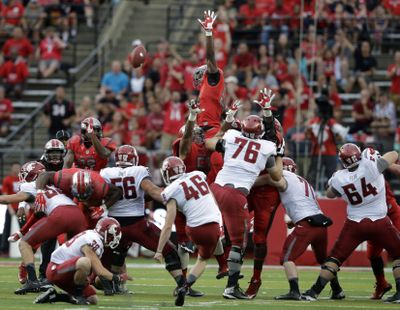 LEWISTON – One of the videos put out by the Washington State coaching staff that made the rounds online this summer showed a football player in Washington State's luxurious, still-new weight room.
The player executed a flawless power clean, ripping a 308-pound bar up off the floor, catching it in a deep squat and standing up with the bar resting on his shoulders.
He dismissively threw the bar onto the floor, just like one would expect of a …
Wait. Is that the kicker?
Yes, that's Erik Powell, WSU's 6-foot-1, 195-pound starting kicker and apparent weight room junkie.
"He has that meathead in him," WSU strength and conditioning coach Jason Loscalzo said. "He's one of the hardest-working guys we have. I don't think the guy's ever missed a conditioning drill. He's one of the few who I don't think has gotten a Loscalzo butt chewing. He's never late. Ever."
Running back Jamal Morrow said Powell "is probably faster than me, to be honest with you," and he's not joking. Special teams coordinator Eric Mele notes Powell's 10-yard dash time (1.6 seconds) is "one of the top five on the team."
Powell works out like a position player because he used to be one, having played wide receiver and safety in high school.
Being able to break a wall with one's fist is not really a prerequisite for being a good kicker, although all kickers work on flexibility and leg strength. One of the best booters WSU had, Andrew Furney, was known for having a bit of a paunch.
But are other incentives for Powell and his cohorts to put time in the weight room.
Kickers avoid contact like coaches avoid questions about injured players. While the rest of the Cougars are smacking each other around in the Lewiston heat, the specialist are usually off by themselves, doing some stretching or working on their drops. Often they have nothing to do other than sit around joking or maybe toss a spare football around.
That segregation in practice could create some awkwardness, especially considering the high-stakes situations in which kickers are often asked to perform. It must be easier to put all of your teammates' hopes on your shoulders, knowing that they recognize you as someone who has sacrificed his mornings to sweat and struggle with them.
"We're there for lifts and conditioning and maneuvers, working our butts off," Powell said. "I think they see that we aren't just sitting around doing nothing. We're working with the team."
Loscalzo notes that from the kickers to starting quarterback, the coaches require everybody to do what everyone else on the team does. Powell has already earned respect from his teammates by scoring 109 points for the Cougars last year, making 20 of 26 field-goal attempts and connecting on each of his 49 extra points.
He gave the Cougars a chance against No. 8 Stanford last year. Though the 43-yarder that might have won it went wide, Powell made five field goals in that game, including difficult kicks from 46 and 47 yards to give the Cougars a chance.
Powell may work out more than anyone else on the team. In addition to his weight room exploits, the specialists practice yoga four times a week to increase their flexibility.
---