News > Nation/World
Kenny Baker, who played R2-D2 in 'Star Wars,' dead at 81
Sat., Aug. 13, 2016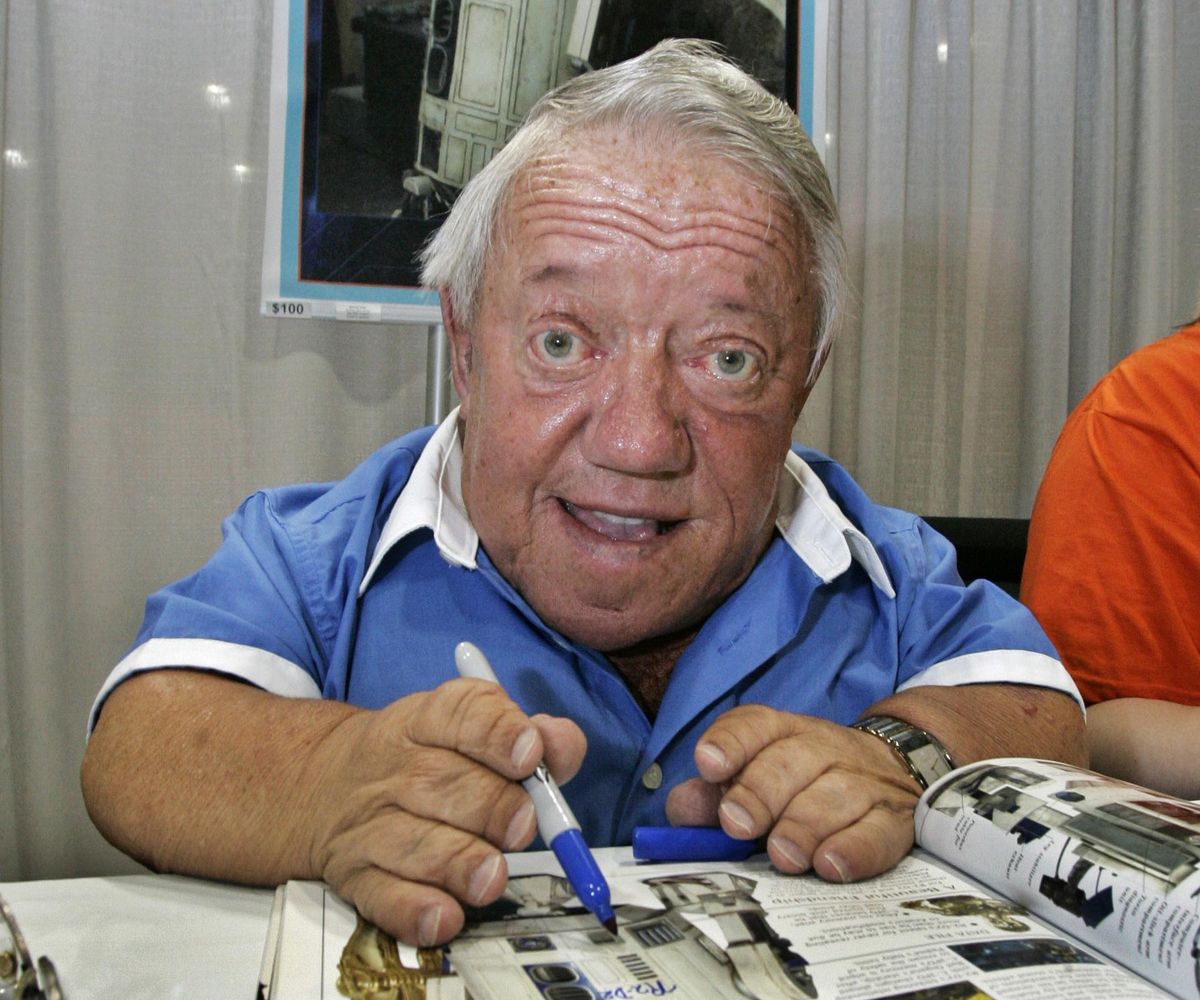 Baker (Reed Saxon / AP)
LONDON – Kenny Baker played the lovable droid R2-D2 in the "Star Wars" films, achieving cult status and fans' adulation without showing his face or speaking any lines.
The 3-foot 8-inch performer – a word he preferred to actor – inside the waste-bin-shaped costume has died at 81. Baker's nephew and carer, Drew Myerscough, said he found Baker dead Saturday at his home in Preston, northwest England.
Myerscough told Sky News Baker had suffered years of breathing problems, "which he had borne very bravely." He said the affection of "Star Wars" fans around the world "kept him going, without any doubt."
"He was amazed that, even after 30-odd years, the fans still basically adored him," Myerscough said.
Mark Hamill, the "Star Wars" series' Luke Skywalker, tweeted: "Goodbye #KennyBaker A lifelong loyal friend-I loved his optimism & determination. He WAS the droid I was looking for!" – a reference to a famous line from the first film.
Actor Ewan McGregor, who played Obi-Wan Kenobi in three "Star Wars" movies, tweeted: "So sorry to hear about this. It was lovely working with Kenny."
Born to a music-loving family in the central England city of Birmingham on Aug 24, 1934, Baker started performing at 16 as part of a troupe called "Burton Lester's Midgets."
Fame came when he was cast as the actor inside R2-D2's cylindrical robot costume in 1977's "Star Wars."
"I worked the levers," he told the AP.
Baker said he initially turned down the part. In an interview on his website, he said he told director George Lucas "I don't want to be stuck in a robot, what for, for goodness sake?"
Eventually, he said he told Lucas, "I'll help you out."
Even though R2-D2's dialogue amounted only to beeps and whistles, the droid and his lanky friend C-3PO became two of the series' most beloved characters.
Despite their onscreen rapport, Baker and Anthony Daniels, who played the protocol droid C-3P0, weren't close. Baker accused Daniels of being snobbish; Daniels was once quoted by Britain's Daily Mirror as saying Baker "might as well be a bucket."
Baker also appeared in films including "The Elephant Man," "Time Bandits," "Willow" and "Labyrinth."
Baker's wife, Eileen, died in 1993. The couple had two sons.
Local journalism is essential.
Give directly to The Spokesman-Review's Northwest Passages community forums series -- which helps to offset the costs of several reporter and editor positions at the newspaper -- by using the easy options below. Gifts processed in this system are not tax deductible, but are predominately used to help meet the local financial requirements needed to receive national matching-grant funds.
Subscribe now to get breaking news alerts in your email inbox
Get breaking news delivered to your inbox as it happens.
---