Sports > Seattle Seahawks
Seahawks surprise Chiefs with last-second victory in preseason opener
Sat., Aug. 13, 2016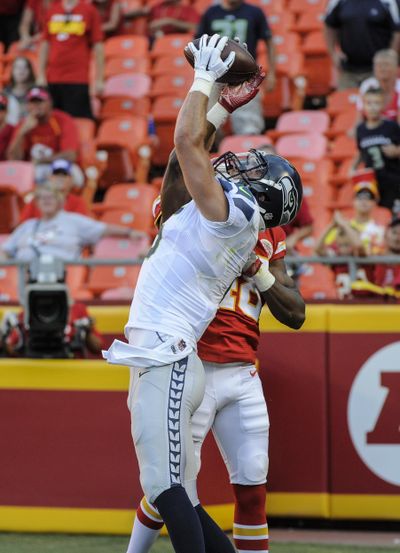 KANSAS CITY, Mo. – An ending that belied much of what had come before led to a celebration seemingly at odds with the setting.
After undrafted rookie free agents Tanner McEvoy and then Troymaine Pope scored with no time left – a 37-yard touchdown reception and then a run for a two-point conversion – the Seahawks hooped and hollered as if it were January instead of August, players sprinting down the sideline to the end zone to join a raucous party capping a most improbable win.
"You play this game to have fun and you play to have moments like that and wins like that,'' said Seahawks coach Pete Carroll after the unlikely 17-16 victory over the Chiefs at Arrowhead Stadium. "There's a lot to learn right there. Just keep hanging in. There's no time left on the clock, and we've got a chance to win the football game. There ain't nothing better than that.''
Certainly, it made memorable a game that was fairly lifeless for most of the first 59 minutes.
Trailing 16-9, the Seahawks stopped the Chiefs to get the ball back at their own 12 with 1:07 left and no time outs.
Boykin, attempting to win the backup quarterback job, first hit Montario Hunter for 18 yards, then McEvoy for 32 and then E.Z. Nwachukwu for 1.
After the latter catch, with 24 seconds left, Boykin had to quickly get the Seahawks to the line and, as he said, into a play in which someone would be in the end zone to try to catch a Hail Mary.
The ball was snapped with four seconds left and Boykin rolled back to the 50, where with the clock at zero he flung it toward McEvoy, who used all of his listed 6-foot-6 height to seal off Kansas City's Malcolm Jackson, a 5-11 cornerback.
"I will take my odds on the 6-6 guy no matter what the situation is,'' Boykin said.
McEvoy lamented that the route he ran "wasn't a good one … But I was in the right spot. I had good position on the DB and just tried to go in there and make a play.''
This being the exhibition season, there was no thought to do anything other than go for the immediate win. Kansas City helped by getting a penalty for too many men on the field to move the ball to what was officially the 1-yard-line, and Pope ran through a sizeable hole to score.
"Routine preseason victory,'' Carroll said as he took to a podium to meet the media later.
"We didn't play a very good football game. But we got done some very special stuff at the end.''
The bigger picture was that the Seahawks looked a little ragged while their first and second units were on the field.
The first-team offense drove 61 yards the first time it had the ball. But Russell Wilson then threw a pass to Jermaine Kearse a bit too inside, allowing former UW star Marcus Peters to pick it off in the end zone.
"Just a little late on that one ball,'' said Wilson, who played only one series. "I tried to move a little bit and the guy just made a good play.''
The first-team defense, meanwhile, allowed a 20-yard completion on a third-and-9 play that led to a Kansas City touchdown, which came after the Chiefs used a good return and a Seattle penalty on the opening kickoff to start at the Seattle 49.
Cornerback Richard Sherman said he would give the No. 1 defense "probably a B-minus'' grade. "We had them dead to rights on a third-and-9 and we let him (Chiefs QB Alex Smith) scramble around and throw a nonsense play. We've got to clean things like that up.''
The biggest offensive highlight was the play of running back Christine Michael, who gained 44 yards on seven carries as he got the start with Thomas Rawls still recovering from ankle surgery.
"He ran the ball extremely well,'' Wilson said. "Got to the edge, hit the hole when he needed to, trusted his reads with the O-line.''
Things were rougher with the second units through the second and third quarters – the Seahawks had a stretch of eight series in which seven either ended in a punt or on downs.
After Jake Heaps took over for Boykin in the third quarter, Boykin came back on for the final three series, something Carroll said had been planned in advance to let Boykin get experience with end-of-game situations.
A Boykin 15-yard scramble set up a field goal that made it 16-9 with 3:15 left, setting up the frantic ending.
"It took us a long time to get going, obviously,'' Carroll said. "But there will be games all season long that will threaten to come right down to the wire, and the more experience you can have in those games, the better.''
Local journalism is essential.
Give directly to The Spokesman-Review's Northwest Passages community forums series -- which helps to offset the costs of several reporter and editor positions at the newspaper -- by using the easy options below. Gifts processed in this system are not tax deductible, but are predominately used to help meet the local financial requirements needed to receive national matching-grant funds.
Subscribe to the sports newsletter
Get the day's top sports headlines and breaking news delivered to your inbox by subscribing here.
---