Sports
Special teams stars make case as NFL again tweaks kickoffs
Sat., Aug. 13, 2016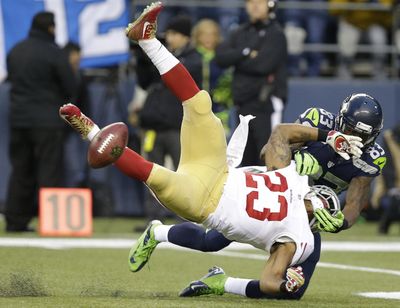 OXNARD, Calif. – Chris Maragos can't imagine an NFL without kickoffs.
The Philadelphia special teams ace admits to sounding like a lobbyist when he said he never feels safer during a play that the league keeps altering in an effort to reduce high-speed collisions, backed by statistics that show most injuries occur on kickoffs.
With competition committee member Stephen Jones of the Dallas Cowboys suggesting that safety is more important than players making a living covering kickoffs and punts, Maragos is quick on the counterpoint.
"Yeah, things are moving fast and you're running down the field. But I never feel like my safety's compromised, at all," said Maragos, who is going into his seventh year as mostly a special teams player. "From what people look on the outside in, it looks like a chaotic play. But the guys who are really mastering it know what they're doing. It's pretty under control."
Five years after moving the kickoff to the 35-yard line from the 30 to reduce the number of returns, the NFL is trying something else to encourage more touchbacks by putting the ball on the 25 instead of the 20 on a one-year trial.
There is still plenty of dialogue, too.
Senior vice president of officiating Dean Blandino held a conference call with special teams coaches during the offseason.
Among other ideas being discussed are eliminating the running start for the coverage team and pulling players on the receiving team closer to the kickoff line so that they're moving more in the same direction as the kicking team, making it more like blocking for a punt return.
Blandino said he doesn't think the kickoff will be eliminated.
"It's a big part of the game," he said. "It's an exciting play."
But the league increasingly sees it as a dangerous play, particularly with so much attention on concussions. And that's where Jones isn't swayed by the idea that it might mean fewer opportunities for players who aren't good enough to be stars on offense or defense.
"At the end of the day the players' health and safety is the No. 1 priority in this league," said Jones, the executive vice president of personnel for the Cowboys. "If that comes at the expense of something else that's not as high a priority, then we certainly have to accept that."
One of the most noteworthy plays of 2015 was actually a punt return, when Dallas safety Jeff Heath blocked Ricardo Lockette when the Seattle coverage man was in full stride and didn't see him. It was a legal play, but the resulting neck injury ended Lockette's career.
While Heath has twice as many tackles on defense as Maragos in half the number of years, he still fits the special teams profile: part-time defensive player, full-time chaser of opposing kick returners. And he believes there will always be a need for that.
"You're covering a lot of ground and you've got to be fast," said Heath, who is going into his fourth season. "There's a lot of skill that comes into it as well. Those type of guys tend to do well wherever they play. Defense, offense or special teams."
Maragos would argue that kickoffs and punts are gateways to stardom, too. Among his peers, he points to Tennessee tight end Delanie Walker, his teammate in San Francisco when Maragos was a rookie. He says special teams helped keep Walker on the roster, and now Walker is coming off a Pro Bowl season in Tennessee.
Minnesota receiver Adam Thielen was undrafted out of Division II Minnesota State Mankato and spent a year on the practice squad before becoming a key special teams contributor for the Vikings. He blocked a punt for a touchdown in 2014 and last season ran a fake punt 41 yards in the NFC North-clinching season finale at Green Bay.
Thielen said the key to safety in kick coverage comes on the practice field.
"Every day, it's technique, technique, technique," he said. "I really don't think it's more dangerous than an offensive play. You could get hit on a crossing route over the middle a lot harder than on a kickoff."
Maragos grew up in Wisconsin rooting for the Green Bay Packers, who beat New England 35-21 in the 1997 Super Bowl. The thing Maragos remembers most is the anticipation of the opening kickoff. And by the way, Desmond Howard had a 99-yard kickoff return and was the game's MVP.
"You talk about speed down the field, athleticism to avoid blocks. You talk about a heart, a grit, a determination, an inner desire," Maragos said. "To me, it embodies everything that an NFL football player should be. And really what the game is about."
Local journalism is essential.
Give directly to The Spokesman-Review's Northwest Passages community forums series -- which helps to offset the costs of several reporter and editor positions at the newspaper -- by using the easy options below. Gifts processed in this system are not tax deductible, but are predominately used to help meet the local financial requirements needed to receive national matching-grant funds.
Subscribe to the sports newsletter
Get the day's top sports headlines and breaking news delivered to your inbox by subscribing here.
---