News > Features
Voyageurs National Park is iconic, rugged, marvelous Minnesota
Sat., Aug. 13, 2016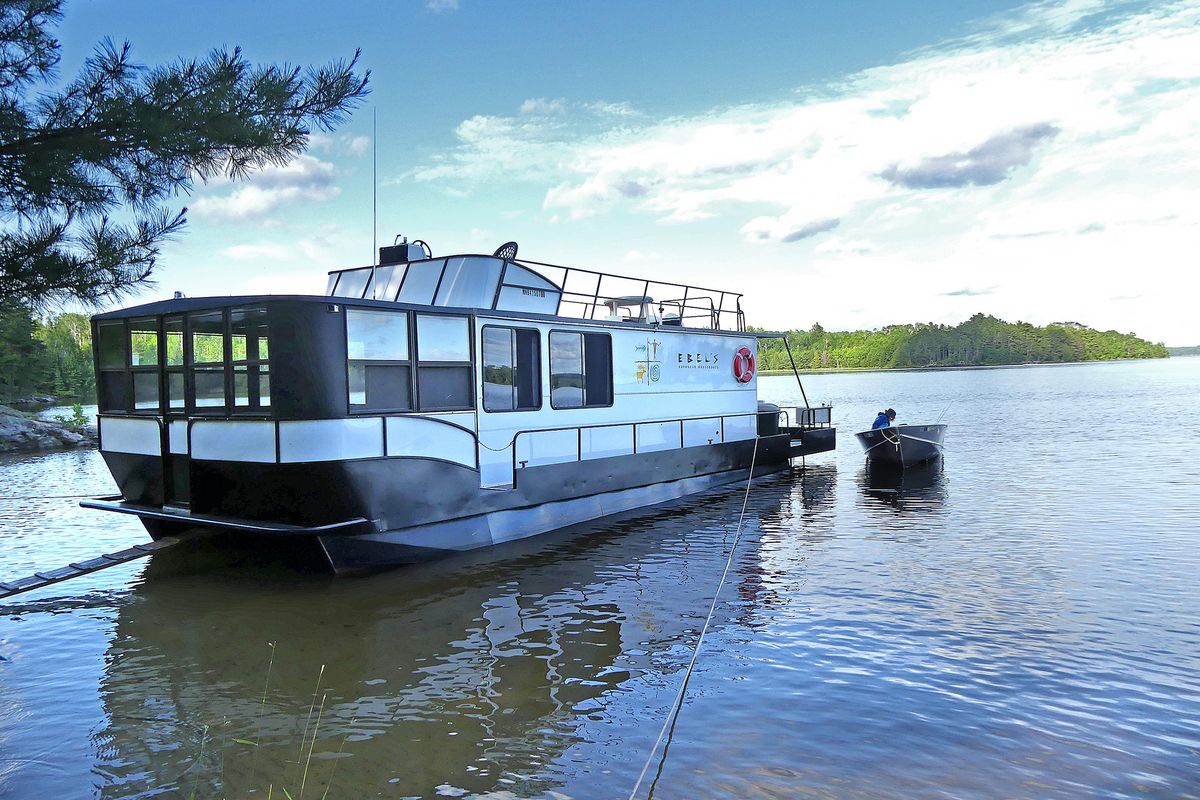 The author's houseboat rested for the night in Kabetogama Lake. (Kerri Westenberg/Minneapolis Star Tribune/TNS) (Kerri Westenberg / TNS)
Our houseboat threaded the narrows of Ash River, turned to port at Kabetogama Lake and encountered a dazzling vista. An enormous canvas of blue – of sparkling water and clear sky – was cut through with a spiky line of green formed by distant tall pines. Islands eased past, bearing such names as Wolf, Deer Point and Pine, while loons bobbed on the waves.
The North Woods seemed to go on forever.
We were motoring into Minnesota's Voyageurs National Park, exploring just a speck of its 134,000 acres of woodlands, 84,000 acres of water, 500 islands and 655 miles of wild shoreline. That protected expanse, much of it hugging the Canadian border, includes four major lakes – Kabetogama, Namakan, Sand Point and Rainy, the farthest north and largest.
Together, this vast watery world holds surprising treasures of ancient geology, human history and natural splendor.
Everywhere, the landscape announced iconic, rugged, marvelous Minnesota, writ large.
When Congress created Voyageurs as the 36th national park in 1971, prefacing its actual establishment four years later, it protected a wilderness of bears, moose and wolves, where French Canadian fur traders paddled two centuries ago, where boreal and hardwood forests meet amid lakes and land. Then the Park Service, which turns 100 this year, invited America to come explore.
Still, Bill Carlson, the park's acting superintendent, who has worked in the park for 28 years, hears this a lot – from Minnesotans: "A national park? In Minnesota?"
I was getting my own education in that fact as I sat in a plastic chair atop a houseboat puttering about 5 miles per hour across Kabetogama. I was filled with joy – the kind that can overtake anyone given the narcotic trio of blue skies, calm waters and sunny skies. That distinct euphoria felt familiar, from trips to other national parks that are plane rides away. Somehow, I sensed it more keenly in my home state, on this national land set aside for the enjoyment of all citizens.
It helped that a boat-savvy friend had gamely agreed to take on captain duties; she was at the upper helm, steering the boat beside me. Our two teenage daughters lolled on the deck behind us. Their occasional laughter carried on the wind.
Our plan for the day – moor at a sweet spot, swim, cook dinner in the full-fledged onboard kitchen – carried us halfway down the lake.
We slipped into a designated houseboat site near the end of a thin peninsula at Blue Fin Bay with plenty of time to play. A short path from the beach led to a fire pit and just beyond that, another beach, where dragonflies divebombed among reeds. As we walked along the sandy shore to a rock outcropping, a common merganser glided past with ducklings perched on her back.
I returned to the houseboat to make dinner. A beaver bobbed his head above the water not 20 feet from the boat, floated for a moment to eye the massive intruder and descended below the mineral-rich waters. He came up again, closer, to stare us down.
We had chosen to land the houseboat at one of his favorite spots, it seemed. The forest just beyond our gangplank revealed signs of his work. Cone-shaped stumps of trees bore tooth marks. Fresh wood chips mounded in a pile near the beach.
After dinner, we lit a campfire. At the fire ring, a worn branch lay on the ground; one end was charred, the other had been bit. Clearly at least two previous visitors – a fire-stirring human and a tooth-whittling beaver – had found the wooden stick a useful tool.
As the sun set, the lake turned from luminous white to pure blue topped with orange waves to gunmetal gray. Loons later cooed us to sleep.
Land rich in history
Our curious beaver at Blue Fin Bay is the distant descendant of very lucky creatures: ancestors who survived a period of furious fur trade.
Minnesota's national park got its name from the French Canadian voyageurs who paddled birchbark canoes through the area's maze of lakes and streams in the late 1700s and early 1800s, forging that trade – and an epic chapter in the American story. With the help of the Ojibwe, who were guides, trappers, translators and more, trade goods flowed west and animal pelts east. The Voyageurs Highway was legendary. At the end of the American Revolution, a treaty marked the new country's boundary with Canada as the "customary waterway" between Lake Superior and Lake of the Woods. A 55-mile stretch of that border edges the park.
Other signs of early settlement reveal themselves across the region. Rainy Lake's Little American Island, the epicenter of a short-lived 1890s gold rush, has abandoned mine shafts and an old winch that men used to haul rock that they hoped, futilely, held an abundance of the precious metal. On Williams Island in Namakan Lake, old timber buildings nestle among giant red pines. They were part of the I.W. Stevens Pine Cove Resort, shuttered in 1959.
On the eastern tip of the roadless Kabetogama Peninsula, the park's largest land mass, the Kettle Falls Hotel sits tucked between Rainy and Namakan. The white clapboard charmer has been serving customers since 1913. The hardwood floors of the old saloon slant dramatically, bemusing visitors who must arrive by boat. We headed to the hotel one day to eat lunch, firing up the little motorboat that came tied to the houseboat for purposes of safety and quick jaunts.
The land itself harks back to the deepest history. Voyageurs marks the southern edge of the Canadian Shield, a continent-spanning mass of volcanic bedrock that is half the age of the Earth. Ice Age glaciers scoured away top layers, exposing Precambrian rock up to 2.5 billion years old. It rises from forest floors and rims the lakes.
'Outsider' art in the woods
The Voyageurs crowds had gathered at Ellsworth Rock Gardens – all 15 or so of us.
We docked at this most popular day-trip spot in the park and saw a site rare for our trip: other people. We walked up a slope made by a granite outcropping and quickly understood the place's appeal. Fanciful sculptures made with native rocks punctuated a hillside of grass and flowers. Stone benches, a table and chair, a dinosaur, a turtle, a dog: The figures, created with hefty rocks carefully composed, went on and on. First, I was struck with delight. But after seeing the fifth or sixth sculpture, something more like awe emerged.
"Reading about the man who made this – all the work, so many years – almost brought tears to my eyes," said Frederique Toft, a French teacher at Benilde-St. Margaret's School in St. Louis Park.
From 1944 through 1966, Jack Ellsworth spent summers on this hillside pursuing a singular vision of gardens, ponds and rock sculptures. The resulting set piece is the ultimate "outsider" art, created by an untrained visionary – in this case, someone inspired by nature and working with the natural world to transform an outdoor space.
Toft was having a picnic of brats cooked over one of the grills on the property with her husband and their two sons. The boys and their father had been to the park the previous summer, and were so impressed by what they saw that they had to return with Frederique.
A man walking the grounds from Florida shared a similar sentiment. "This is such a special place," he told me. "I've been coming for 17 years. Wouldn't miss it. And this time, I get to share it with my wife."
"Beautiful, isn't it?" she asked.
Yes, and the wonders range from massive to tiny.
One day while the girls jumped from a cliff into water so dark it resembled coffee, I studied the ground. It held entire galaxies of lichen. A growth that looked like olive-colored paint chips clustered on a rock face. A miniature forest of evergreens marched across the granite. In a crevice, a tiny surprise: A bright red cauliflower look-alike sprouted from a stem no taller than my pinkie.
On our last evening cruise, we spied large dark masses near the water. We pulled closer, fumbled for binoculars and saw two bears lumbering into the woods. At that night's stop, a cluster of lady's slippers orchids hid among the trees.
In Minnesota, there is no one definitive landscape. Patches of prairie, like the ones that swirled around the wagons of pioneers, sprout in the west. Across the north, hardwood forests stand where earlier swaths were felled to build fortunes and, with them, entire cities. In the east, rivers flow past soaring bluffs and pretty redbrick towns. Such places are honored, too, as national monuments and riverways.
But Voyageurs National Park, with its sweep of history, pristine forests and abundant waters, is the crown jewel in the Park Service's Minnesota treasure trove, the largest and most prestigious of the lands the state shares with the rest of America.
After being immersed in its majesty, there is no more fitting choice.
Local journalism is essential.
Give directly to The Spokesman-Review's Northwest Passages community forums series -- which helps to offset the costs of several reporter and editor positions at the newspaper -- by using the easy options below. Gifts processed in this system are not tax deductible, but are predominately used to help meet the local financial requirements needed to receive national matching-grant funds.
Subscribe now to get breaking news alerts in your email inbox
Get breaking news delivered to your inbox as it happens.
---