News > Nation/World
Rising floodwaters leave thousands homeless in Louisiana
Sun., Aug. 14, 2016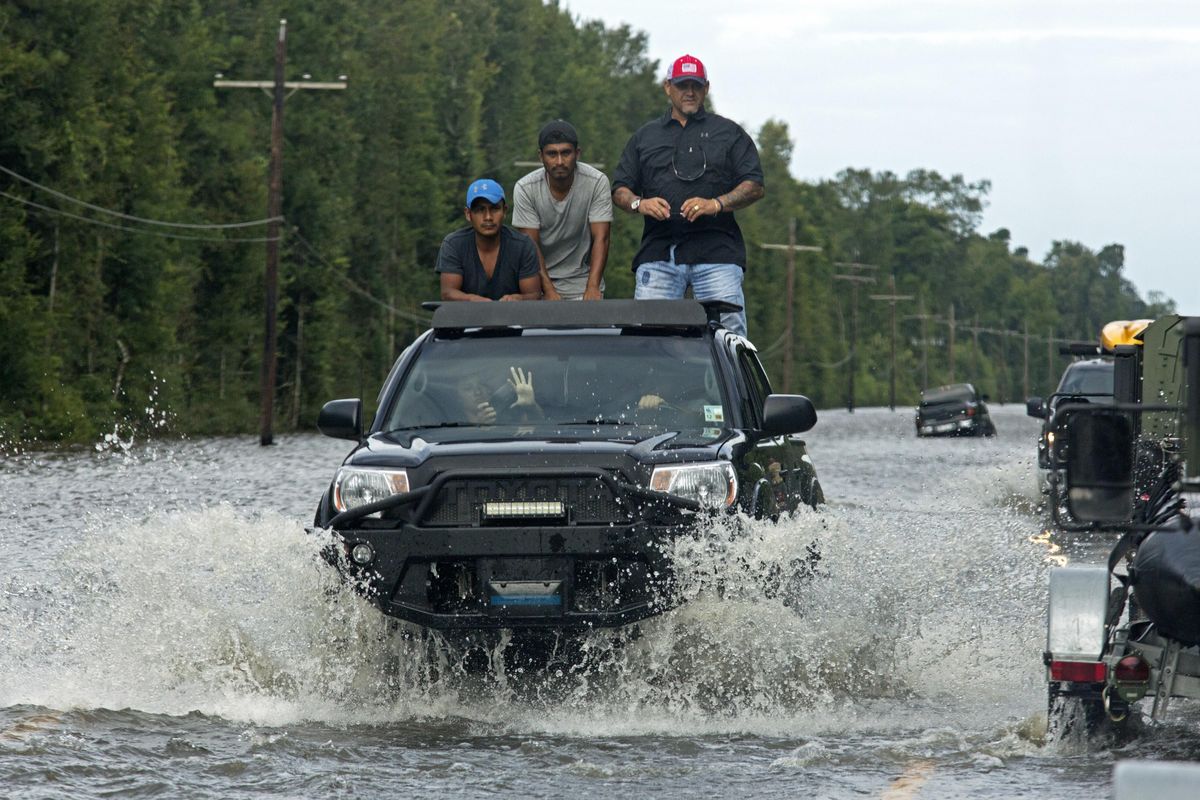 Motorists on Highway 190 drive in deep water through Holden, La., after heavy rains inundated the region, Sunday, Aug. 14, 2016. (Max Becherer / Associated Press)
BATON ROUGE, La. – Robert and Gwen Arceneaux endured a sleepless night Sunday after noticing floodwater creeping into their home – in a neighborhood that had never seen water before.
They gathered up their dogs and a few bags of belongings and fled out the back door, eventually wading through waist-deep water to a passing National Guard truck – joining the more than 20,000 people rescued from their homes in a still-growing tragedy across southern Louisiana.
Now safe at a movie studio-lot-turned-shelter, their worries weren't over, as they tried to get medication for Robert, who has lung cancer.
"We need to get somewhere safer," Gwen said, as her dogs panted heavily under the hot sun.
Across southern Louisiana on Sunday, residents scrambled to get to safety as rivers and creeks burst their banks, swollen from days of heavy rain that in some areas came close to two feet over a 48-hour period.
In high-water vehicles, boats and helicopters, emergency crews hurried to rescue scores of south Louisiana residents as the governor warned that it was not over. More than 10,000 people are in shelters and the Baton Rouge River Center – usually reserved for major events – was sheltering evacuees.
Drivers tried to navigate treacherous roads where the water lapped at the side or covered the asphalt in a running stream. Abandoned cars were pushed to the side of the road, lawn furniture and children's toys floating through the waters.
The low pressure system that wreaked such havoc moved into Texas, but the National Weather Service warned that there's still danger of fresh floods, as swollen rivers drain toward the Gulf of Mexico.
Most of the rivers have crested, but several are still rising.
The federal government declared a major disaster in the state, specifically in the parishes of Tangipahoa, St. Helena, East Baton Rouge and Livingston. Gov. John Bel Edwards said President Barack Obama called him and told him "the people of south Louisiana are in his thoughts and prayers and the federal government will be a solid partner."
Edwards called on people to refrain from going out to "sight-see" even as the weather gets better.
Four people have been reported dead, Devin George, the state registrar for vital records, said earlier Sunday. Later Sunday, a woman's body was recovered by divers from inside a flooded vehicle in East Baton Rouge Parish, appearing to raise the death toll to five.
Witnesses said the woman was seen Saturday night attempting to turn around in high water when her vehicle was swept away, said Casey Rayborn Hicks, a spokeswoman for the sheriff's office.
Authorities worked throughout Sunday to rescue people from cars stranded on a mileslong stretch of Interstate 12 until the governor said on Twitter late in the day that everyone had been rescued.
One of those stranded motorists was Alex Cobb, of Baton Rouge, who spent Saturday night on the interstate before being rescued by a National Guard truck.
She was on her way to a bridal shower she was supposed to host Saturday when flooding closed off the highway.
She ate food intended for the bridal shower and a produce truck about a quarter-mile up the road shared its stock with drivers – giving fruits and vegetables to people.
Hundreds of people were gathered at Celtic Media Centre in Baton Rouge, some coming in by bus and others by helicopter.
Matthew and Rachel Fitzpatrick, from Brandon, Mississippi, hopped off one of the choppers with her grandparents. The couple had been visiting family in Baton Rouge when the flooding started. They found temporary refuge at Hebron Baptist Church but became trapped by floodwaters Saturday night.
Helicopters started picking people up and flying them to safety Sunday.
Matthew, 29, said between 250 and 300 people were still at the church as of late afternoon Sunday. Water was creeping up to the back of the sanctuary, and they didn't have any food or water there.
"Everybody is just tired and nervous and wanting to see what kind of damage they have to their home," Rachel said.
Edwards declared a state of emergency Saturday, calling the floods "unprecedented" and "historic."
As of Sunday morning, some 5,050 people were staying in parish and Red Cross shelters, said Department of Children & Family Services Secretary Marketa Garner Walters. Even more people were staying in private shelters like churches.
Other effects from the flooding:
– A hospital in Baton Rouge – Ochsner Medical Center in Baton Rouge's O'Neal campus – has evacuated about 40 patients and is expected to evacuate another 10-15.
– Severe weather damaged AT&T Wireless's equipment and halted service for some customers in the Baton Rouge area.
– Amtrak is busing customers from Jackson, Mississippi, to New Orleans instead of using the train.
– Rescuers have taken out hundreds of pets as they go door-to-door searching for people. Lt. Davis Madere from the Louisiana Dept. of Wildlife and Fisheries said he and his teams have rescued at least 100 pets since they started working Friday.
– The head of the Mississippi Emergency Management Agency says 56 people remain in a shelter because their homes are flooded.
Around Baton Rouge, worried family members tried to locate relatives. Wayne Muse, 68, ran into a police roadblock on Sunday morning in east Baton Rouge, where rapidly rising water is flooding neighborhoods near the juncture of the swollen Amite and Comite rivers.
Muse said he has been trying in vain to reach or contact his 86-year-old mother since Saturday night, when she told him by phone that she had two inches of water inside her retirement home apartment.
"She said they were going to evacuate them but no one could get to them," Muse said.
Local journalism is essential.
Give directly to The Spokesman-Review's Northwest Passages community forums series -- which helps to offset the costs of several reporter and editor positions at the newspaper -- by using the easy options below. Gifts processed in this system are not tax deductible, but are predominately used to help meet the local financial requirements needed to receive national matching-grant funds.
Subscribe now to get breaking news alerts in your email inbox
Get breaking news delivered to your inbox as it happens.
---