News > Spokane
Police searching for Spokane Valley double homicide suspect
Mon., Aug. 15, 2016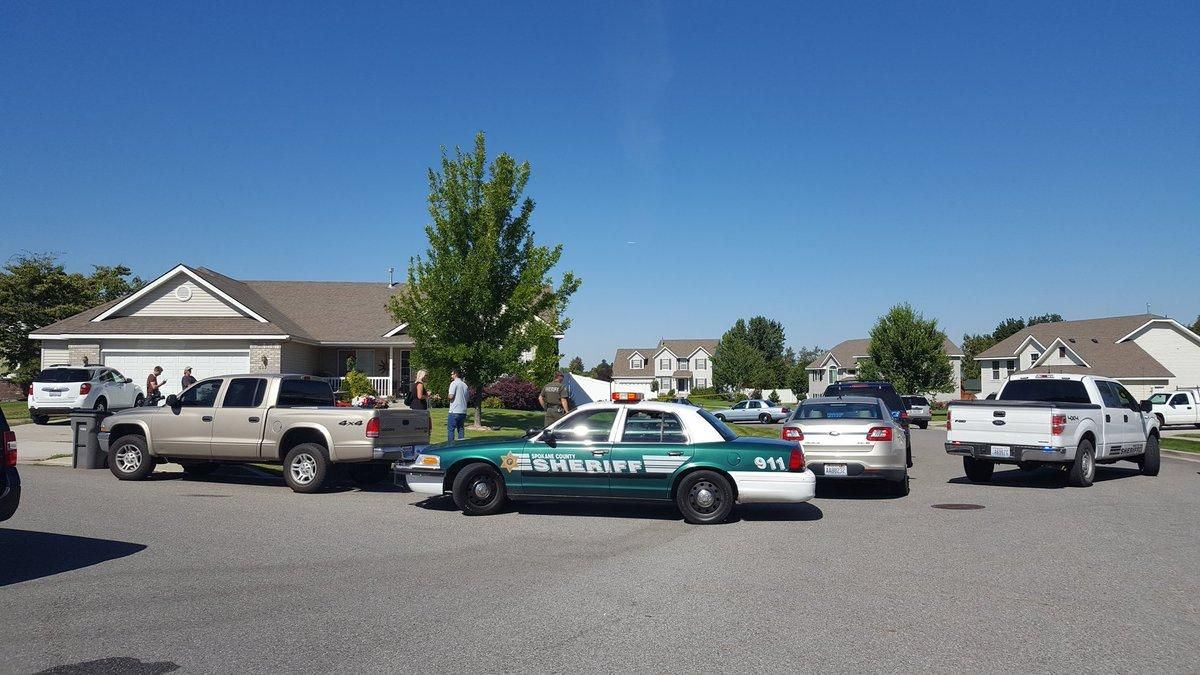 Spokane County Sheriff's deputies are investigating at homicide at this home near Michigan Street and Sixth Avenue in Spokane Valley. (Chad Sokol / The Spokesman-Review)
Authorities are searching for a suspect after a brother and sister were shot and killed Monday morning inside a home in a quiet Spokane Valley neighborhood.
The Spokane County Sheriff's Office received what they described as a horrifying call at 8:43 a.m. A 7-year-old boy had just found his mother and uncle dead with bullet wounds inside the home in the 600 block of South Michigan Road.
Authorities identified the suspect as Gilberto Delgado, 44, of Pocatello. Recently released from prison, he may have had a romantic relationship with the mother, said Deputy Craig Chamberlin, a spokesman for the Sheriff's Office.
"We're not sure where he is right now," Chamberlin said. "We don't know his mindset. We don't know what he's planning. We don't have a clue as to what triggered the events of this morning."
Delgado is considered armed and dangerous, and authorities are urging anyone with information about him to call 911.
He is described as Hispanic, 6 feet tall and 155 pounds with a shaved head, brown eyes and the name "Brenda" tattooed on one of his forearms. He may be driving a newer black Dodge Dart with tinted windows and red pinstriping.
Idaho Department of Corrections records show Delgado was released on parole in October 2015 after serving time for an aggravated assault on a law enforcement officer in Power County. His criminal history also includes charges of grand theft, escaping custody and injuring a child.
The victims' names were not released. Chamberlin said only the boy and the two adult victims were in the house when the suspect arrived. The boy was unharmed and did not witness the shooting.
"He didn't actually witness the incident itself. He was there after the fact," Chamberlin said, adding that the boy is now with family.
About half a dozen neighbors said they didn't know the people who lived in the home.
One man who lives around the corner and didn't want his name published said he heard "commotion" shortly before deputies arrived. He said his brother heard a loud noise in their backyard Sunday night and suspected someone had been staking out the neighborhood.
Ed and Liz Fisher, who live a block away on East Sixth Avenue, said the incident came as a shock.
"This is a pretty nice area," Liz Fisher said. "We've never had anything like this happen."
Detectives canvassed the neighborhood, interviewing residents and looking for security cameras that may have captured scenes of the crime. At least one deputy could be seen handling an assault rifle in case the suspect were to return to the area.
Chamberlin initially said neighbors should stay inside, although he expressed doubt that the suspect would target others.
"It wasn't a random situation, where it was just a stranger that happened to come into this pretty secluded neighborhood," he said.
"There's too many what-ifs at this point," Chamberlin said. "We need to get this guy into custody."
Local journalism is essential.
Give directly to The Spokesman-Review's Northwest Passages community forums series -- which helps to offset the costs of several reporter and editor positions at the newspaper -- by using the easy options below. Gifts processed in this system are not tax deductible, but are predominately used to help meet the local financial requirements needed to receive national matching-grant funds.
Subscribe now to get breaking news alerts in your email inbox
Get breaking news delivered to your inbox as it happens.
---