News > Idaho
Western senators push for wildfire funding change
Mon., Aug. 15, 2016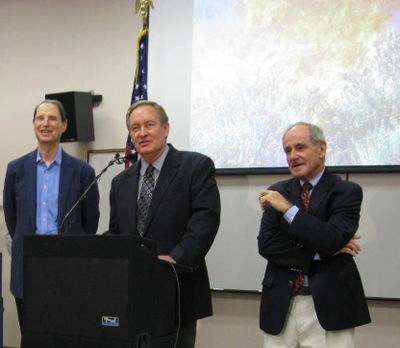 What do baseball bats have to do with wildfire funding? The answer has to do with congressional politics – and why three Western senators say they've got a shot this year at passing their long-sought proposal to change how the nation funds firefighting.
Sens. Jim Risch and Mike Crapo, both Idaho Republicans, and Ron Wyden, an Oregon Democrat, have been pushing the change for the past three years, aimed at ending so-called "fire borrowing" – where land-management agencies gut their prevention budgets to cover the soaring costs of fighting increasingly catastrophic fires.
The three want to tap the same disaster funds that pay for responses to hurricanes, tornadoes or earthquakes to cover the 1 percent of wildfires that turn catastrophic – and currently account for 30 percent of the nation's firefighting costs. That would leave land management agency budgets intact to fund prevention projects.
"Again and again, the three of us have pointed out the cost to the rural West and to America for this broken, dysfunctional mess of a budget which is how we fight fire in America today," Wyden said Monday at a news conference at the National Interagency Fire Center in Boise. Outside, smoke from the giant Pioneer fire in the mountains to the northeast blanketed the valley.
The three have introduced the bill for the past three years, but now, they say, senators from other parts of the country are signing on.
Among them: New York Sen. Chuck Schumer, a Democrat from Brooklyn.
"Now if you're in Boise or rural Oregon, you'd say, 'Why in the world would a United States senator who comes from Brooklyn, New York, be interested in this?' " Wyden said. "Well, what's happened is the Forest Service budget is so discombobulated as a result of all this borrowing and moving money here and there, Sen. Schumer can't get the funds for some of the work he needs to deal with the ash beetle in upstate New York, and it's hurting the baseball bat industry."
Just last week, the manager of a Rawlings baseball bat plant west of Albany told National Public Radio that the bats his plant has handcrafted for more than a century could be endangered if the invasive ash borer isn't controlled.
"We've got some new allies," Wyden said. He said there are members of Congress from all over the country who are noticing that the Forest Service is being crippled by firefighting costs, cutting into its ability to provide basic services. "They don't want the Forest Service to become the Fire Service, and that's where we're headed at this point," he said.
A conference committee will convene in September on an omnibus energy bill, and both Wyden and Risch will be on it. Both say that's where the wildfire funding change could finally happen.
Crapo said he, Risch and Wyden have now joined with a larger sponsorship group for the firefighting funding bill that includes Sen. Lisa Murkowski, R-Alaska and chair of the Senate Energy Committee, and Sen. Maria Cantwell, D-Wash., ranking member on the committee.
"We feel that this is a very important opportunity," he said.
Risch said Congress hasn't managed to pass a national energy policy bill in many years, but members of the committee have agreed to focus their work on matters that actually could pass, as opposed to "veto bait" – philosophical issues that would only serve as a poison pill, drawing a veto for the whole thing. That's what happened to the Zika funding bill in Congress this year; it died amid partisan differences over provisions ranging from defunding Obamacare and Planned Parenthood to display of the Confederate flag, and no Zika funding bill passed.
"We came together and had discussions about how we could pass a bill to actually get something done, as opposed to just going through the motions," Risch said.
Local journalism is essential.
Give directly to The Spokesman-Review's Northwest Passages community forums series -- which helps to offset the costs of several reporter and editor positions at the newspaper -- by using the easy options below. Gifts processed in this system are not tax deductible, but are predominately used to help meet the local financial requirements needed to receive national matching-grant funds.
Subscribe now to get breaking news alerts in your email inbox
Get breaking news delivered to your inbox as it happens.
---