News > Spokane
Driving death of beloved pastor shakes Odessa
Tue., Aug. 16, 2016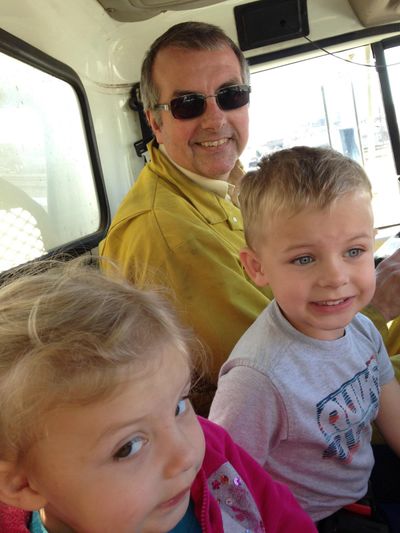 Residents of Odessa, Washington, say they've lost "a pillar of the community" with the death of Tim Hauge.
The beloved 55-year-old was a pastor, a musician, a school bus driver, an emergency medical technician, a husband and father to three children – a prominent figure in the town of about 800 people.
"Pastor Hauge was a big part of Odessa," said Laura Estes, a Sunday school teacher at Hauge's Christ Lutheran Church.
On Monday, Hauge was driving a semitruck through the town on state Highway 21. At about 2:20 p.m. the brakes failed and the truck veered off the highway near Railroad Avenue, plowing into a warehouse used to store farm equipment.
The truck was totaled, and Hauge was pronounced dead at the scene. He had been hauling grain to help his son's father-in-law, a farmer, said Lincoln County Undersheriff Kelly Watkins.
"The whole community is in mourning," said Sherri Frederick, the owner of Chiefs Bar and Grill, which is planning a vigil for Hauge on the town's football field Tuesday night. "He's been there for us through life and death and everything in between."
Hauge went to high school in Conrad, Montana, and studied electronics and music at Montana State University. In 1988, he graduated from a seminary in Columbus, Ohio, then returned to his home state to serve as a pastor.
Hauge moved to Odessa in 2002 to continue preaching. He quickly became an EMT for the town's volunteer fire department and a bus driver for the school district.
"He's one of the first people who greeted me with a smile and a handshake and made me feel welcome here," said Dan Read, who became the district's superintendent about a year ago. "It's a very close-knit community and everybody knows him, and everybody loves him."
Hauge's passengers loved him, too, Read said. "It's going to be tough on the kids."
Watkins, the undersheriff, knew Hauge personally and said he was in disbelief when the call came in over the radio.
"I was in the dispatch center and I heard it was Tim, and I said, 'No, that can't be. The pastor of the church and a pillar of the community? It can't be Tim,' " he said. "Then I got there, and sure enough, it was."
Estes, the Sunday school teacher, said Hauge played a major role in organizing Deutschesfest, the town's annual German music festival. He also played trumpet in a German band and self-recorded three albums of original gospel songs.
But if anything stood out, Estes said, it was Hauge's way with people.
"He was the kind of person who could preach the gospel, have you take it to heart and still make you giggle, too. He always had a joke," she said. "He could make a down-and-out drug addict feel like a special person because he would just take them under his wing."
She added, "We're not quite the same without Pastor Tim."
Local journalism is essential.
Give directly to The Spokesman-Review's Northwest Passages community forums series -- which helps to offset the costs of several reporter and editor positions at the newspaper -- by using the easy options below. Gifts processed in this system are not tax deductible, but are predominately used to help meet the local financial requirements needed to receive national matching-grant funds.
Subscribe now to get breaking news alerts in your email inbox
Get breaking news delivered to your inbox as it happens.
---