Sports
Tim Speltz leaving Chiefs to work for Toronto Maple Leafs
Tue., Aug. 16, 2016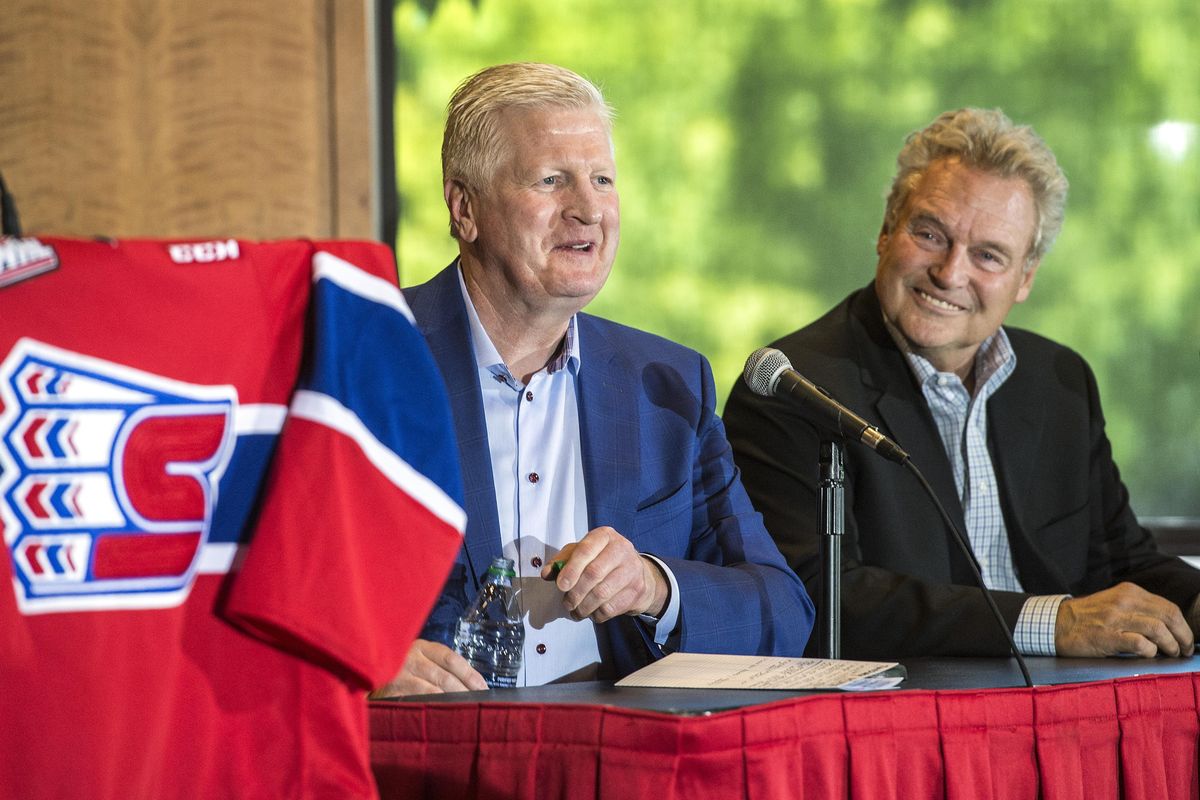 Spokane Chiefs general manager Tim Speltz, left, and team owner Bobby Brett gather Tuesday to announce the departure of Speltz to the Toronto Maple Leafs. (Dan Pelle / The Spokesman-Review)Buy a print of this photo
The man who called the personnel moves to fuel 26 years of Spokane Chiefs hockey announced Tuesday he will become the director of western-area scouting for the National Hockey League's Toronto Maple Leafs.
Tim Speltz, 57, announced his new job alongside team owner Bobby Brett, who explained how he hired the "young guy" in 1990 to run Spokane's hockey club. As such, Speltz served as the only general manager since Brett bought the team.
Under Speltz, the Chiefs won 961 regular-season games, two Memorial Cups (1991, 2008), and reached the playoffs in 23 of his 26 seasons.
"I don't think it's rocket science, what we do … but at the end of the day, the most important thing we do is develop young men," Speltz said. "That is what I hope I have done and what I believe I have done."
Speltz will reunite with former Chiefs coach Mike Babcock, the current coach of the Maple Leafs. Speltz said he will oversee a staff of four scouts, two who track talent in the professional ranks and two who oversee amateur players. He pointed out that the Maple Leafs came looking for him.
"The opportunity is one that fits me rather well," he said, noting he will be able to keep his home in Spokane, where his wife works as a teacher and his daughter attends Gonzaga. "I wasn't crazy about traveling and uprooting their lives."
Brett called hiring Speltz in 1990 "one of the great choices that we've made. Here we are 26 years later," he said. "We're here celebrating your next opportunity."
But Speltz's departure comes just a week before veteran players report for training camp for the upcoming 2016-17 season. Brett said he expects Speltz to continue to provide opinions about personnel moves until he can hire a replacement.
Speltz "will be here through camp," Brett said. "It's a tough time. General managers typically already have jobs. We don't know how soon we will have a new guy on board."
Speltz said the organization has many longtime employees, including coach Don Nachbaur – who is entering his seventh season – to make the necessary decisions.
"We are not in a rebuilding mode," Speltz said. "Everything is in place. We just need to keep everything rolling for our players."
Nachbaur said he's still a bit vague on who will call the shots on personnel.
"I'm happy for Tim. That's why we were in junior hockey is to get those opportunities," Nachbaur said. "I don't know how all the decisions will be made. I haven't met with Bobby. What I do know is that I coach."
Keanu Yamamoto, a 20-year-old forward who will be fighting among five or six players for one of the three overage positions, said he's confident Speltz's departure won't become a distraction.
"I think this organization has it under control," Yamamoto said. "They will figure it all out. But, we'll see what happens."
Local journalism is essential.
Give directly to The Spokesman-Review's Northwest Passages community forums series -- which helps to offset the costs of several reporter and editor positions at the newspaper -- by using the easy options below. Gifts processed in this system are not tax deductible, but are predominately used to help meet the local financial requirements needed to receive national matching-grant funds.
Subscribe to the sports newsletter
Get the day's top sports headlines and breaking news delivered to your inbox by subscribing here.
---