Sports
John Blanchette: Tim Speltz was rudder that steered Chiefs to success
Tue., Aug. 16, 2016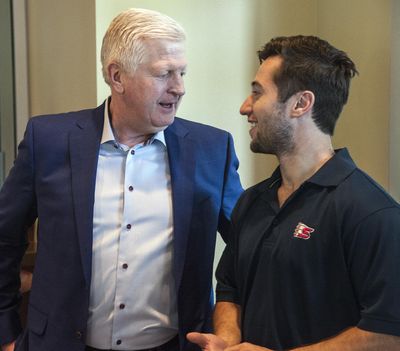 This is not Tim Speltz's mid-life crisis.
By rights, that would have happened years ago, maybe when he was in only his second decade on the job with the Spokane Chiefs. He could have shotgunned his resume at the whole of the National Hockey League hoping for even a single hit. He could have sold himself to general managers at international tournaments or schmoozed scouting directors who showed up at Chiefs games instead of doing his eye-in-the-sky work from the Spokane Arena press box.
And no one would have faulted him. By hockey's here-and-gone standards, Speltz had paid his dues by the time he'd seen his first draft pick move along to the pros.
"But I felt so fortunate to be in the same spot as long as I was," he said. "Hockey can be so transient. I remember when Jamie Huscroft came here to (be an assistant) coach. His daughter was the same age as mine and she'd been to six different schools. We'd never moved."
He's not moving now, technically. But for the first time in 26 years, Speltz will have a new gig – Director of Western Area Scouting with the Toronto Maple Leafs – which he'll perform based out of Spokane.
First, however, he'll get the Chiefs through their upcoming training camp and he'll help owner Bobby Brett launch the search for a new general manager. Because he's still a part owner in the operation and because, well, he's Tim Speltz.
He dots the i's. He is steady, reliable, committed.
He's also proud of what's been accomplished on his hockey watch in Spokane, and has a stake in seeing it continued.
"Somebody said the other day, 'Gee, this should be a pretty desirable job,' " Speltz said at his going-away press conference. "And I said, 'Well, I think so – the last guy had it for just over a quarter of a century.' "
Which sort of begs the question of why, at 57, he decided to make this career pivot, when he hasn't been so motivated before.
"I honestly believe the job I had was good enough that I never should have been looking for another one," Speltz said.
Organizations have made inquiries, he admitted. This was not that.
The Maple Leafs are now more than 50 years into hockey's longest rebuilding project – their last NHL title was in 1967. Just last summer, Lou Lamoriello – architect of three Stanley Cup champions with New Jersey – made a surprise move to become GM. His first bold stroke was to lure Mike Babcock across the border to be head coach – the same Mike Babcock who Tim Speltz hired here in 1994. In a phone call to Brett, Babcock insisted, "This wasn't my idea" – though it certainly had his endorsement.
And when Lamoriello called Speltz, it wasn't to gauge interest, but to extend an offer.
"It was humbling, and interesting," Speltz said. "You know, Lou had been at Providence College for 25 years and New Jersey for 25 more. He said to me flat out, 'You don't think you need a change, and I'm not saying you need one. But I'm saying a change will be exciting and good for you.' "
As with any fan base, there's probably a grumpy segment of the Chiefs' devotees who were ready for a change, too. They are welcome to the notion, misinformed as it is.
The ups and downs of junior hockey are not easily endured, though they are natural enough. But the Chiefs, like their GM, mostly do without Dramamine. The teams Speltz has put together have not been 120-point juggernauts, nor have they suffered any 50-loss black holes. And, yes, they've finished atop their division only twice in 26 years.
But in that span, only one Western Hockey League team has won the Memorial Cup more times than Spokane – Kamloops, and not since 1995. Only Portland has hoisted more Western Conference banners. And only three clubs – Calgary, Kelowna and Brandon – have averaged more points a season than the Chiefs.
The Chiefs had the makings for at least one more Memorial Cup when they hosted in 1998, but Speltz recalled that an injury to Rick Berry "changed the complexion of the team." But he doesn't forget the breaks that went Spokane's way.
"The year we beat Kamloops en route to the Memorial Cup, Scott Niedermayer never played a game for them in our series," he noted. "That's impactful.
"In this game, you have to do everything right to give yourself a chance to be successful – and even if you do, you might still not win."
That may not resonate with the fan who wants the trigger pulled on a trade right now, but Speltz's patience and big-picture vision was noticed and appreciated at the league level, and most recently in his role with Hockey Canada. It will continue to be felt here.
"This organization," he claimed, "is set up to contend again."
Spoken like a Chiefs lifer. Chances are, Tim Speltz will always think of himself that way.
Local journalism is essential.
Give directly to The Spokesman-Review's Northwest Passages community forums series -- which helps to offset the costs of several reporter and editor positions at the newspaper -- by using the easy options below. Gifts processed in this system are not tax deductible, but are predominately used to help meet the local financial requirements needed to receive national matching-grant funds.
Subscribe to the sports newsletter
Get the day's top sports headlines and breaking news delivered to your inbox by subscribing here.
---