Sports
Jim Meehan: Frank Capehart, 87, deals remarkable pair of aces
Fri., Aug. 19, 2016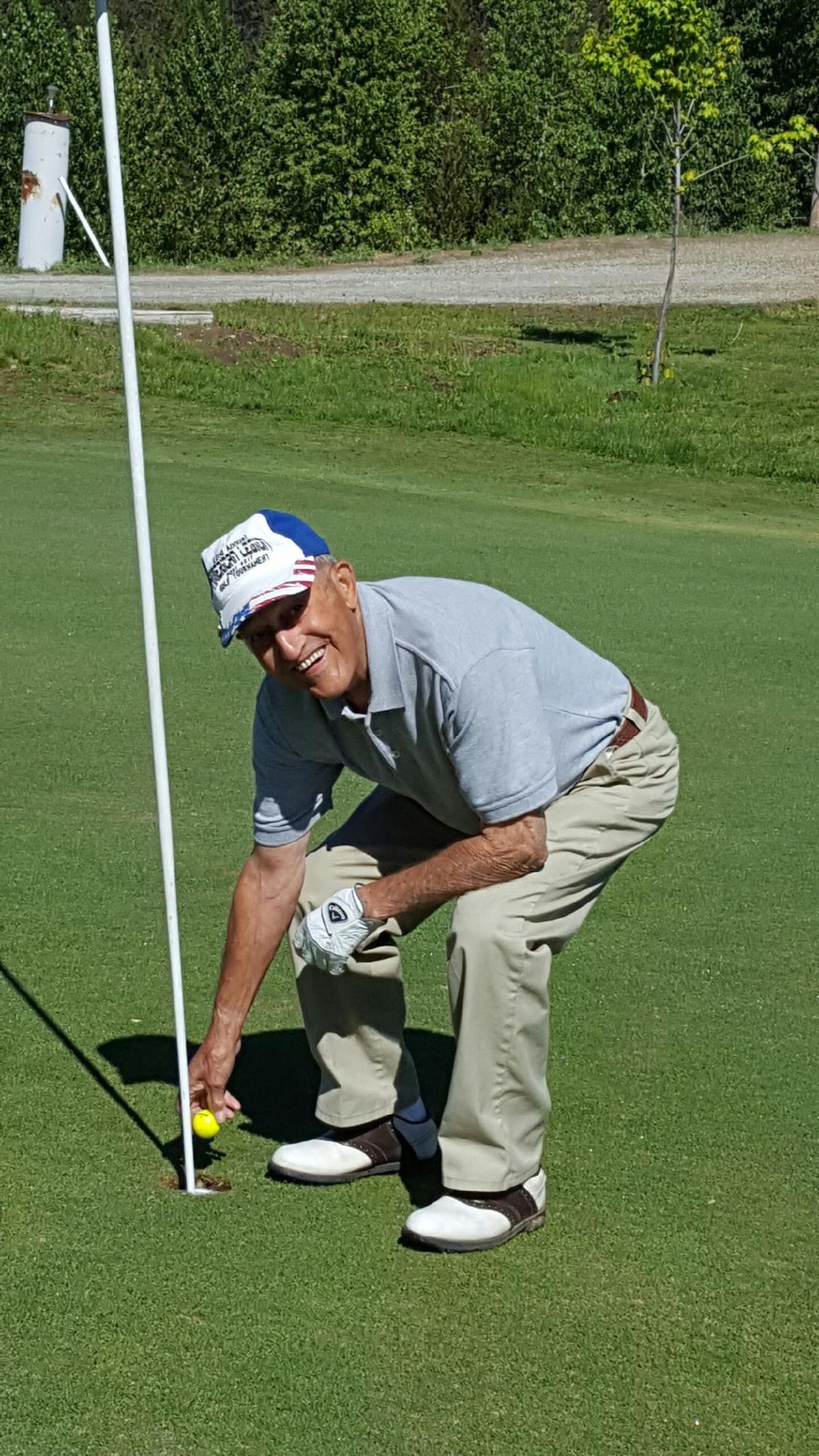 Frank Capehart poses after his first hole-in-one on No. 1 at the Ranch Club. (Rolland Cox Sr. / Rolland Cox Sr. photo)
Frank Capehart was playing with his buddies at the Ranch Club in Priest River on May 10 so it was already going to be a good day. It got quite a bit better after his tee shot on No. 1, a 134-yard par 3, rolled right into the cup.
It was the first hole-in-one for the 87-year-old Capehart.
"I didn't really see it go in the hole but the guys I was playing with (O.B. Scott and Rolland Cox Sr.) saw it," he said. "I wasn't paying that close of attention. I thought they were joshing me a little bit but we got down there and it was in there."
Cox snapped a photo of Capehart retrieving his yellow Srixon from the hole. Capehart went on to shoot a 46 and, per tradition, bought drinks in the clubhouse.
"I was lucky," the longtime Newport resident said. "There weren't too many people in there."
Nearly three months later on Aug. 11, Capehart was back on the Ranch Club's first tee, accompanied by Scott and Cox again. He pulled out his trusty 3-hybrid again.
One guess what happened next, but Cox offered a hint.
"He's got a little blue 3-hybrid and he's really pretty good with that club," Cox said. "He's accurate with it most of the time."
Really, really accurate. Capehart authored another smooth swing, his orange Srixon ball landed on edge of the green and trickled toward the hole, coming to rest lodged against the flagstick.
"We could see ball," Scott said. "He just had to move the pin and down it went."
Capehart had a better view of ace No. 2.
"I could see it," he said. "I was pretty surprised. Both shots were nice and straight."
Cox snapped another picture, Capehart shot a 47 – "that's about my average" – and retired to the clubhouse.
"The barmaid said, 'You deserve it, I'll buy this time,' " Capehart laughed.
According to the National Hole-In-One Association, the odds of a professional making a hole-in-one is 2,500 to 1, a low handicapper is 5,000 to 1 and an amateur is 12,500 to 1. A gentleman named Mancil Davis has recorded 51 aces, nailing eight in one season, and 10 double eagles. An 81-year-old Pennsylvania native made four aces in 33 days, including a hole-in-one on three consecutive days. Somebody even penciled in a "1" on a 519-yard par 5 in Denver.
The internet is full of articles about golfers making two aces in one round, with odds listed all the way up to 156 million to 1. Three aces in a round? If online articles are to be believed, it's happened a few times.
Capehart wasn't worried about making a hole-in-one so he didn't really concern himself with the odds. His closest calls were perhaps a foot or two away from the hole.
"I never even gave it a thought," he said. "I'm just an old duffer."
Capehart's first exposure to golf came over 60 years ago when he was in the Air Force. He played left-handed but struggled with accuracy. Somebody suggested playing right-handed because right-handed clubs were "easier to come by."
Capehart had played baseball and softball. He could hit from both sides of the plate so he gave right-handed clubs a shot. He started finding more fairways.
He was a truck driver for 20 years then worked two decades in dispatch and as an office manager. Busy raising a family, he quit golf for 10-15 years before returning to the game just before he retired in 1993.
Capehart and Scott have been playing the Ranch Club off and on since 1959.
"We've played a lot of golf," said Scott, who has also aced No. 1 twice and has another hole-in-one in Arizona. "He's pretty quiet guy. He didn't get too excited about either one but a guy always feels good about it."
Capehart doesn't know if there's another ace in his future but events of the last three months suggest anything is possible.
"I hope so," he said, "I hope I get lucky."
Local journalism is essential.
Give directly to The Spokesman-Review's Northwest Passages community forums series -- which helps to offset the costs of several reporter and editor positions at the newspaper -- by using the easy options below. Gifts processed in this system are not tax deductible, but are predominately used to help meet the local financial requirements needed to receive national matching-grant funds.
Subscribe to the sports newsletter
Get the day's top sports headlines and breaking news delivered to your inbox by subscribing here.
---